Australia has issued Christmas stamps annually since 1957 and was the first country in the world to commence an annual program. The current Christmas stamp program represents the Christmas holiday as we know it in Australia today, spanning both religious and secular themes.
The three religious designs from the Christmas 2016 stamp issue have been executed using the intricate art of paper-cut. The artist, Stuart McLachlan, has hand-cut delicate paper shapes before layering them to create a scene and then lighting, photographing and colouring them to produce the stamp images. The stamps each depict a different scene from the biblical story of the birth of Christ.
Christmas 2016 stamps - The incredible art of paper-cut
The two secular-themed stamps were designed by Stacey Zass and showcase the universal themes of goodwill (represented by a star) and joy (represented by a gift).
The Christmas 2016 stamps are available as Personalised Stamps™, which allow you to place a photo in the tabs next to the stamps, which are then printed into a sheetlet. You can then place the tab and stamp directly onto your card, for a special finishing touch.

Designers
Stacey Zass (secular), Stuart McLachlan (religious)

Products released in this issue
First day cover
Stamp pack
Minisheet
Set of maxicards
Postal numismatic cover (Three Wise Men stamp)
Two x sheetlet of 5 (Angel and Three Wise Men stamps)
Self-adhesive booklet of 20 (Goodwill and Joy stamps)
Self-adhesive booklet of 20 (Virgin and Child stamp)
Two x embellished sheetlet of 10 (Goodwill and Joy stamps)
Embellished sheetlet pack (Goodwill and Joy stamps)

Issue date

31 October 2016

Issue withdrawal date

30 April 2017

Denominations

3 x 65c, 1 x $1.70, 1 x $2.55

Stamp design - secular stamps

Stacey Zass

Stamp design - religious stamps

Stuart McLachlan

Product design

Jo Mure

Printer

McKellar Renown (religious), EgoTrade Pty Ltd (secular)

Paper - gummed

Tullis Russell Red Phos

Paper - self-adhesive

Secure Post Cprint 100, WLK6B100, Domain

Printing process

Offset lithography

Stamp size

26mm x 37.5mm

Perforations

14 x 14.4

Minisheet size

130mm x 80mm

Sheetlet size

120mm x 193mm

Sheet layout

Module of 50

FDI postmark

Merrylands NSW 2160

FDI withdrawal date

28 November 2016
The $2.55 international rate stamp shows the three wise men sent by King Herod. The three wise men, or magi, travel on their camels to investigate the birth of Christ. The magi followed the guiding star to Bethlehem, where they offered precious gifts of gold, frankincense and myrrh to the tiny baby. Some non-biblical traditions name the three magi as Melchior, Caspar and Balthazar.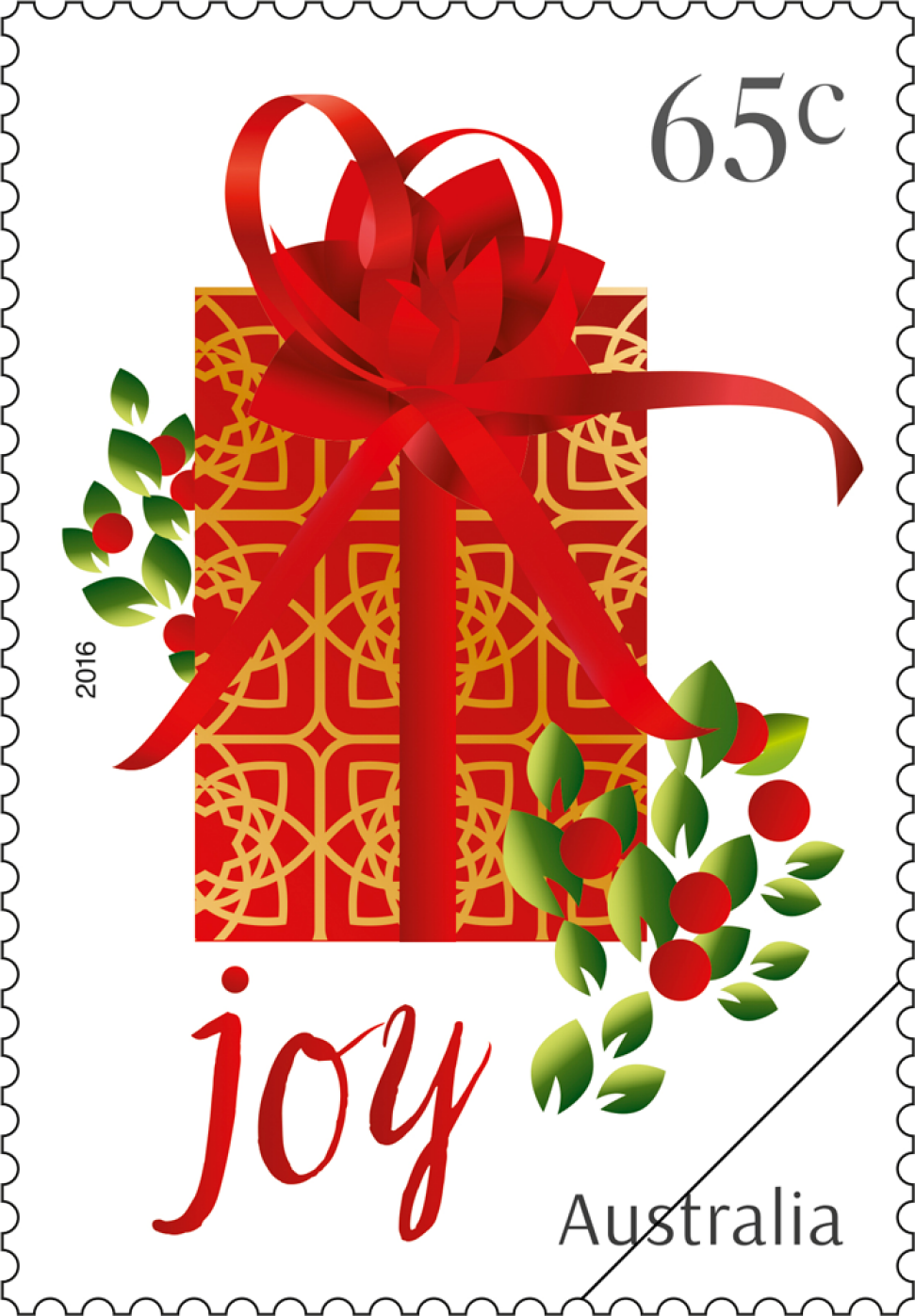 This content was produced at the time of the stamp issue release date and will not be updated.