Queen's Birthday 2017
Release date: 4 April 2017
The 2017 Queen's Birthday stamp issue celebrates the 91st birthday of Her Majesty Queen Elizabeth II.
This year will also mark the 70th anniversary of the marriage of Princess Elizabeth and His Royal Highness Philip, Duke of Edinburgh, which took place on 20 November 1947 at Westminster Abbey, London. The wedding took place in front of 2,000 invited guests and was broadcast on radio to 200 million listeners worldwide. More than 2,500 wedding presents arrived from around the world as well as thousands of congratulatory telegrams.
In 2017, Her Majesty also celebrated her sapphire jubilee, which marks 65 years on the British throne. A prestige postal numismatic cover (PNC) has been released to commemorate this significant event.
The Stamps
The stamps were designed by Simone Sakinofsky of the Australia Post Design Studio.
$1 Queen Elizabeth II
In the photograph on the domestic rate stamp, Her Majesty is waving to the crowd during a visit to the Broadway Theatre, situated in the London borough of Barking and Dagenham. The visit was part of a day of public engagements with Prince Philip.
$2.95 Queen Elizabeth II and Prince Philip
The international rate double-definitive sized stamp features Her Majesty and Prince Philip, in recognition of their enduring relationship. In the stamp photograph, the couple are riding in the Royal Procession as part of Royal Ascot, an annual five-day horseracing event at Ascot Racecourse. The event is one of the most prestigious in the racing world, and Her Majesty has attended every one during her reign.
Additional products
Minisheet
First day cover (blank, gummed, minisheet)
Stamp pack
Maxicards
Booklet of 10
Sheetlet of 5 ($2.95 stamp)
Queen's Sapphire Jubilee Prestige PNC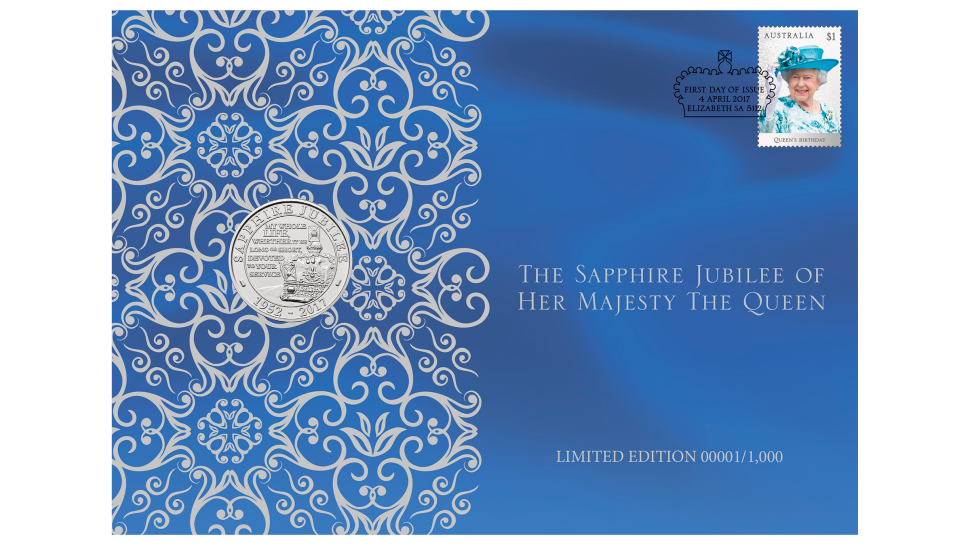 Queen's Sapphire Jubilee Prestige PNC
Her Majesty's reign has been synonymous with a dedication to service. The Queen is the first British monarch to achieve the sapphire jubilee anniversary and is still the longest reigning living monarch, a milestone she achieved in 2015. In honour of her sapphire jubilee, Australia Post has produced a prestige PNC, which is limited to 1,000. It contains a brilliant uncirculated Royal Mint coin, made from cupro-nickel, and is one of only two official UK sapphire jubilee coin designs approved by the Palace. The Queen's Sapphire Jubilee prestige PNC is available only via mail order on 1800 331 794 and online at auspost.com.au/stamps, while stocks last. There is limit to one per customer.
Technical specifications
Issue date

4 April 2017

FDI withdrawal date

2 May 2017

Denominations

1 x $1, 1 x $2.95

Stamp design

Simone Sakinofsky

Product design

Simone Sakinofsky

Printer

RA Printing

Paper (gummed)

Tullis Russell Red Phos

Paper (self-adhesive)

Avery B100

Printing process

Offset lithography

Stamp size

26mm x 37.5mm, 52mm x 37.5mm

Minisheet size

125mm x 70mm

Perforations

14.6 x 13.86

Sheet layout

Modules of 50.

FDI postmark

Elizabeth, SA 5112

Issue withdrawal date

31 October 2017
This content was produced at the time of the stamp issue release date and will not be updated.