On 31 March 2021, the Royal Australian Air Force (RAAF) commemorates a century of service to Australia. The RAAF traces its history back to the Australian Flying Corps (AFC), which was established in September 1912 and commenced flying operations at Point Cook on 1 March 1914.
The AFC was part of the Australian Imperial Force (AIF) during World War I until both were disbanded in 1919 following the war. The Australian Air Force was formed in March 1921 and prefix "Royal", approved by King George V three months later, became effective on 13 August 1921. The RAAF was the second Royal air arm to be formed in the British Commonwealth and by end of World War II was the fourth largest air force in the world. Since World War II, the RAAF has evolved through technology and expertise to become a highly effective fifth-generation air force operating in defence of Australia and our national interests.
The stamps in this commemorative issue present early and modern RAAF aircraft: a 1921-era SE5A bi-plane and a F-35A Lightning II, the RAAF's newest air combat aircraft. The scene on the minisheet depicts the original RAAF Base at Point Cook, Victoria. Richard Williams, the first pilot to be trained at Point Cook and the first chief of the RAAF, stands alongside the SE5A bi-plane.

Issue date

9 February 2021

Issue withdrawal date

31 August 2021

Denomination

$1.10 x 1, $3.30 x 1

Stamp & product illustration

Jamie and Leanne Tufrey

Paper: gummed

Tullis Russell

Paper: self-adhesive

Raflacoat RP51

Printer: gummed

RA Printing

Printer: self-adhesive

Rapid Labels

Printing process

Offset lithography (Inkjet printing - roll)

Stamp size (mm)

37.5 x 26

Minisheet size (mm)

135 x 72

Perforations

13.86 x 14.6

Sheet layout

Module of 50

FDI Postmark

Point Cook Vic. 3030

FDI withdrawal date

9 May 2021
The F-35A Lightning II was first accepted into Australian service in 2018. This highly advanced, multi-role, supersonic stealth fighter has a low-profile design, internal weapons and fuel carriage, advanced radar, electro-optical and infrared sensors, advanced voice and data link communications, and the ability to employ a wide range of air-to-surface and air-to-air weapons.
The Royal Aircraft Factory SE5 was an important British bi-plane fighter aircraft of World War I. Around 70 were produced, until the improved SE5A model took over. Thirty-five SE5A bi-planes arrived in Australia in 1920 as part of an Imperial Gift by Britain for the RAAF, which was soon to be formed. The SE5A fighters given to Australia in 1920 were khaki, but were repainted silver with red, white and blue rudder stripes by the RAAF.

Shop our stamp collectables
Set of stamps:
Set of RAAF Centenary Gummed Stamps

This set of stamps contains the two stamps from the Royal Australian Air Force Centenary stamp issue.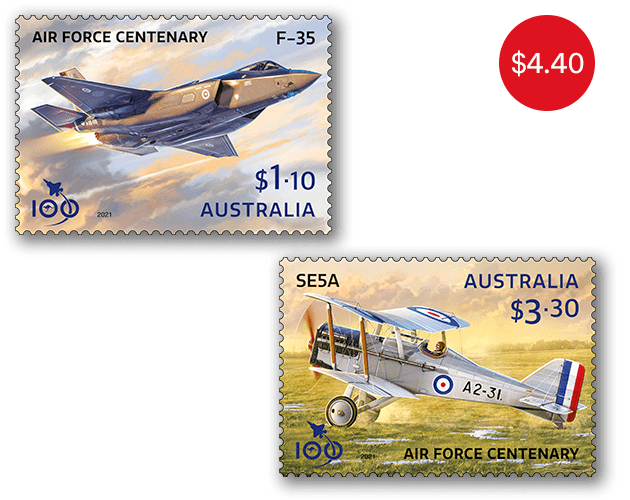 Stamp pack:
RAAF Centenary Stamp Pack

The Royal Australian Air Force Centenary stamp pack contains the two stamps and minisheet from the stamp issue presented in high quality folder.

Minisheet:
The Royal Australian Air Force Centenary minisheet consists of the two stamps from the issue incorporated into a miniature stamp sheet.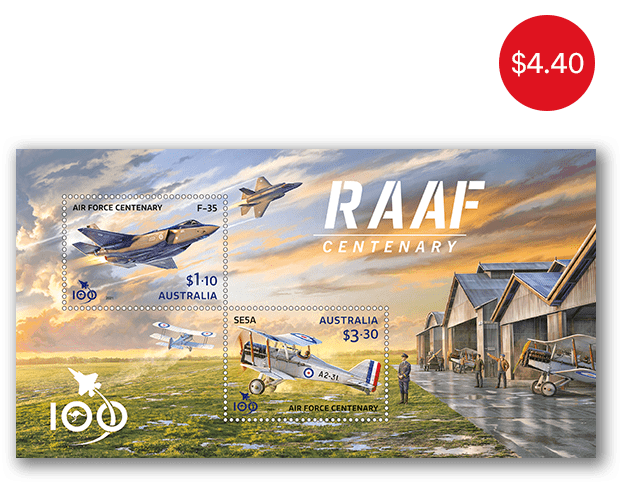 Maxicard set:
Set of RAAF Centenary Maxicards

This maxicard set contains the two maxicards from the Royal Australian Air Force Centenary stamp issue.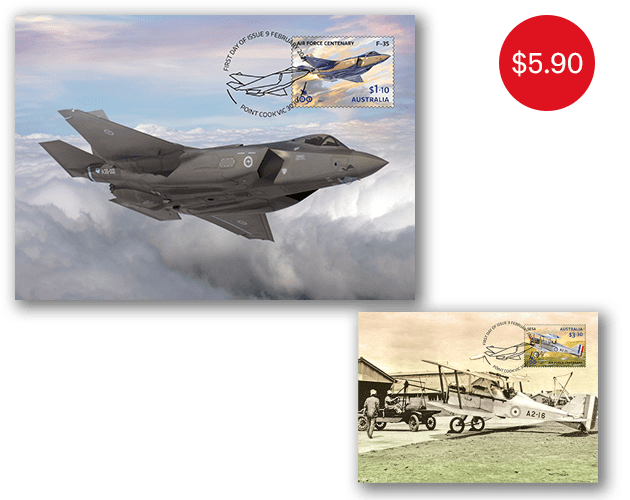 Set of stamps

Stamp pack

Minisheet

Maxicard set
MyStamps Special Stamp Pack

Gutter Strip of 10x $1.10 F-35A Stamps

Gutter Strip of 10x $3.30 SE5A Stamps

Pictorial Envelope for the RAAF Centenary Stamp Issue

RAAF Centenary Stamp and Medallion Cover

RAAF Centenary Postal Numismatic Cover

Roll of 100 RAAF Centenary Self-Adhesive Stamps

Strip of one Self-Adhesive RAAF Centenary Stamp

F-35A Lightning II Postcard

A2-16SE5A Bi-plane Postcard

First Day RAAF Centenary Minisheet Cover

First Day RAAF Centenary Self-Adhesive Stamp Cover
This content was produced at the time of the stamp issue release date and will not be updated.