Collectors and non-collectors alike are often fascinated by just how it is that Australian stamps come to be. How are the topics determined? Who researches them? What design constraints exist when producing something so small? Why are some stamps illustrative and some photographic? And the intrigue continues when they learn how detailed and considered the process actually is.

In this series of articles, we delve into the world of Australian stamp production – from initial theme selection through to printing, packaging and distribution (and everything in between).
We also introduce you to some of the people who make each stage of the process happen, and ask how they feel about playing a part in visually recording a miniature slice of Australia.
The flowchart below serves as a useful overview of the stamp production process at Australia Post (and the teams that carry out each stage). In one way the process is fairly linear and cyclic, in that a stamp issue moves through each stage in a particular order.
However, as each stamp issue has a separate set of production dates, team members work on many stamp issues simultaneously, each of which will be at a different stage of production. While this makes each work day interesting and different, it also requires careful planning and time management.
How a stamp comes to be ...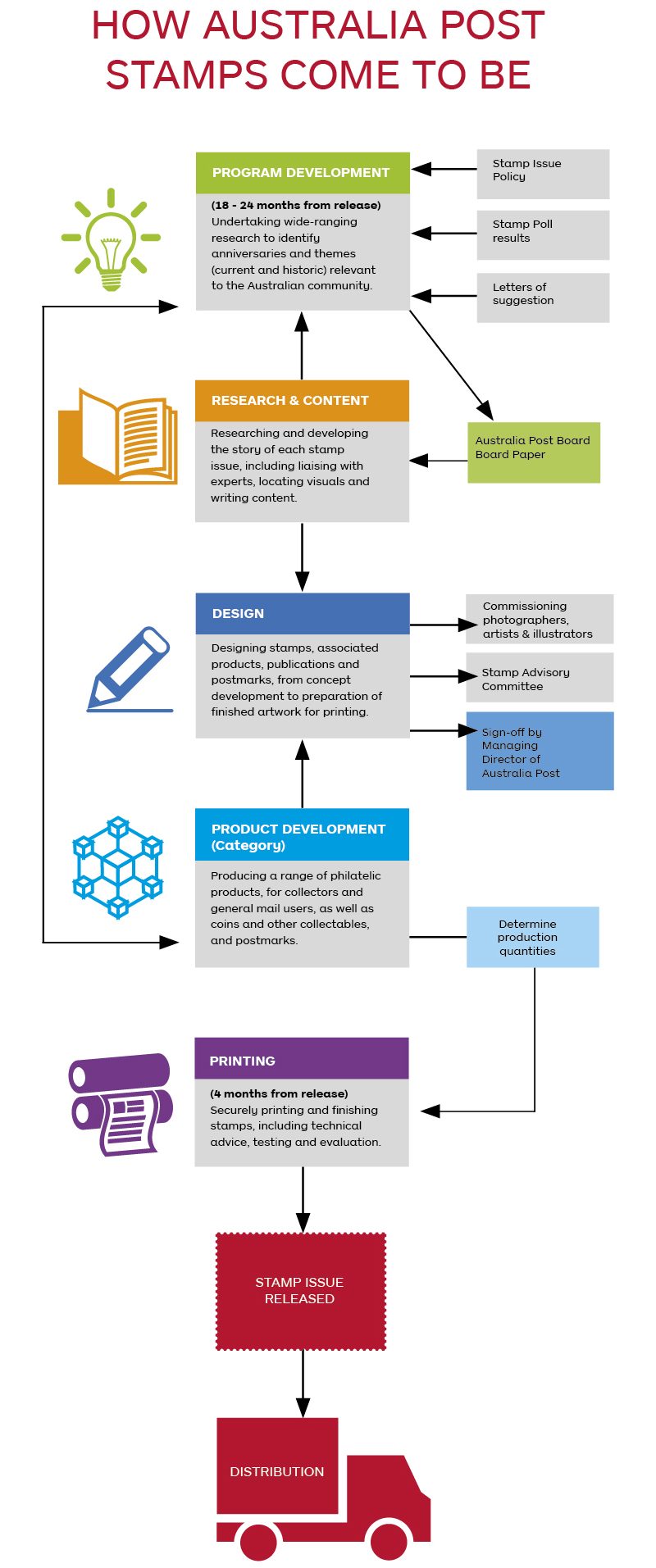 The genesis of a stamp is at the program development stage. This is where a list of ideas is prepared, based on requests by stakeholders, including members of the public, and research by the Philatelic team.
In the next post, we'll present an interview with Hilary Maddocks, who has been a researcher at Australia Post Philatelic since 2000. Hilary and the research team assist with the collation of ideas for the annual stamp program.
The Manager of Philatelic then prepares the final list, which is submitted for consideration by the Australia Post Board.
 
This article was produced at the time of publication and will not be updated.