The Year of the Tiger begins on 1 February 2022. The third animal in the 12-year cycle, those born under the Tiger sign are considered born leaders, who are brave, adventurous, competitive and confident. The Christmas Island: Lunar New Year of the Tiger 2022 stamp issue will be released on 6 January 2022, in the lead-up to this most important festival for Asian cultures around the world.
The stamp designs are based on the Asian tradition of the beckoning Lucky Cat figurine. These symbols of good fortune, wealth and prosperity originated in Japan, where they are known as maneki-neko. They are a common sight at the entrance to small Asian businesses, their raised paw beckoning customers into the store. In the stamp designs, each beckoning tiger is pictured with a selection of traditional symbols, including endless knot decorations, fu decorations and golden cumquats for good luck; a tiger cub, to represent the importance of family; plum blossom, to symbolise hope and perseverance; and fire crackers, which often form part of New Year festivities. The colours of gold and red feature, as they are associated with wealth and good luck, respectively.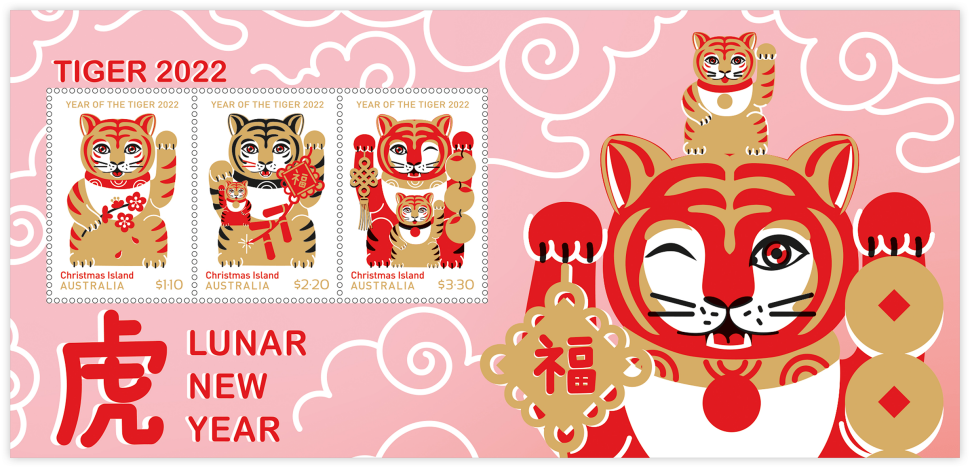 The collectables being released with this issue will make for wonderful gifts or keepsakes, with some even doubling as ready-to-send New Year greetings. Highlights include the following:
Zodiac sheetlet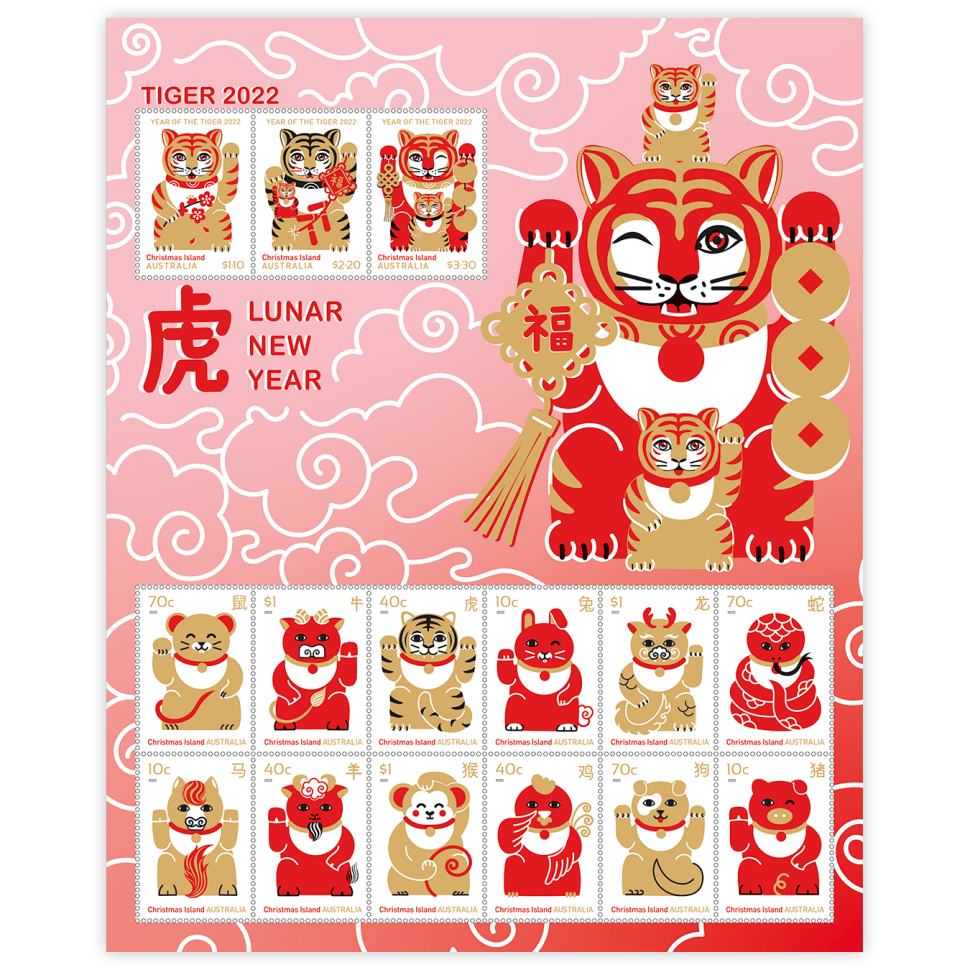 This year's zodiac sheetlet contains the three stamps from the issue, plus 12 special zodiac stamps. These 12 zodiac stamp designs continue the stamp design theme, by transforming each animal of the Chinese zodiac into a beckoning figure, including another version of the Tiger, with its tail and both paws raised.
Collectables for special greetings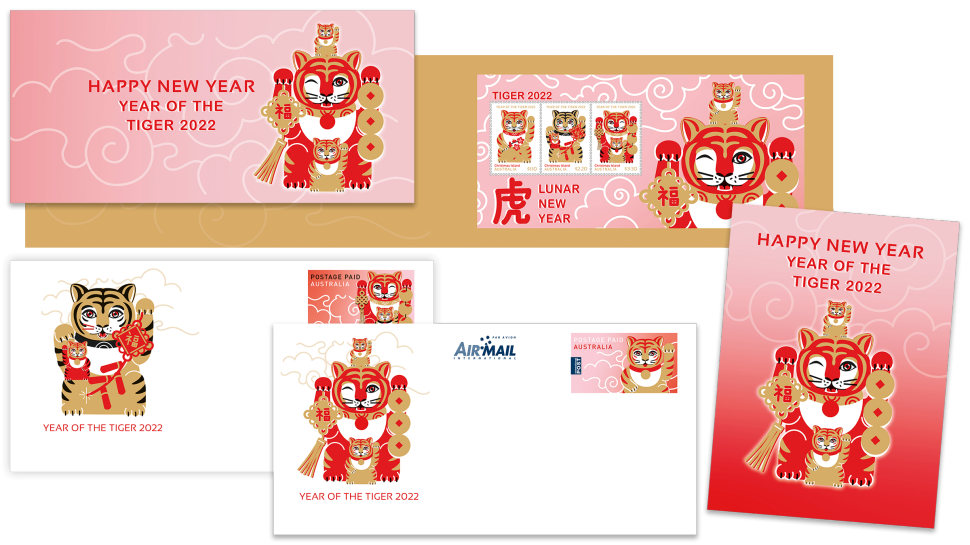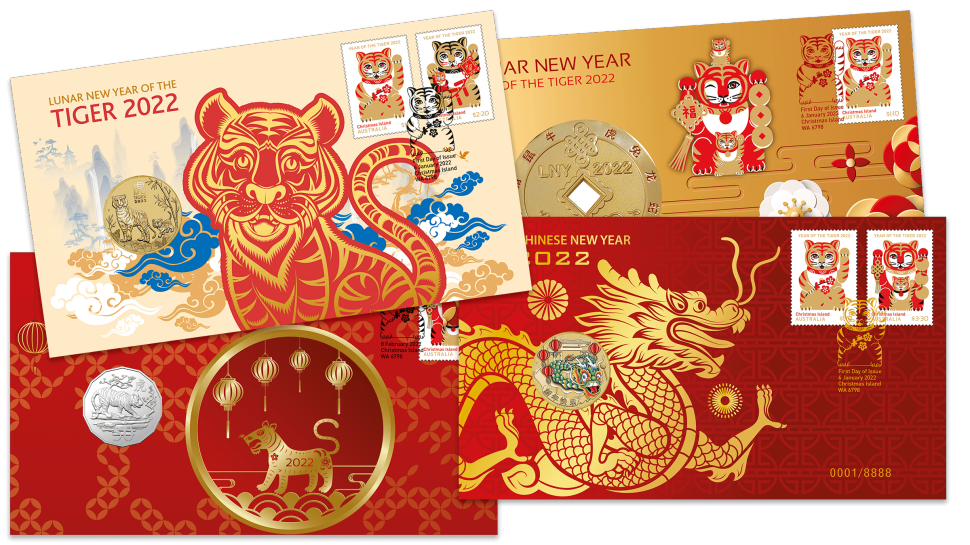 As well as a gold version of the Lunar New Year minisheet, we're releasing a special "888" gold minisheet, which presents six stamps laid out to form three figure eights. The number eight is considered a very lucky number in Chinese culture, due in part to the Cantonese word for "eight" having a similar sound to the word for "prosperity" or "wealth".
Lion Dance prestige collection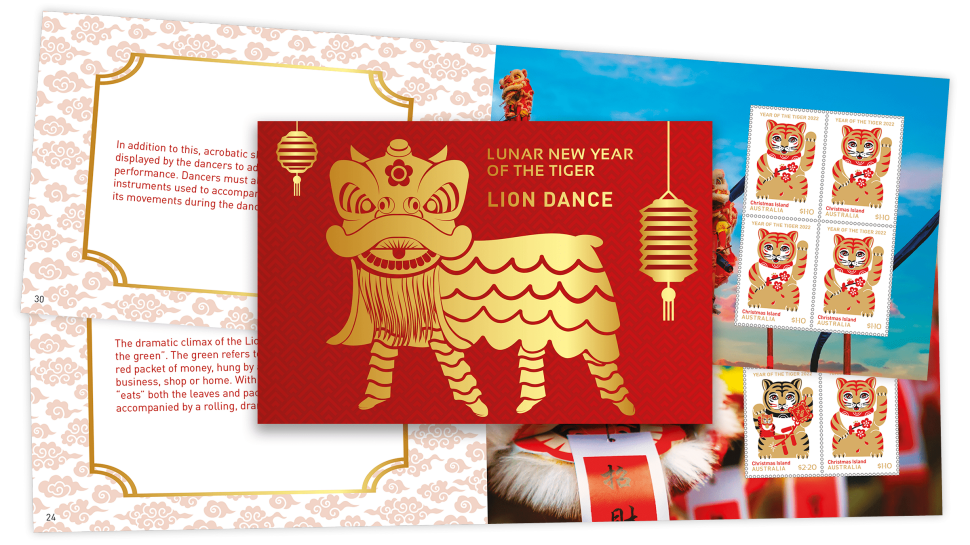 This year's issue features a prestige collection that tells the story behind the traditional Lion Dance, which is a familiar sight in the streets of Australian towns and cities in the first days of the New Year. Accompanied by the loud clanging of cymbals and the beat of drums, this noisy ritual is intended to scare away evil spirits. The booklet also contains five blocks of four stamps from the issue.
Calendar sheetlet pack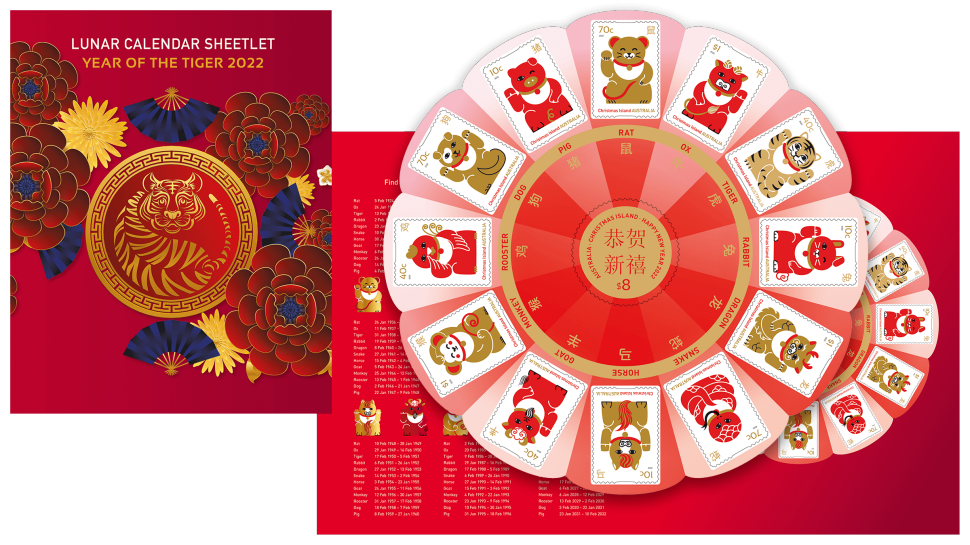 The calendar sheetlet pack contains a self-adhesive scalloped-edged sheet of all of the stamp designs from this year's zodiac sheetlet as well as a round $8 stamp in the centre. The pack also includes a list of birth dates, to help you figure out your Chinese zodiac sign.
---
This content was produced at the time of the stamp issue release date and will not be updated.