Impressions 2019 is a fantastic range of limited-edition products and collectables that are based on themes from the 2019 stamp program. There are philatelic and numismatic items and compilations based around celebrations (including the Queen's Birthday and Lunar New Year); heritage (such as Anzac Day, Mutiny on the Bounty and the Gold Rush); nature (such as Native Bees, In the Garden and Bush Citrus); and the Moon Landing. Plus, there are banknote collectables, collecting accessories, Christmas-themed items, and gifts (such as pens, pewter figurines, tea towels and games).
Items are delivered free within Australia when ordered online!
Stand-out products in this year's range
For the first time, we are offering miniature collections, one for Native Bees and one for Anzac Day 2019 (RRP $69.95 each, only 200 of each produced). These collections contain miniature versions of selected products released with the stamp issue, including medallion covers.
There are also some fantastic Impressions collectables centred around historic anniversaries. For example, there's a beautiful boxed Moon landing medallion, limited to just 120 ($129.95). The large medallion is convex (raised), and the box includes a light feature that illuminates the medallion's lunar surface design. It comes with an exclusive numbered sheetlet of four stamps. There's also the Welcome Stranger Collection, which contains a numbered sheetlet of 10 Welcome Stranger stamps which are gold-foiled and embossed, a numbered 99.9% gold minisheet and a replica gold prospector's license from the era. It's limited to 200 (RRP $99.95). There's the First Flight England to Australia Covers Collection – a set of 14 postmarked covers representing Australian locations visited by the Vickers Vimy, following the historic flight (limited to 200, RRP $39.95).
For those who are enjoying the Great Aussie Coin Hunt, there's a special Australia Post "A" Privy Marked Prestige PNC that also celebrates 25 years of postal and numismatic covers by Australia Post. Only 2,000 have been produced and each contains a $1 AlBr "A" Great Aussie Coin Hunt coin with an envelope Privy Mark (RRP $39.95). Collectors of royal-themed items will also enjoy the Queen Elizabeth II Diamante Brooch and Minisheet Collection, featuring a unique silver-plated facsimile of the Queen Elizabeth II Jardine Star Brooch with 17 diamantes, as well as an exclusive imperforate minisheet, in a custom-designed gift box. Only 200 produced (RRP $59.95).
Limited-edition draw registrations are now open!
Until 11.59pm (AEDT) on 10 November 2019, you can register for an opportunity to purchase items from a selection of limited-edition items from the 2019 Impressions range. Details of these items can be found on pages 5, 6 and 7 of the 2019 Impressions catalogue. Those who register will go into a random draw for the opportunity to purchase their selected items*.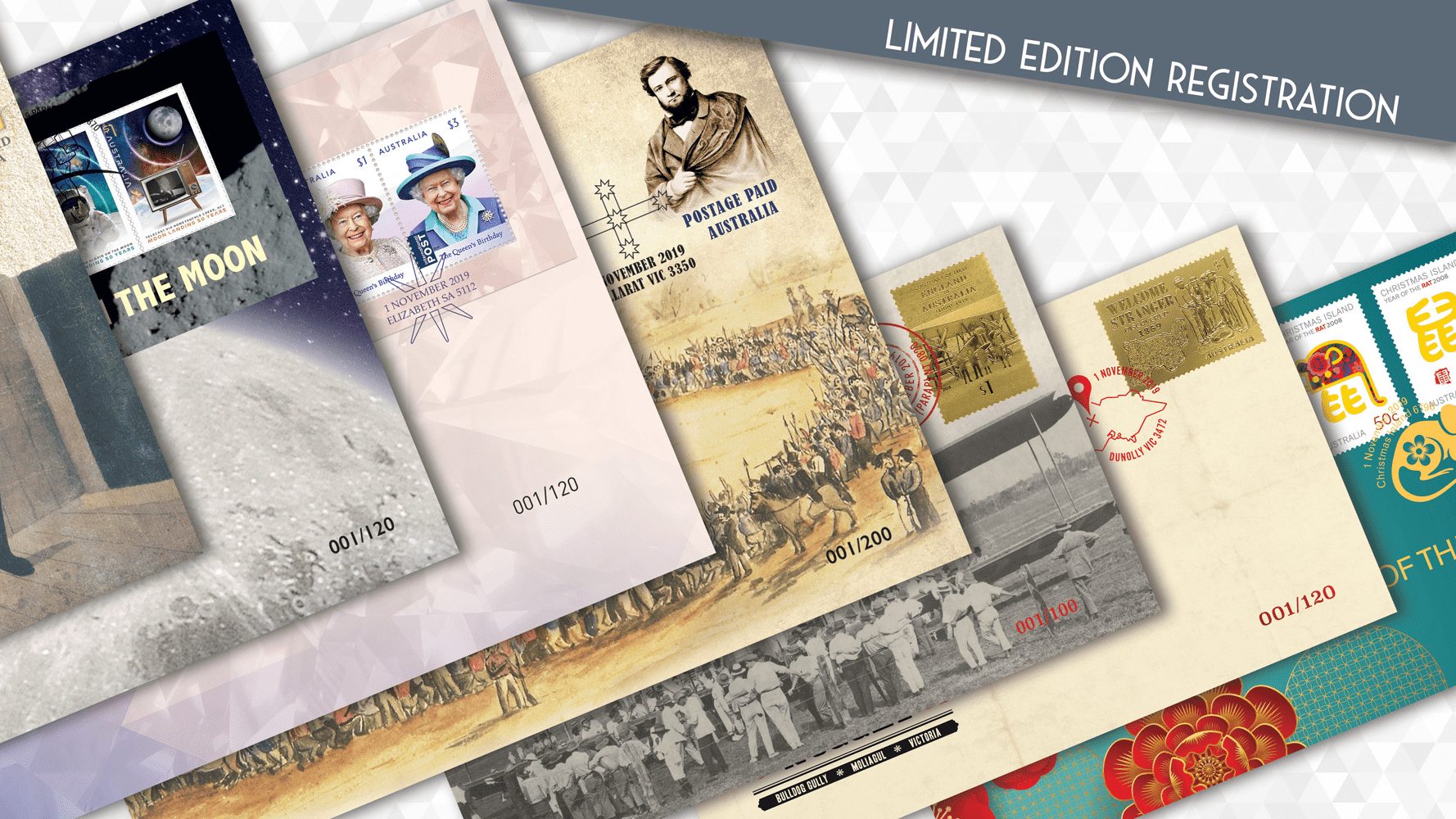 The Impressions range of collectables are available now, online, via mail order on 1800 331 794, while stocks last. Items are delivered free within Australia when ordered online.

This content was produced at the time of the product release date and will not be updated.

* Terms and conditions apply. AU residents 18+ who are members of Australasian Philatelic Impressions subscriber database, have a valid email address & have received invite from Promoter. Between 12:01am (AEDT) on 01/11/19 to 11:59pm (AEDT) on 10/11/19, register your interest to purchase 1 or more of our limited-edition collectable items either by visiting auspost.com.au/limitededitions or by phone (1800 331 794). 8 Draws: 111 Bourke Street, Melbourne, VIC 3000, starting 9am (AEDT) 13/11/19. Winners notified by email by 15/11/19. If successful, must complete purchase within 6 days of being notified. Max 1 registration per item. See website for full conditions inc. privacy statement. Promoter: Australian Postal Corporation (ABN 28 864 970 579) trading as "Australia Post", 111 Bourke Street, Melbourne, VIC 3000. NSW Permit No. LTPS/19/38509