The Wet Tropics World Heritage Area covers almost 9,000 square kilometres – it equates to 0.12 per cent of Australia's landmass. Yet it is also the most biodiverse part of Australia, with more unique species of plants and animals than anywhere else in the country, including the greatest number of endemic vertebrates – 88 species that are found nowhere else on Earth. Stretching for around 450 kilometres between Townsville and Cooktown, it's a globally significant landscape. The world's peak conservation organisation, the International Union for the Conservation of Nature (IUCN), has rated it as the second most irreplaceable natural world heritage site on Earth.
The Tree-dwellers of the Tropics stamp issue, which will be released on 21 January 2020, presents three arboreal mammals that live in this very special part of the country. Each species has been beautifully illustrated in a preferred tree by renowned wildlife artist Kevin Stead.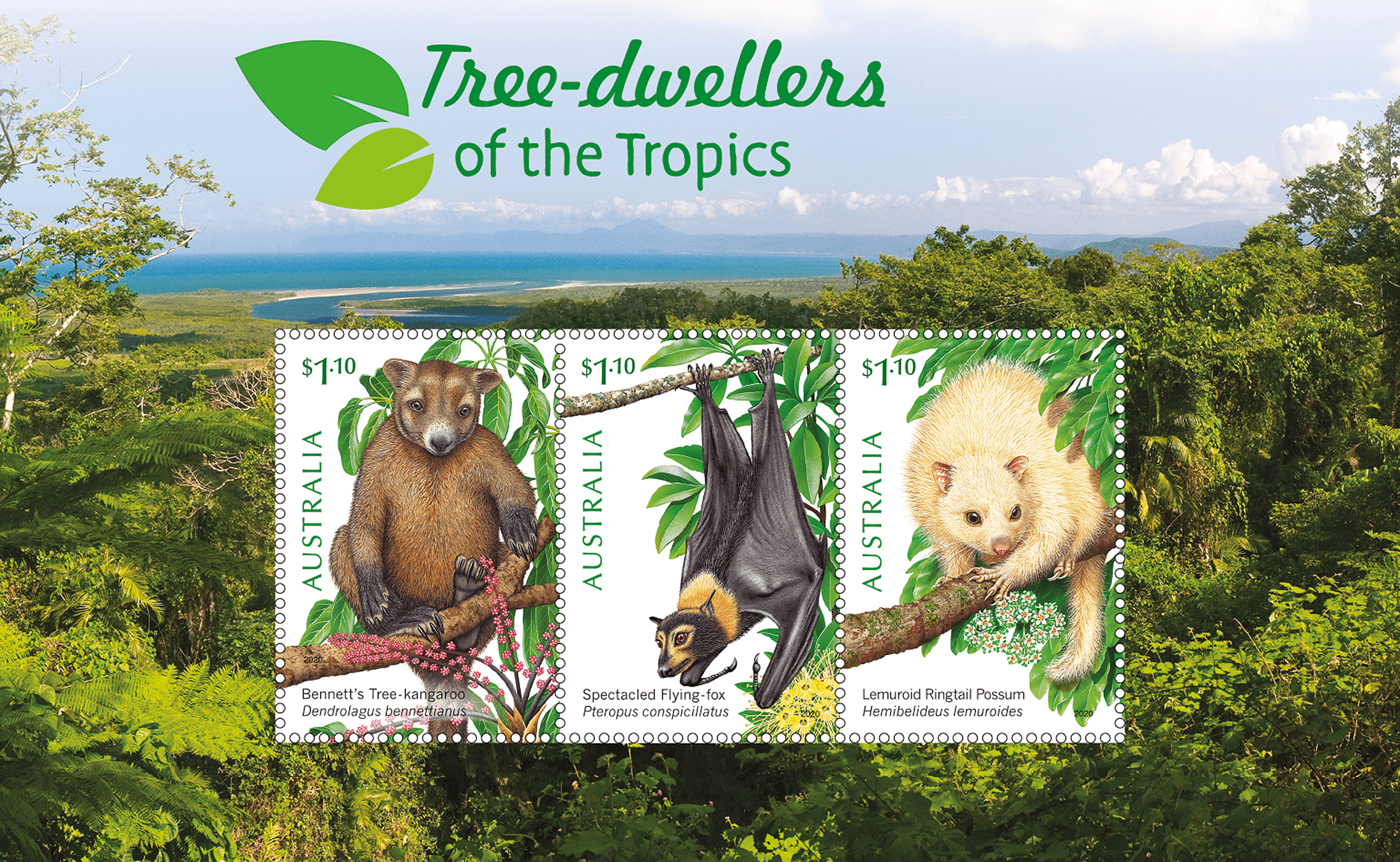 Terry Carmichael has had a long and varied career within the environmental sector. For more than 40 years, he has worked in roles as diverse as a national park ranger, zoo manager, ecologist and lecturer, culminating in his current role as Senior Project Officer for the Wet Tropics Management Authority (WTMA).
Terry works across several areas within WTMA, including as the secretariat of the Cassowary Recovery Team and WTMA's Scientific Advisory Committee, the latter of which informs the WTMA Board as to the current scientific knowledge on how to best manage and protect the Wet Tropics, especially from the effects of climate change. Terry also works with the tourism sector, including delivering presentations and developing training materials, and advising regional and state tourism bodies.
Terry Carmichael is passionate about nature and about his work, and his expert advice was invaluable to the researcher on this stamp issue, Jane Levin.
"My passion for the natural world comes from a father who intrinsically appreciated nature. As a family, we spent a lot of time camping, walking in Australia's amazing landscapes and watching the wildlife," says Terry.
"Like many people, I was also heavily influenced by David Attenborough's amazing documentaries. I was in my last year of high school in 1979 when the 13-part series of 'Life on Earth' came out. That was it; my mind was made up. The next year I went to Queensland University, Gatton Campus to study protected area management," says Terry.
"The Wet Tropics is a window back in time. It shows us what Australia was like 20 to 100 million years ago, when Australia was mostly a continental wide rainforest. In the Wet Tropics today are plants and animals that show us their amazing evolutionary journeys; in fact, some species are indiscernible from their ancient ancestors," says Terry.
"It is also incredibly beautiful; within such a small area there is an incredible diversity of landscapes and wildlife. In a weekend, you can be snorkelling on a coral reef, walking in the world's oldest tropical rainforest and visiting the vast savannahs of Cape York. Each of these landscapes has their own unique wildlife. 
"And for scientists, it is a living laboratory; a learning landscape. We can delve into questions such as how does the world's oldest tropical rainforest survive on the world driest inhabited continent? Where do the trees come from? And how did these tropical animals get here?"
"I have enjoyed learning about the natural world; it's the greatest story ever told. Every year new information is discovered, and the story is enhanced and gets richer and more exciting. You never stop learning," says Terry.
While Terry doesn't like "talking about doom and gloom", he does feel passionately about educating the public about climate change and its impact on the Wet Tropics. This is part of the reason why he's very pleased that the Tree-dwellers of the Tropics stamp issue shines a light on some of the region's incredible creatures and the threats that they face.
"It is fantastic to see the Wet Tropics unique animals getting some exposure. I am sure many Australians would not know we have tree-kangaroos and stunning white lemuroid possums living in the tops of giant rainforest trees in northern Australia!" says Terry.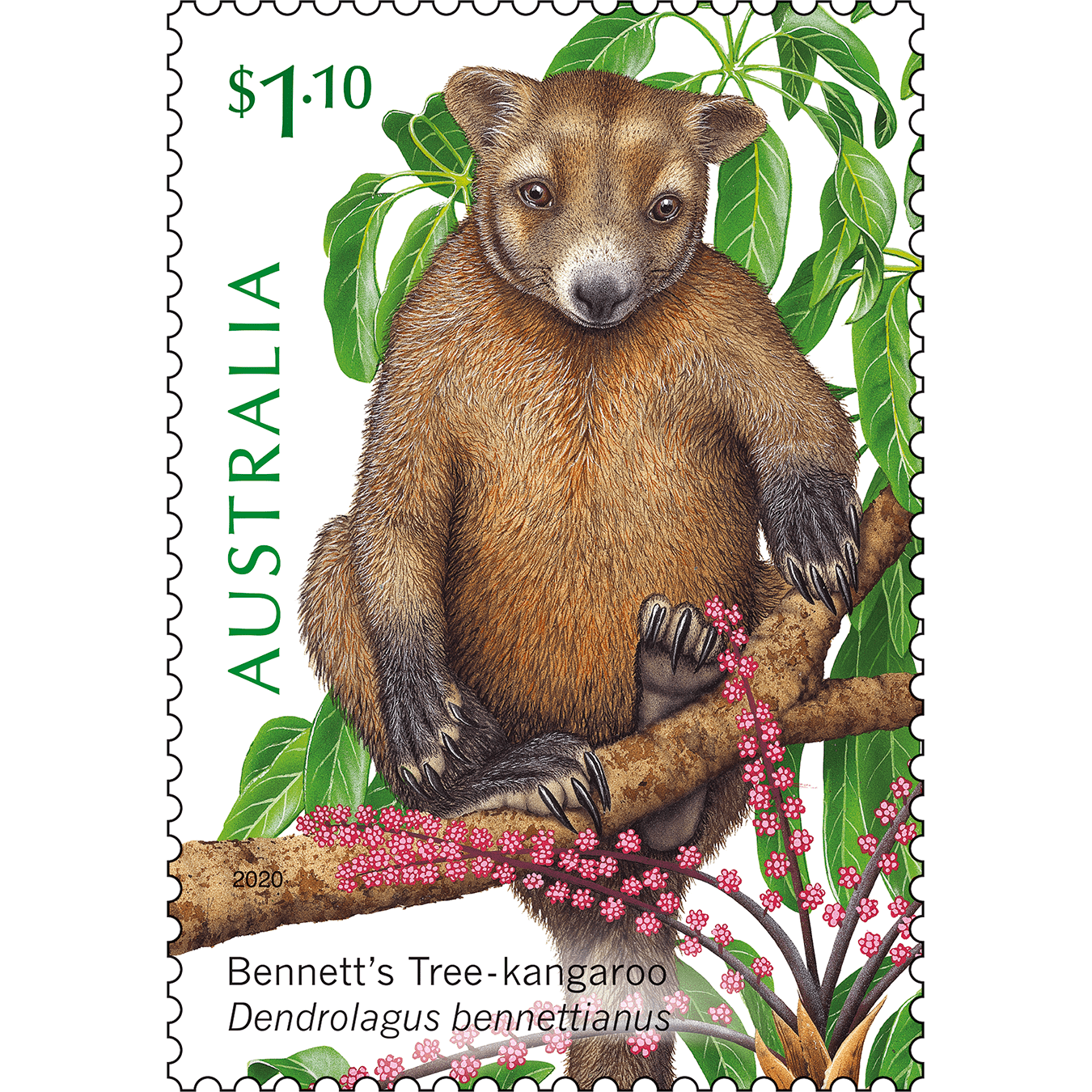 Bennett's Tree-kangaroo is the largest tree-climbing mammal in Australia. It is only found in the Wet Tropics of Queensland, between the Daintree River near Mossman and the Annan River south of Cooktown.
"Tree-kangaroos have an interesting back-story," notes Terry.
"The current thinking is kangaroos and wallabies evolved from a tree-climbing, possum-like animal. Today there are 50 species of kangaroos and wallabies in Australia, and a total of 70 globally, including Papua New Guinea and other islands. There are two species of tree-kangaroo in Australia: the Bennett's Tree-kangaroo and the Lumholtz's Tree-kangaroo.
"Tree-kangaroos reversed the family trend and went back into the trees. Tropical rainforests have vast quantities of leaves to eat and tree-kangaroos developed techniques for life in the trees, based on a kangaroo body plan made for living on open plains. While it sounds almost counter-intuitive, their very long tail acts as a counter-balance; their broad, wide feet allow them to grip branches; and they can move their feet independently and even walk backwards, unlike any other kangaroo or wallaby. Their ears are much smaller than any other kangaroo or wallaby, allowing them to more easily push through the branches of trees."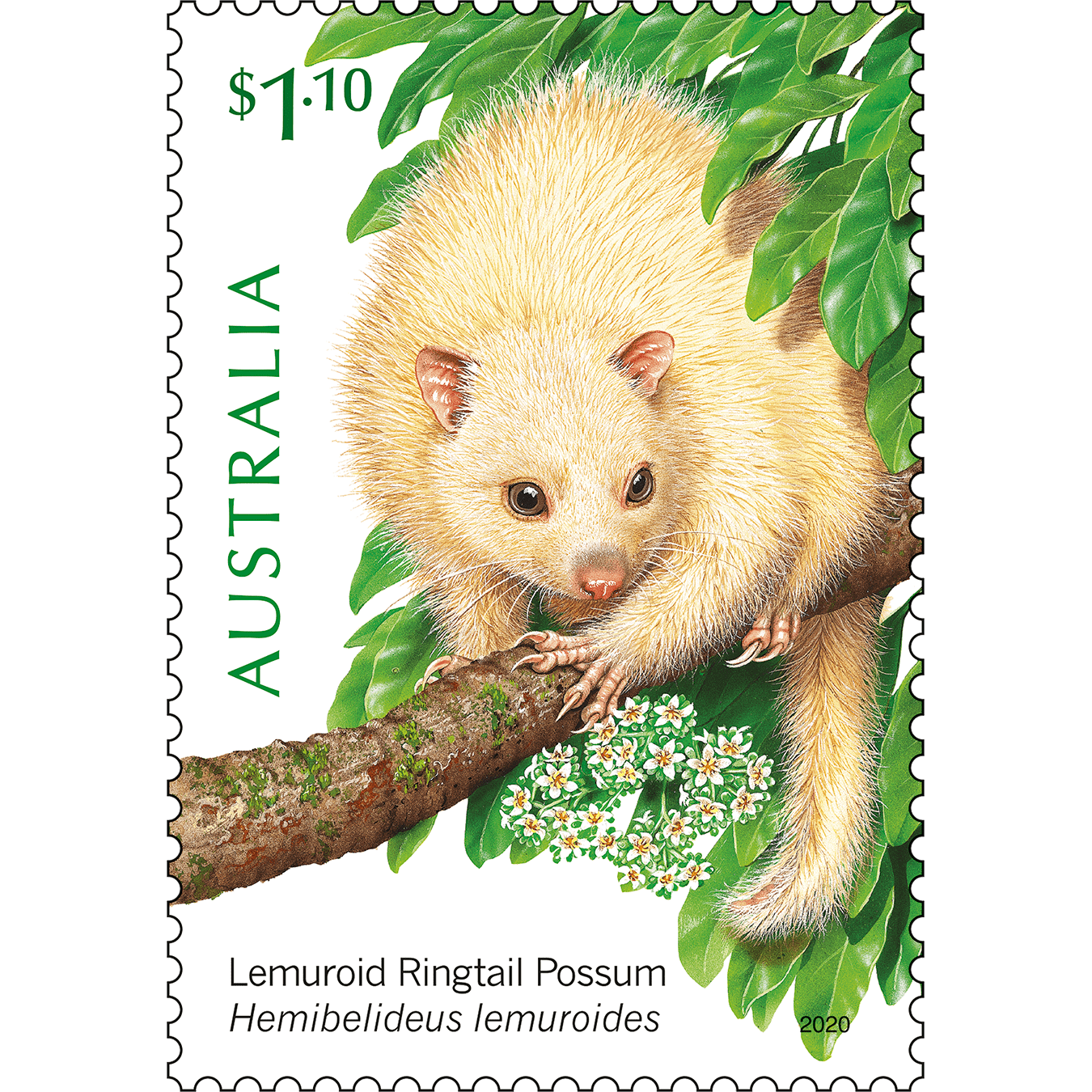 The Lemuroid Ringtail Possum is only found in the Wet Tropics of Queensland. The name "Lemuroid" means "lemur-like", in reference to a totally unrelated group of mammals from Madagascar. They eat the leaves of a variety of rainforest trees and prefer younger leaves.
Unlike other members of the ringtail possum family found in the Wet Tropics, they live in small family groups and don't hesitate to leap from branch to branch making crashing sounds high above the floor of the rainforest.
They are generally a charcoal brown colour, but certain individuals are a beautiful, creamy white, with touches of orange on the shoulders. Terry explains that this "white phase" Lemuroid Ringtail Possum was used as the poster child for conservationists during the campaign to get the Wet Tropics nominated for World Heritage listing in the 1980s.
"Flying foxes get a lot of bad press. Humans perceive them as smelly, noisy and potentially dangerous because of the diseases they can transmit. I think if the natural world had a voice, it would say the same about humans!" says Terry.
"The Spectacled Flying-fox plays an essential role in the eco-system by pollinating trees, shrubs and vines and dispersing their seeds. Flying foxes are the gardeners and farmers of the Wet Tropics rainforests, and other flying fox species perform similar roles throughout many areas of Australia. Flying foxes are delightful, intelligent and fascinating animals that deserve a break from us humans," says Terry.
Sadly, these wonderful species are not immune to the effects of climate change.
"Climate change is a global issue effecting all living systems on the planet. Unlike the Great Barrier Reef, where coral bleaching is an unmistakeable example of the effects of climate change, some of the effects on the rainforests can be subtle, while other can be just as obvious as bleaching," explains Terry.
"Changes in temperature on rainforest mountaintops are very subtle, yet these temperature increases have the potential to kill species restricted to the highest mountains in Queensland," says Terry.
"Over the last two decades the white phase Lemuroid Ringtail Possum became one of the first species of vertebrate animals to show declines under climate change. Their physiology has evolved to deal with cool moist mountain-top climates, and they struggle to maintain appropriate body temperature when the climate exceeds 30 degrees Celsius for extended periods; in November 2018 a week of extreme heat exceeded these temperatures at even the higher altitudes. The trend of increasing temperatures has led to population declines," notes Terry.
"Sadly and dramatically, during the same heat wave, Cairns' hottest day on record delivered nearly 42 degrees Celsius, which killed between 25 to 33 per cent of the Spectacled Flying-fox population from heat stress," says Terry.
Terry feels passionately that the entire planet needs to work together to achieve an outcome on climate change. The WTMA released its Climate Adaptation Plan in November 2019. It sets out the steps being taken to try and build some resilience in the Wet Tropics, based around a philosophy of "Accept, Act, Adapt". The plan sets out three clear goals: to establish regional adaptation frameworks; to improve landscape resilience; and to facilitate and transition to adaptive communities and industries.
"In Australia we take a lot of our living national heritage for granted. These stamps will help raise the level of consciousness of these incredible animals in the minds of Australians," says Terry.
The Tree-dwellers of the Tropics stamp issue is available from 21 January 2020, online, at participating Post Offices and via mail order on 1800 331 794, while stocks last.

View the gallery and technical details from this issue
This content was produced at the time of the stamp issue release date and will not be updated.
Banner photograph: Terry Carmichael