Australian Legends of Singles Tennis 2016
Release date: 21 January 2016
Eleven of Australia's most loved and celebrated singles tennis players have been honoured by Australia Post as the recipients of the 2016 Australia Post Legends Award.
2016 marks the 20th year of the Australia Post Legends Award, celebrating outstanding Australians who have inspired the community.
This year's Legends of Singles Tennis highlights eleven of Australia's tennis elite who have not only achieved personal success in their professional careers, but have all played an important role in shaping the positive image of Australian tennis globally.
The 2016 Australia Post Legends Award recipients are Pat Cash, Ashley Cooper AO, Roy Emerson, Neale Fraser AO MBE, Evonne Goolagong Cawley AO MBE, John Newcombe AO OBE, Patrick Rafter, Tony Roche AO MBE, Ken Rosewall AM MBE, Frank Sedgman AM and Fred Stolle AO. In addition to the Legends Award stamp series, Lleyton Hewitt is being honoured on a special edition farewell stamp to commemorate his retirement from competitive tennis and as the new captain of the 2016 Davis Cup team.
The 2016 Legends will feature on a $1 stamp as well as a stamp pack, first day cover, a set of maxi cards and booklet of 10 stamps for collectors.
The stamps and associated products are available online, at participating Australia Post retail outlets and via mail order phone 1800 331 794, from 21 January 2016 while stocks last.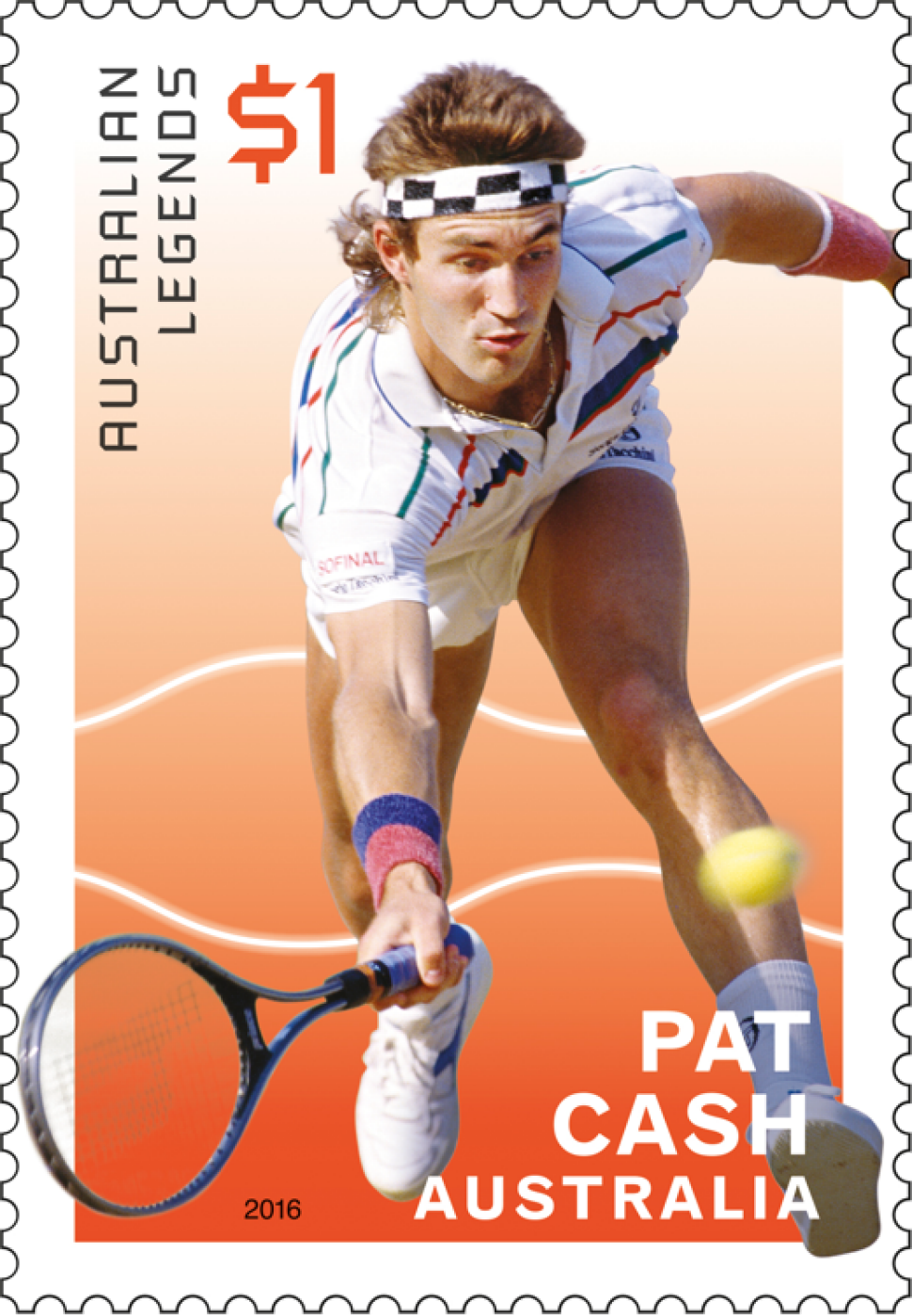 Pat Cash (b. 1965)
Pat Cash's greatest tennis achievement was winning the men's singles at Wimbledon in 1987. After defeating world No. 1 Ivan Lendl in straight sets, he climbed into the stands to celebrate with his family and coach. This practice has now almost become de rigueur among Wimbledon winners. Cash twice made the final of the Australian Open – in 1987 and 1988 – but lost five-setters on both occasions, to Stefan Edberg and Mats Wilander respectively. The Australian was a renowned serve-and-volleyer whose game flourished on grass. A regular Davis Cup representative for Australia, he was part of Australia's winning teams at Kooyong in 1983 and 1986. Cash first represented Australia as a 17-year-old and finished with a 31-10 Davis Cup record over eight years.
Pat Cash said about receiving his Legends award:
"Australians love sport like no other nation and for me to be honoured on a stamp as one of the legends, is an amazing acknowledgement. I never imagined my face being used as a means of postage!"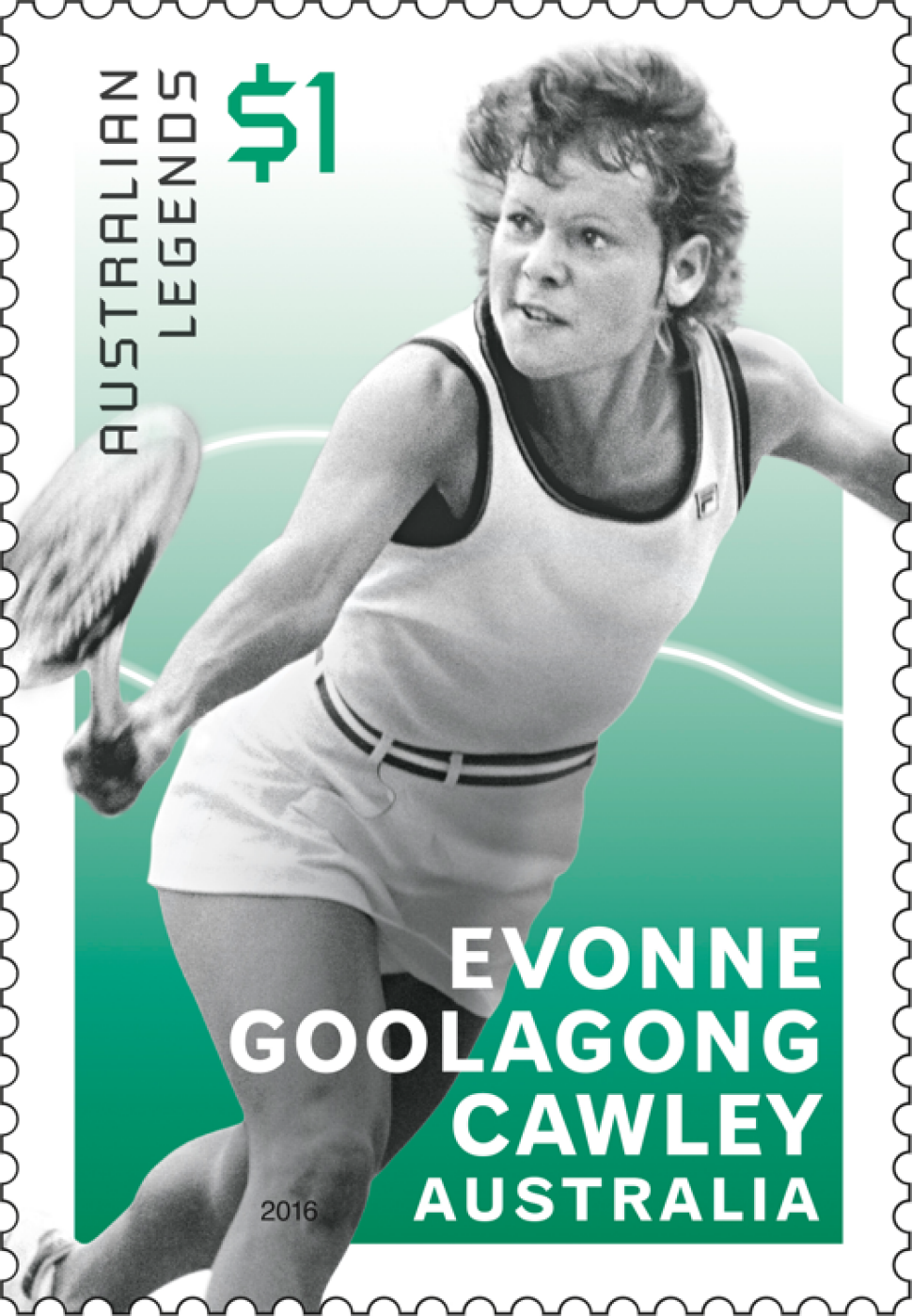 Evonne Goolagong Cawley AO MBE (b. 1951)
Evonne Goolagong Cawley ranked in the top 10 for nine years and climbed to the top of the rankings in 1976. She won four Australian Open singles between 1974 and 1977, though not in consecutive championships, as she missed the January 1977 Open and won the December 1977 event. The beloved "Gong" finished her career in the mid-1980s with seven Grand Slam singles titles from 18 finals, and 13 major titles in all. Renowned for her grace, ethereal touch and fluid speed around the court, Goolagong Cawley started playing as a young girl by hitting a ball against a wall with a board from an apple crate. The US Open was the only major to elude the adored Aussie; she lost four consecutive finals in New York between 1973 and 1976. She did, however, win Wimbledon as a mother in 1980, only the second woman to do so.
Evonne Goolagong Cawley AO MBE said about receiving her Legends award:
"Being on a stamp is a wonderful honour. Lately I have really been appreciating what I've done in my career, because I never stopped to think about it."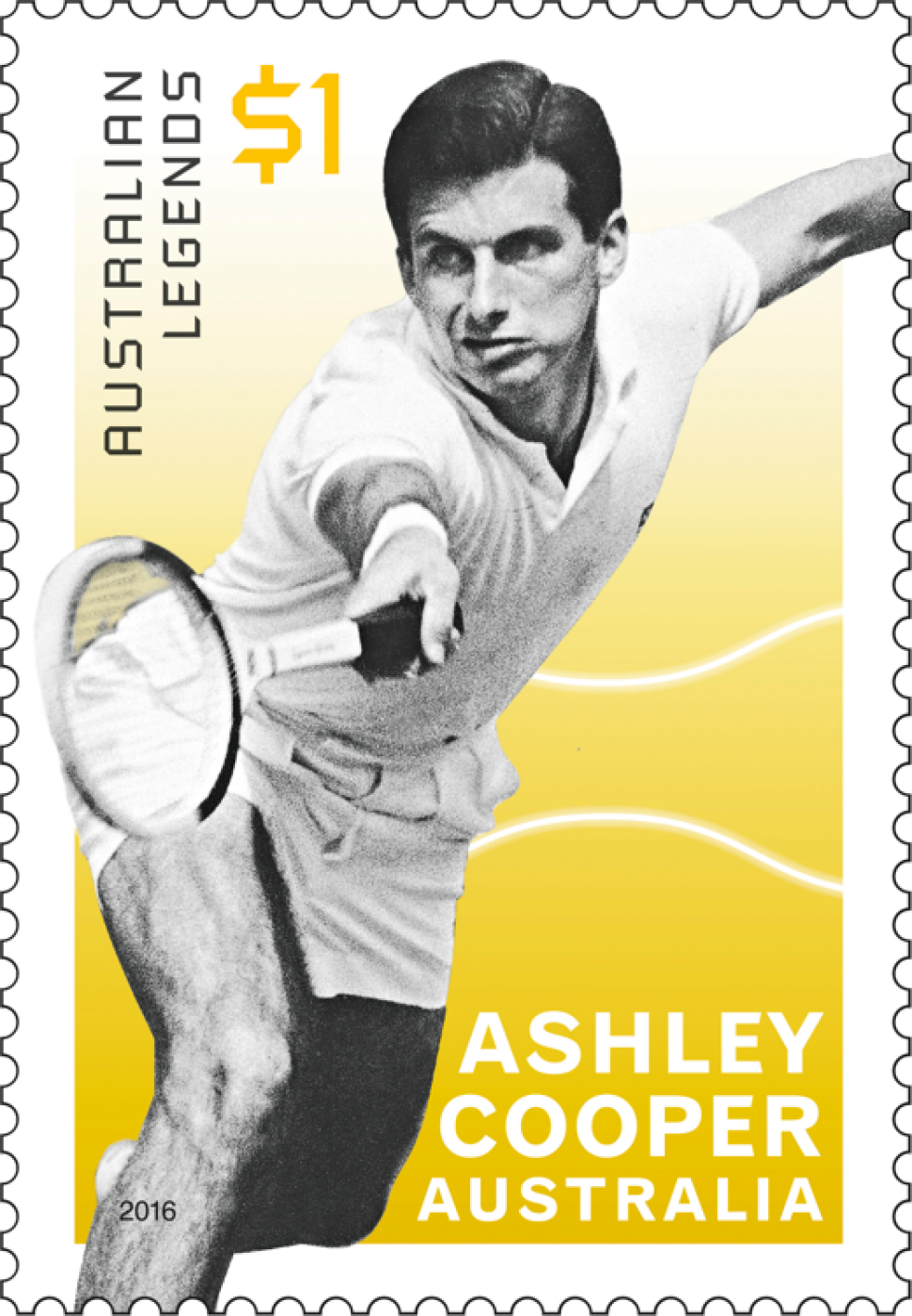 Ashley Cooper AO (b. 1936)
Ashley Cooper was an attacking player with smooth ground strokes and poise at the net. In 1958 his only loss in the Grand Slams came in the semi-finals at the French. He was only the sixth man to win three or more majors in a season. Melbourne-born but raised in Queensland, Cooper won back-to-back Australian titles in 1957 and 1958, and featured in Australia's Davis Cup team in both years. In 1957 the Australians triumphed over the United States 3-2, but in 1958 the result was reversed, with the Americans defeating the Australians 3-2.
Ashley Cooper AO said about receiving his Legends award:
"I was so proud to be asked to be on a stamp. I certainly never thought it would happen and to be amongst such a great group of people, well I'm just really chuffed."
Roy Emerson (b. 1936)
Roy Emerson was a super-fit and athletic champion whose career bridged the amateur and Open eras. His haul of 28 Grand Slam titles (12 singles, 16 doubles) is a record for men's tennis. Emerson is also the only man to win singles and doubles titles at all four majors. In 1964, his only loss in Grand Slam play came in the quarter-finals at Paris to Italy's Nicola Pietrangeli. A vibrant figure in Australia's golden tennis age, Emerson played in eight winning Davis Cup teams and clinched 34 of 38 Cup rubbers. A gifted doubles player, he won doubles titles at all the majors at least three times. Emerson was justly famous for his "no excuses" code, saying: "You should never complain about an injury. We believe that if you play, then you aren't injured, and that's that."
Roy Emerson said about receiving his Legends award:
"Never in my wildest dreams did I ever imagine that my photograph would be on an Australian postage stamp. What an honour it is for me to be chosen, I am delighted."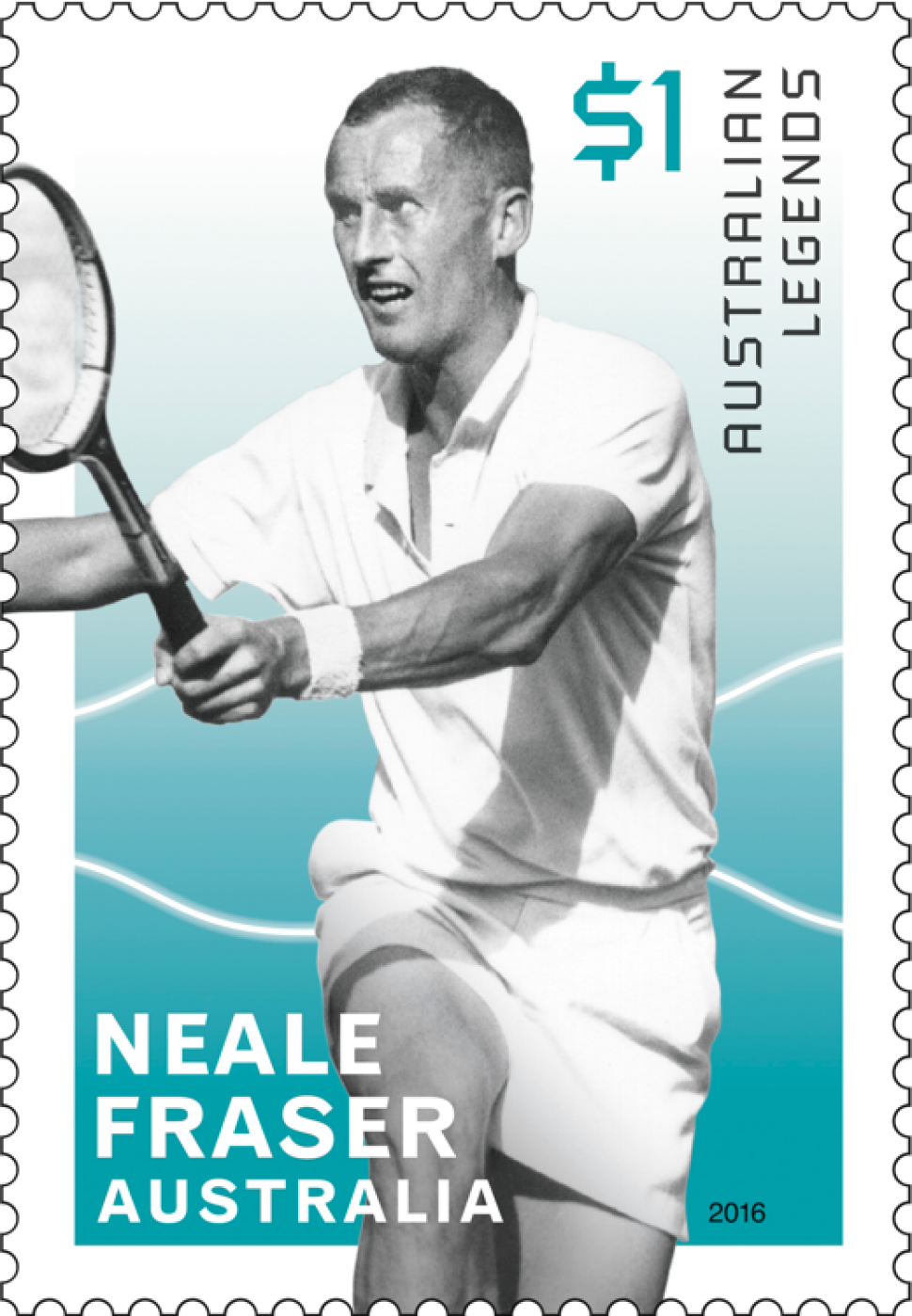 Neale Fraser AO MBE (b. 1933)
Neale Fraser was a strong athlete known for his big forehand and fearsome lefty serve. A Wimbledon champion and dual US singles winner, he was unlucky to miss out on his national title in three finals. Against Rod Laver in 1960, he held a match point, only to lose 8–6 in the fifth set. In 1959 and 1960 Fraser dominated the United States Championships, winning the singles, doubles and mixed titles in both years. A committed Davis Cup player, he finished with an imposing 18–3 record. Fraser's commitment to Davis Cup continued for 24 years as captain. In 2008 he was awarded the ITF's highest accolade – the Philippe Chatrier award for outstanding achievement in tennis.
Neale Fraser AO MBE said about receiving his Legends award:
"Tennis gave me a life I never could have dreamed of. To think that I would join this illustrious group of people that have been recognised in the history of the award, it makes me a very proud Australian."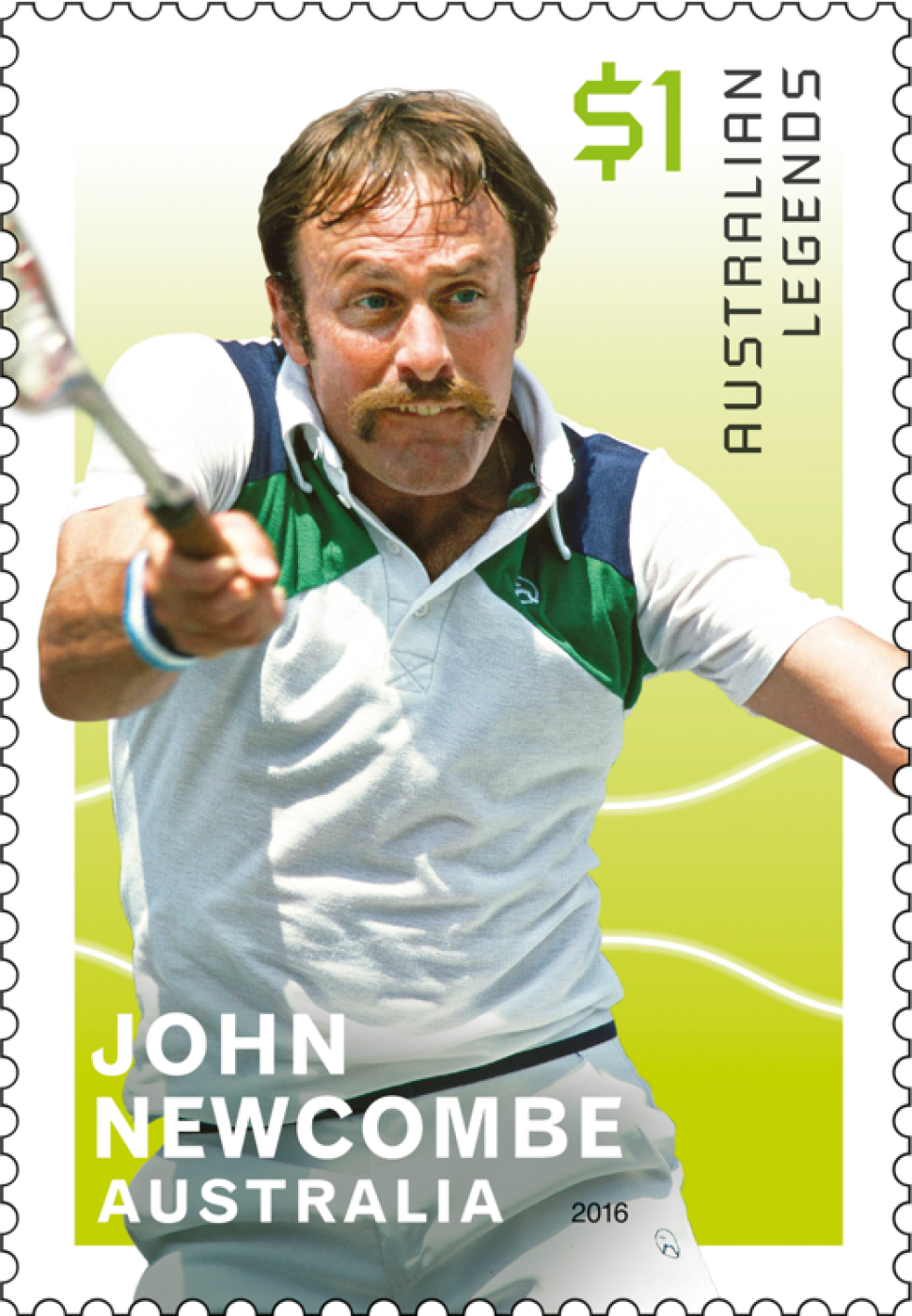 John Newcombe AO OBE (b. 1944)
John Newcombe was a rugged serve-volleyer and a great competitor. His most formidable weapons – serve, volley and forehand – were used to devastating effect. "Newk" captured seven Grand Slam singles titles, winning all but the French. Newcombe and Tony Roche won 12 Grand Slam doubles titles together, a record in men's doubles at the time. Newcombe would eventually own 17 doubles majors by the end of his career. He was part of five winning Davis Cup teams, four successive victories between 1964 and 1967 and the all-star pro team of 1973. In 1994 Newcombe was named Davis Cup captain, a role he continued until 2000.
John Newcombe AO OBE said about receiving his Legends award:
"I'm a very confident person and I have great self-belief but I never expect things to come along. So when I received the call from Australia Post to say they wanted to feature me on a stamp, I thought to myself – I'm such a lucky bloke."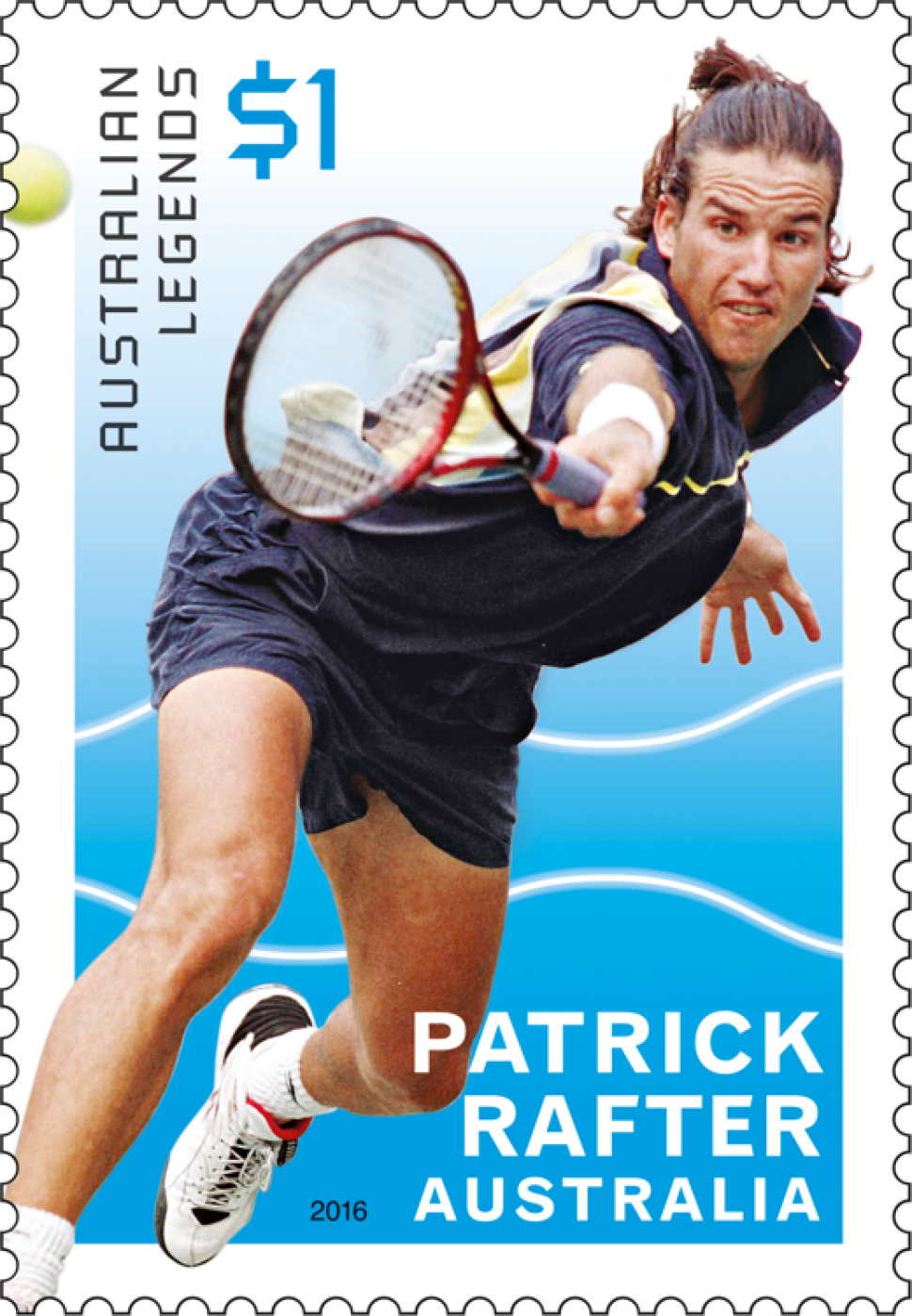 Patrick Rafter (b. 1972)
Popular both on and off the court, Pat Rafter captured back-to-back US Open titles in 1997 and 1998 – the only Australian to do so in the Open era. Rafter was known and admired for his serve-and-volley style, which suited the grass courts of Wimbledon, where he was a finalist in 2000 and 2001 and semi-finalist in 1999. He also made the semis at the Australian and French Opens. Rafter, who reached world No.1 in 1999, was respected for his sportsmanship, which saw him honoured with the Arthur Ashe Humanitarian Award and four ATP Stefan Edberg Sportsmanship Awards. A winner of 11 ATP singles titles and 10 doubles titles, including Australian Open 1999 (with Swede Jonas Bjorkman), Rafter was also a regular inclusion in Australia's Davis Cup teams between 1994 and 2001. He finished with a 21-11 win-loss record (18-10 in singles, 3-1 in doubles). The 2001 Davis Cup final was his last event. Within weeks of his retirement, Rafter was named Australian of the Year in 2002. The centre court at Queensland Tennis Centre in Brisbane is named Pat Rafter Arena in his honour.
Patrick Rafter said about receiving his Legends award:
"I remember in 2000 the Olympians who won gold were featured on a stamp which I thought was really cool. This is an amazing milestone and acknowledgement from Australia Post and I'm proud to be a part of it."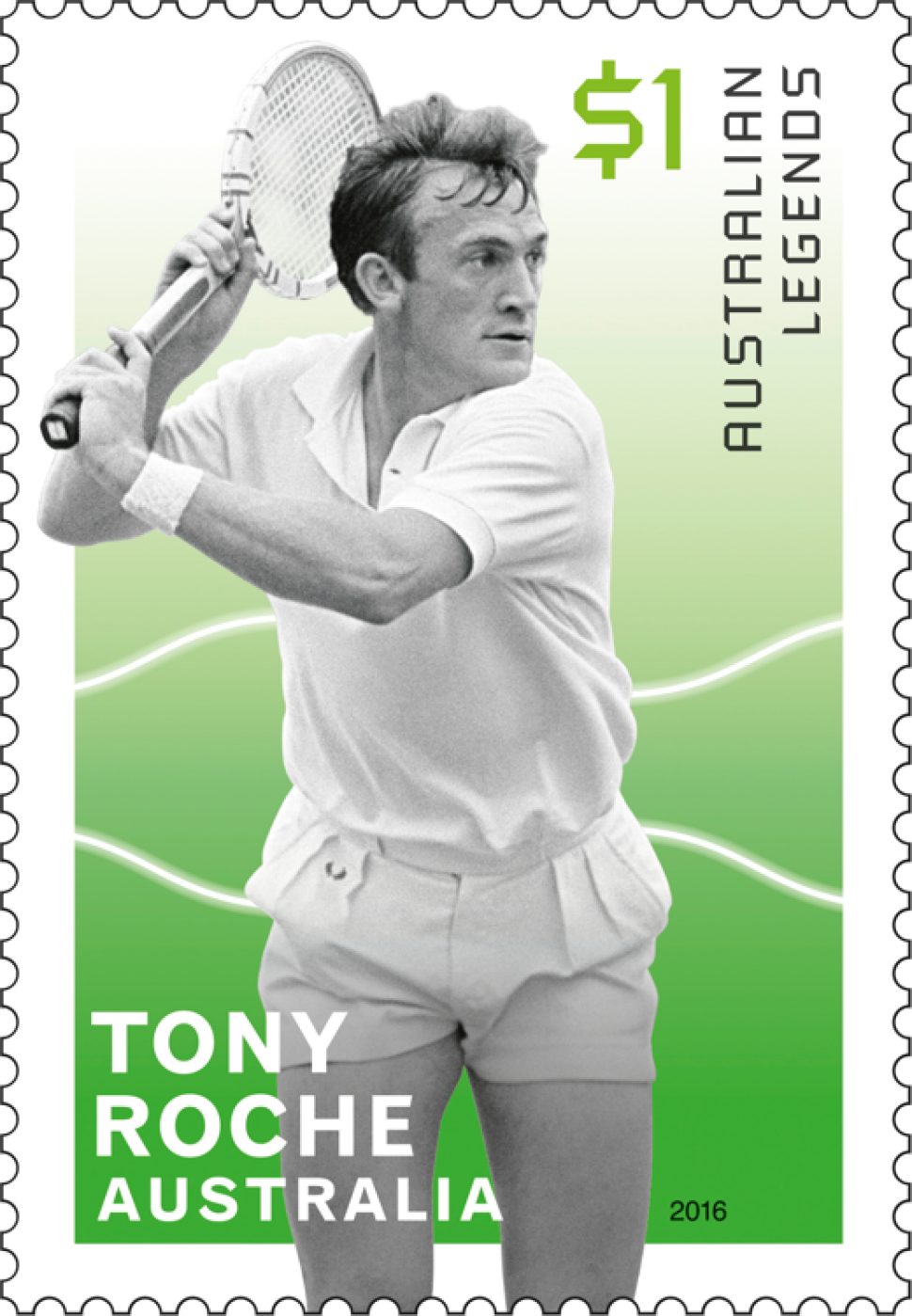 Tony Roche AO MBE (b. 1945)
Roche possessed a lethal left-hand serve and crisp volleys – weapons that carried him to the 1966 French Open title. He finished runner-up in five Grand Slam finals – twice at the French Open (1965 and 1967), twice in the United States (1969 and 1970) and once at Wimbledon (1968). All five losses were to fellow Aussies: Fred Stolle and Roy Emerson in Paris, Rod Laver at Wimbledon and the US Open, and Laver and Ken Rosewall in New York. Tony Roche achieved great success in doubles with his long-time partner and lifelong friend John Newcombe. The two snared 12 doubles majors together, including five Wimbledon championships in both the amateur and professional eras. Roche also won five Australian doubles titles, the last with Arthur Ashe. A keen Davis Cup player, Roche racked up a 14-5 win-loss record (7-3 singles, 7-2 doubles) and was a part of winning teams in 1965, 1966, 1967 and 1977. After retiring Roche became a highly successful coach, guiding the careers of world No.1 players Ivan Lendl, Patrick Rafter, Lleyton Hewitt and Roger Federer. He was coach of the Australian Davis Cup team from 1994 to 2000.
Tony Roche AO MBE said about receiving his Legends award:
"Tennis has an extremely proud history in Australia, one that I hope will continue for many years to come. To be given the honour of having a postage stamp recognising the significance of tennis in Australia is both special and humbling."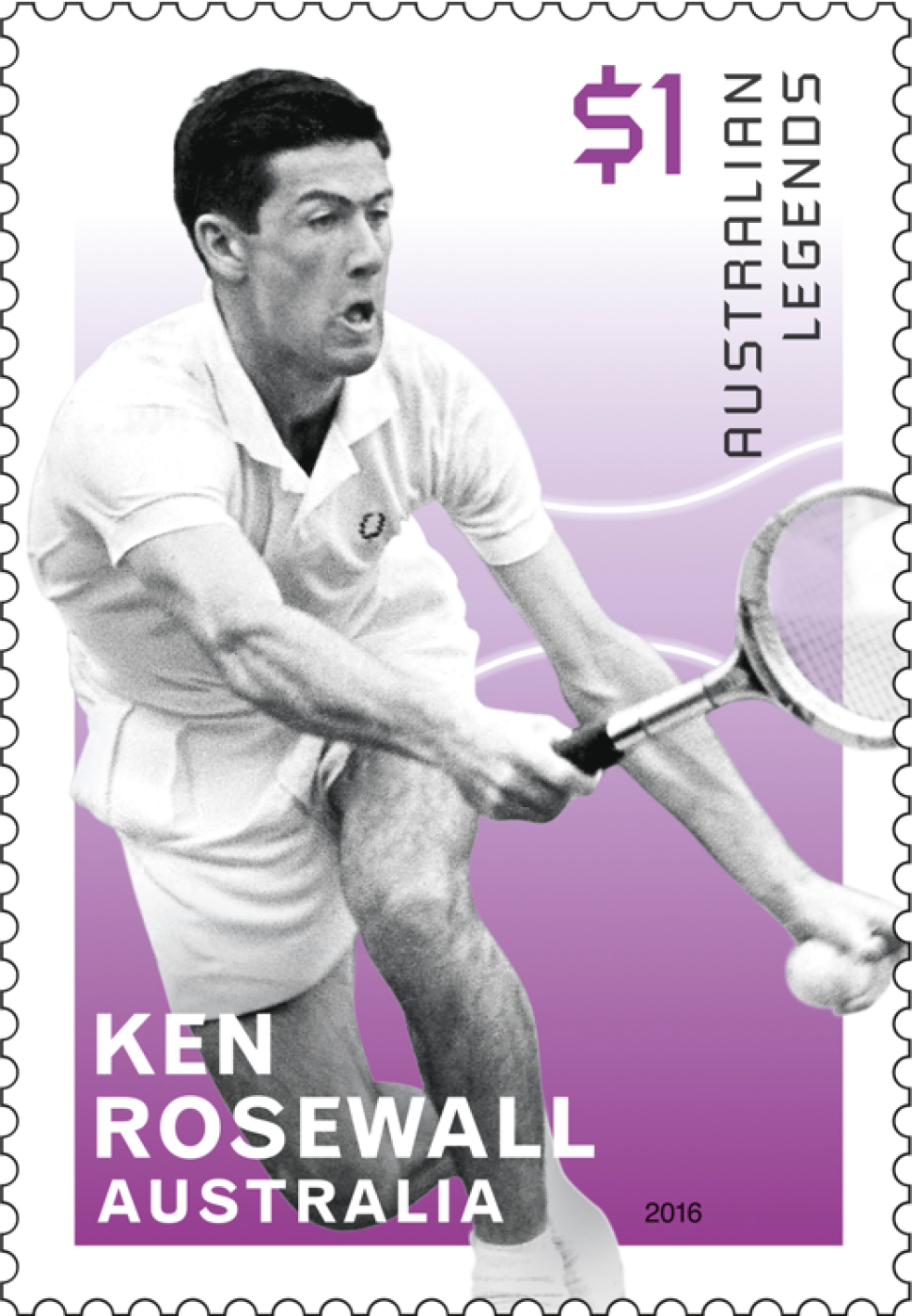 Ken Rosewall AM MBE (b. 1934)
Known as "Muscles" to his friends, Ken Rosewall is one of the Australian greats of tennis. In a career that continued into his 40s, Rosewall amassed 18 major titles, including eight singles titles and a career doubles Grand Slam. One of the finest players to not win Wimbledon, Rosewall made it to the final at the All England Club on four occasions (1954, 1956, 1970 and 1974). While he wasn't the strongest player on court, Rosewall used canny placement and court speed to make up for any lack of physical presence. He was renowned for his enviable backhand, balance and excellent anticipation. He famously teamed with Lew Hoad to defend the Davis Cup in 1953. The centre court at Sydney's Olympic Tennis Centre is named Ken Rosewall Arena in his honour.
Ken Rosewall AM MBE said about receiving his Legends award:
"Tennis gave me the opportunity to travel the world and I'm proud my name is recognised with the game. It's humbling to think you're going to be on a stamp, especially alongside some of my long-time friends – it's a good feeling."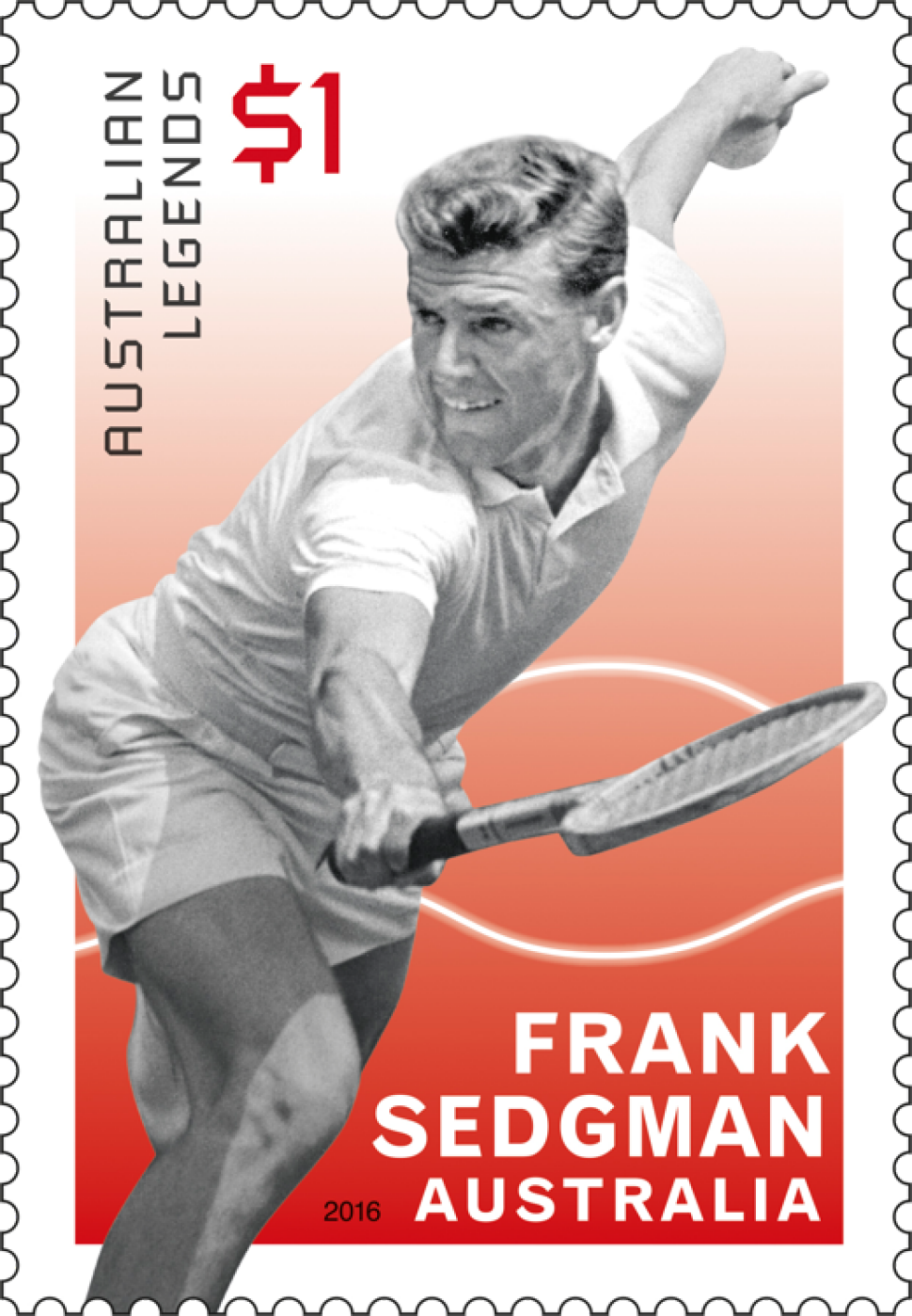 Frank Sedgman AM (b. 1927)
Frank Sedgman took just five years to amass 22 major titles, including five singles titles (Australian Open 1949–50, Wimbledon 1952 and US Open 1951–52). Out of the 24 major trophies on offer in 1951 and 1952, Sedgman won 16 of them, including a doubles Grand Slam. Quick around the court, Sedgman was known for his athleticism, fitness and impeccable net play. An exponent of the serve-and-volley game, Sedgman was Australia's first post-war Wimbledon champion, setting off the golden era of Australian dominance. He made his Davis Cup debut in 1949 and helped Australia to retain the Cup in 1951 and 1952.
Frank Sedgman AM said about receiving his Legends award:
"It's such an honour. We were just athletes doing our best, so to be thought about after all these years it really is just an amazing honour."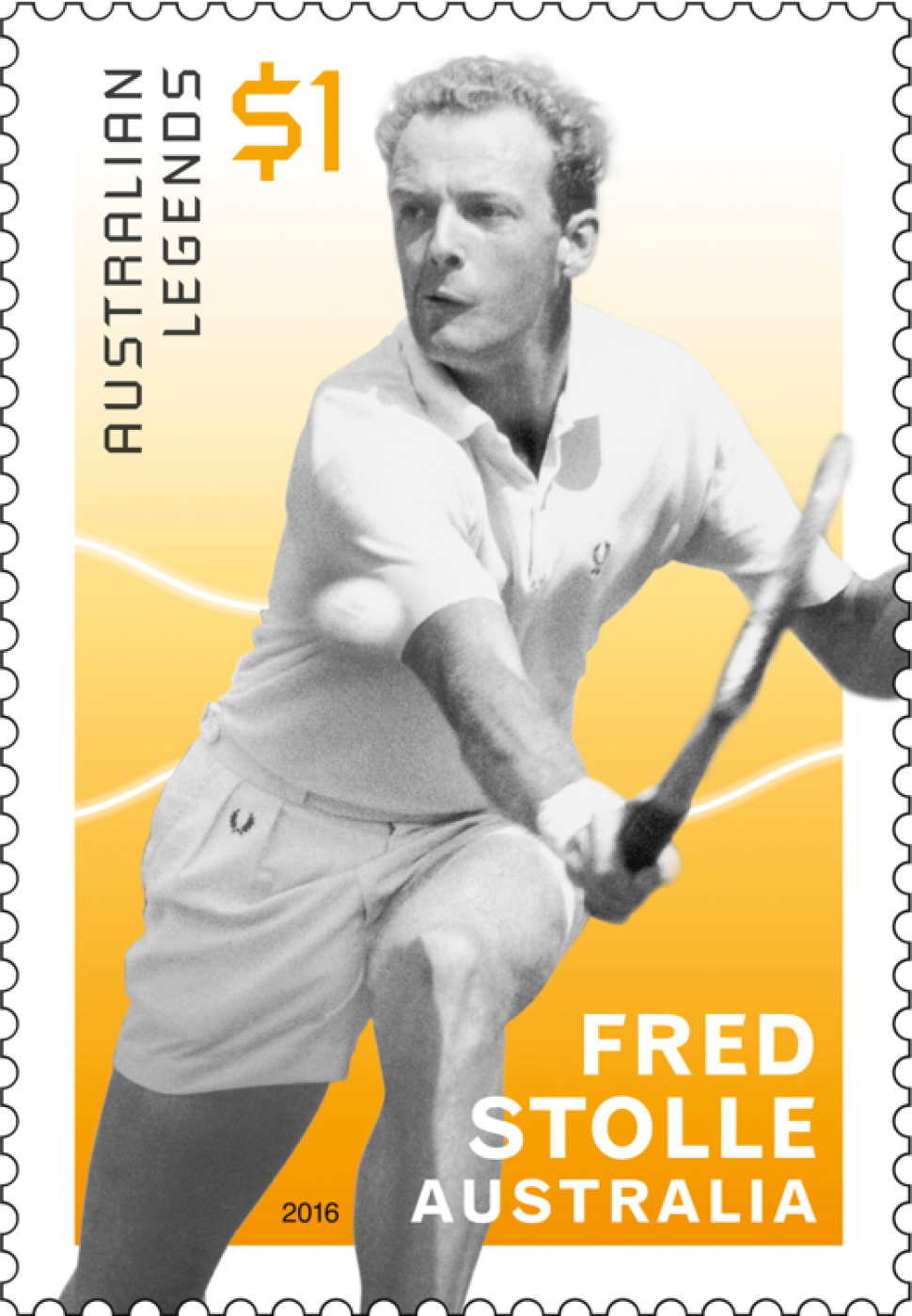 Fred Stolle AO (b. 1938)
Tall and competitive, Fred Stolle was known for his powerful serve, accurate volleys and fluid backhand. He contested singles finals at all the Grand Slams, winning at Paris in 1965 and New York in 1966. Stolle was runner-up at Wimbledon three times (1963, 1964 and 1965) and twice at the Australian Championships (1964 and 1965). He lost to Chuck McKinley in his first Wimbledon final and to doubles partner Roy Emerson in the other four Grand Slam deciders. Stolle won all four doubles majors. He enjoyed success in Davis Cup and was part of Australia's winning teams in 1964, 1965 and 1966. He finished with a 13-3 win-loss record (10-2 in singles, 3-1 in doubles). Following his retirement, Stolle swapped his racquet for a microphone and settled into a long and successful career as a TV commentator.
Fred Stolle AO said about receiving his Legends award:
"I am both honoured and excited to be chosen along with a distinguished group of friends and it's a good lesson for the younger generation that childhood dreams can come true. For myself and my family this is very special."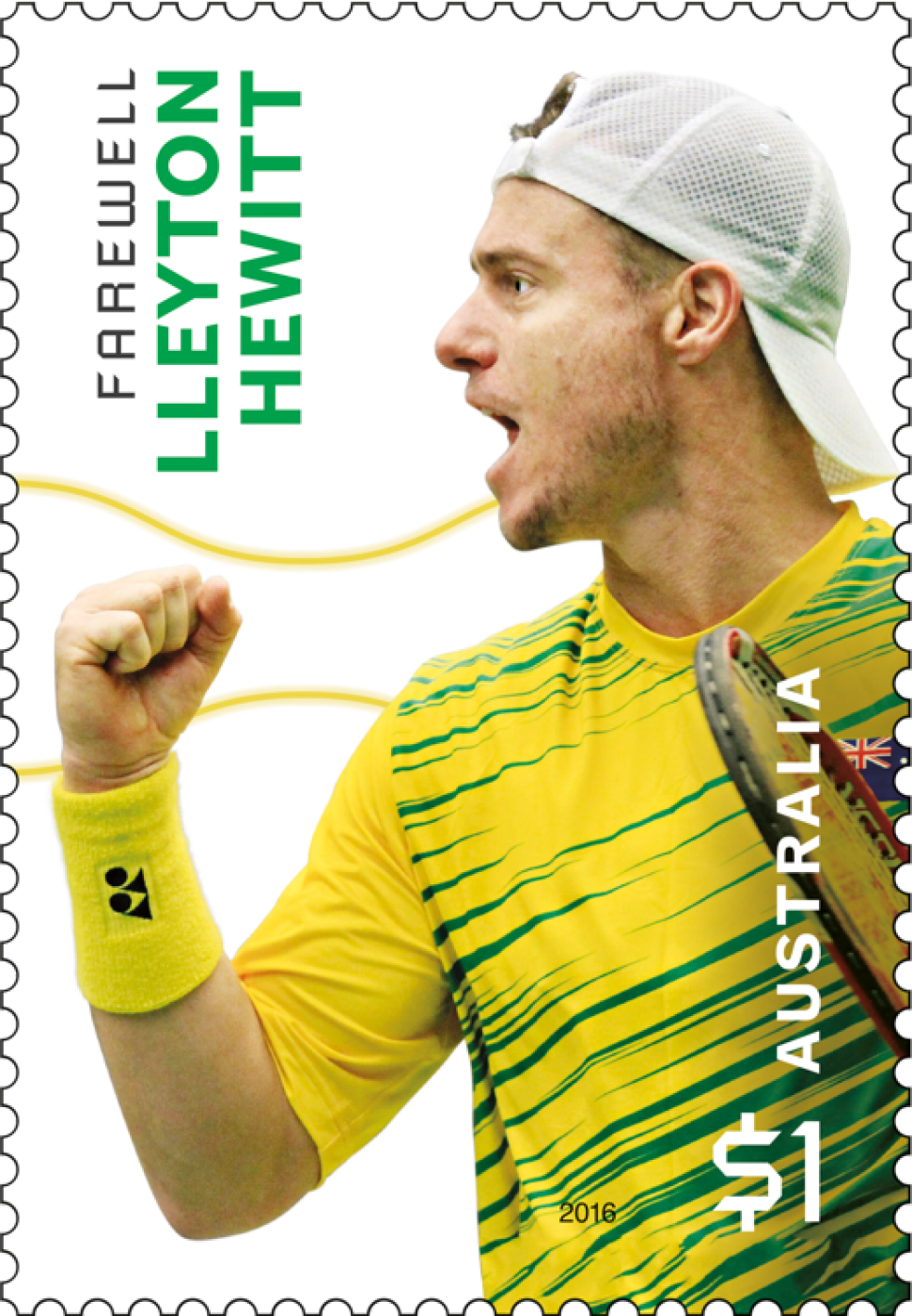 Lleyton Hewitt
This stamp honours the career of Lleyton Hewitt, who has announced he will retire from playing tennis after Australian Open 2016. His career achievements have included winning the 2001 US Open and 2002 Wimbledon men's singles titles. At the tender age of 20 Hewitt was the youngest male ever to be ranked No. 1 in the world in singles. Always tenacious, he has contested 19 consecutive Australian Open men's singles tournaments; 2016 will be his 20th appearance at the event. He also won the 2000 US Open men's doubles title, back-to-back Tennis Masters Cups (now the ATP World Tour Finals) in 2001 and 2002, and the Davis Cup with Australia in 1999 and 2003. Hewitt is the most capped Davis Cup player of all time, with a grand total of 78 matches played, including 56 singles matches in 41 ties since his 1999 debut. Hewitt will continue his involvement with international tennis as the seventh captain of the Australian Davis Cup team from 2016.
About the Australia Post Legends Award

The Australia Post Australian Legends Award is presented annually by Australia Post to honour a living individual or group of individuals who have excelled in a particular field of endeavour. The award recognises outstanding… Read more
Technical details
Issue date

21 January 2016

FDI withdrawal

19 February 2016

Denomination

12 x $1

Stamp design

Sonia Young, Australia Post Design Studio

Product design

Sonia Young, Australia Post Design Studio

Paper (gummed)

Tullis Russell Litho Red

Printer (gummed)

McKellar

Paper self-adhesive

C100

Printing process

Offset lithography

Stamp size

26mm x 37.5mm

Sheet layout

Sheetlet of 10 (2)

Perforations

14.6 x 13.86

National postmark

Melbourne VIC 3000

Issue withdrawal date

31 December 2016
*This content was produced at the time of the stamp issue release date and will not be updated.