Australia's native edible flora is an important component of "bush food". Many species are gaining greater visibility with the public, thanks to Indigenous bush cooking initiatives, commercial bush food enterprises and the increasing use of these ingredients by high-profile chefs.
Featured in this stamp issue are three species from the citrus family (Rutaceae): two from the genus Citrus and one from the genus Acronychia. Species in the citrus (or "Rue") family are often small to medium-sized shrubs (though also trees), usually with aromatic leaves that contain oil glands – the aroma and oils of which are released more intensely when the leaves are crushed. The flowers have four to five petals and are usually white, purple, pink or red in colour, and the fruit releases seed very quickly when it's ripe. Worldwide there are around 1,800 species in this family, found in both tropical and temperate climates, especially in Africa and Australia. In Australia, there are around 320 species, which are found in all states. A large number of Rutaceae species are food plants.
The stamp illustrations, by Anita Xhafer, have a botanical feel. They include a close-up perspective of each fruit, both whole and sliced, together with a fruit tree in bloom. The minisheet features a scene of the fruits featured on the stamp, as well as the Australian Round Lime (Citrus australis), also known as Dooja. 

Issue date

13-August-2019

Issue withdrawal date

29-February-2020

Denomination

3 x $1

Stamp, minisheet illustration

Anita Xhafer

Product design

Jo Mure, Australia Post Design Studio

Paper

Tullis Russell

Paper: roll

Raf Unik

Printer

EGO

Printer: rolls

Multi-Color Corp.

Printing process

Offset lithography

Stamp size (mm)

37.5 x 26

Minisheet size (mm)

170 x 80

Perforations

13.86 x 14.6

Sheet layout

Module of 50

FDI Postmark

Orange, NSW 2800

FDI withdrawal date

11-September-2019
$1 - Desert Lime (Citrus glauca)
Desert Lime (Citrus glauca) produces a small fruit with a very tart flavour. It
can be used in place of regular limes or lemons, with the main differences
being its small size and thinner peel. In fact, the Desert Lime requires no
peeling and can be frozen without losing any flavour upon being thawed. Native
to arid and semi-arid zones of South Australia, New South Wales and Queensland,
the Desert Lime plant has adapted to its harsh desert environment, possessing
sharp thorns that protect it from grazing animals. The fruit is yellowish when
ripe but is often picked while still green. Desert Lime is used to make
cordials, sauces, garnishes marmalades, pickles and chutneys. 
$1 - Finger Lime (Citrus australasica)
Australian Finger Lime (Citrus australasica) is a thorny shrub that occurs in the wild in
south-eastern Queensland and northern New South Wales. Its cylindrical fruit is
around 10 centimetres long and shaped, as its name suggests, like a finger. The
flesh comprises little caviar-shaped pearls. While fruits in the majority of
wild plants have yellowish-green flesh, the stamp features a plant with
naturally occurring pink-fleshed fruits. The fruit pulp is often used as a
garnish, but Finger Lime can also be used in dressings, jams and sauces, cordials
and even cocktails.
$1 - Lemon Aspen (Acronychia acidula)
Lemon Aspen (Acronychia acidula) is a small to medium-sized rainforest tree, found
naturally in coastal areas from central to northern Queensland. Its very small
pale-yellow fruit (of around 1.5 to 2.5 centimetres in diameter) is referred to
as "rainforest lemon". The flesh of the fruit is spongy and the core usually
contains small black seeds. It has an extremely strong citrus aroma and is
tart, much like grapefruit, and should be picked slightly under-ripe. Lemon
Aspen puree can be used in dressings, marinades, cordials and desserts.
Shop our stamp collectables
Set of stamps:
Set of Bush Citrus stamps

This set of stamps contains all three gummed stamps from the Bush Citrus stamp issue.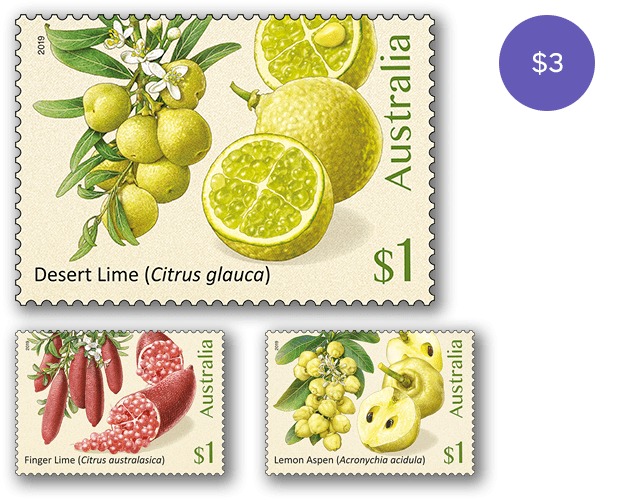 Stamp pack:
Bush Citrus stamp pack

The Bush Citrus stamp pack contains all three stamps and minisheet from the stamp issue presented in high quality folder.

Minisheet:
Bush Citrus minisheet

The Bush Citrus minisheet consists of the three stamps from the issue incorporated into a miniature stamp sheet.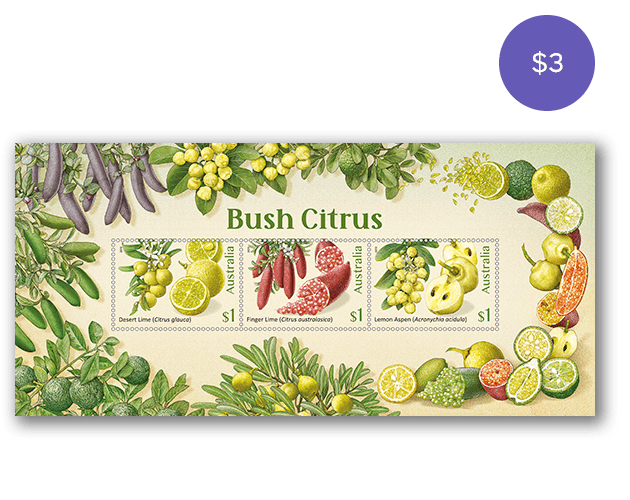 Maxicard set:
Set of Bush Citrus maxicards

This maxicard set contains the three maxicards from the Bush Citrus stamp issue.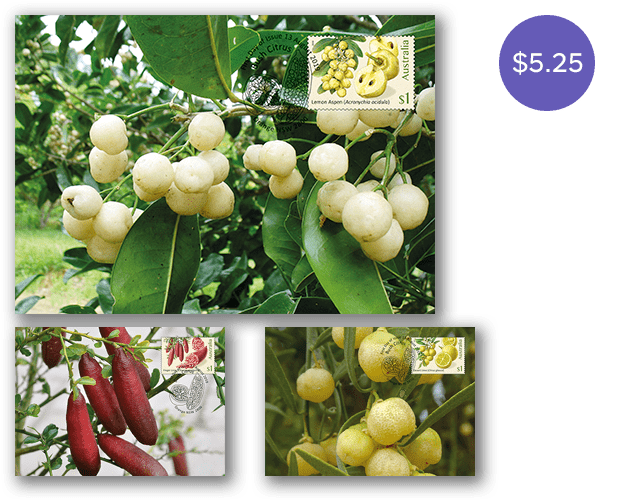 Set of stamps

Stamp pack

Minisheet

Maxicard set
Strip of three self-adhesive Bush Citrus stamps

Pictorial envelope for the Bush Citrus stamp issue

Gutter strip 10 x $1 Desert Lime stamps

Gutter strip 10 x $1 Finger Lime stamps

Gutter strip 10 x $1 Lemon Aspen stamps

Roll of 100 Bush Citrus self-adhesive stamps

First day Bush Citrus gummed stamps cover

First day Bush Citrus self-adhesive stamps cover

First day Bush Citrus minisheet cover
This content was produced at the time of the stamp issue release date and will not be updated.