2020 was a year like no other. The global pandemic has presented huge challenges to the health and wellbeing of people throughout the world. Millions have succumbed to the coronavirus, lives have been disrupted and national economies shaken.
This stamp issue pays tribute to the workers in the frontline of the pandemic in Australia. By putting their own safety at risk to assist and protect other Australians, these brave individuals have been indispensable in helping us through the insidious effects of Covid-19.

Issue date

16 February 2021

Issue withdrawal date

31 August 2021

Denomination

$1.10 x 5

Stamp illustrations

Robert Elliott

Product design

Sonia Young, Australia Post Design Studio

Paper: gummed

Tullis Russell

Paper: self-adhesive

Blue PVA

Printer

RA

Printing process

Offset lithography

Stamp size (mm)

26 x 37.5

Minisheet size (mm)

170 x 80

Perforations

14.6 x 13.86

Sheet layout

Module of 50

FDI Postmark

Canberra ACT 2601

FDI withdrawal date

17 March 2021
Shop our stamp collectables
Set of stamps:
Set of Frontline Heroes Gummed Stamps

This set of stamps contains all five stamps from the Frontline Heroes stamp issue.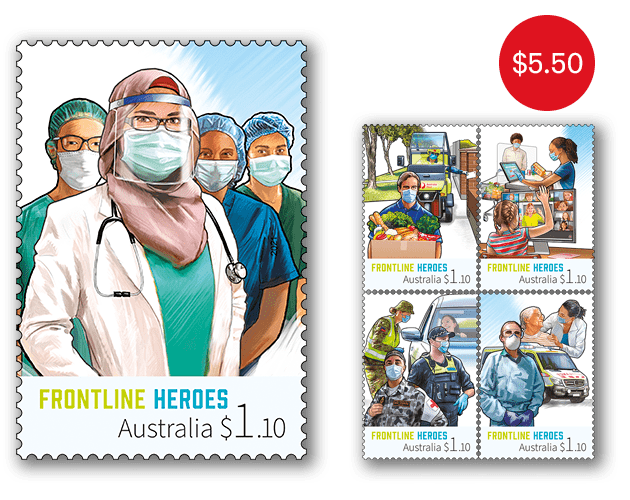 Stamp pack:
Frontline Heroes Stamp Pack

The Frontline Heroes stamp pack contains all five stamps and minisheet from the stamp issue presented in high quality folder.

Minisheet:
Frontline Heroes Minisheet

The Frontline Heroes minisheet consists of the five stamps from the issue incorporated into a miniature stamp sheet.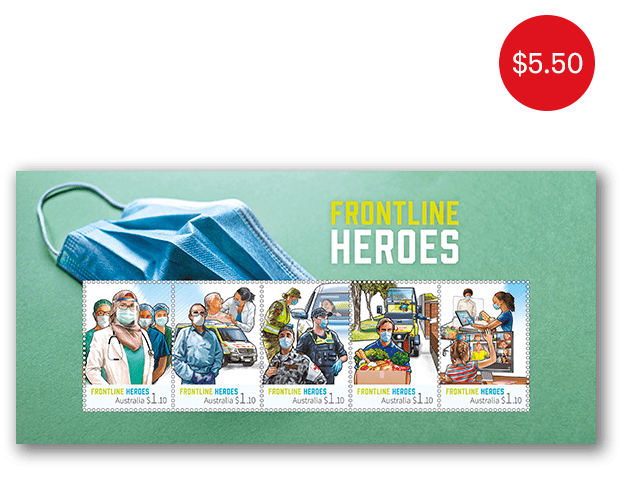 Maxicard set:
Set of Frontline Heroes Maxicards

This maxicard set contains the five maxicards from the Frontline Heroes stamp issue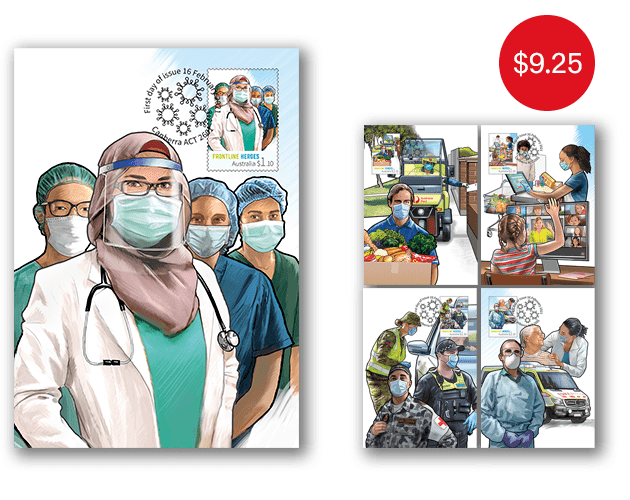 Set of stamps

Stamp pack

Minisheet

Maxicard set
Gutter Strip of 10x Frontline Heroes Stamps

Pictorial Envelope for the Frontline Heroes Stamp Issue

First Day Frontline Heroes Gummed Stamps Cover

First Day Frontline Heroes Minisheet Cover

Booklet of 10x Frontline Heroes Stamps

Chequebook of 20x 10x $1.10 Frontline Heroes Stamps
This content was produced at the time of the stamp issue release date and will not be updated.