With the passing of Britain's Colonial Defence Act 1865, the Victorian colonial government successfully obtained funding from Britain towards increasing its naval defence, commissioning Australia's first armoured warship. The Cerberus – named for the three-headed dog that guarded the gates to the underworld in Greek mythology – was commissioned as a coastal defence ship to safeguard Melbourne, Australia's largest and wealthiest city of the time.
Designed by Edward James Reed and built by Palmer Shipbuilding & Iron Co. near Newcastle in Britain in 1867–69, the Cerberus arrived in Port Phillip Bay on 9 April 1871, following a dramatic 123-day voyage across the globe. This stamp issue marks the 150th anniversary of the vessel's historic entry to service in Australia in 1871.
The 225-foot (68.58m) Cerberus, with a beam of 45 feet (13.73m), had a two-cylinder 250-horse-power engine, powering two screw propellers, which allowed her to reach a maximum speed of 12.4 knots, with a cruising speed of seven knots. Designed specifically for Port Phillip Bay, the Cerberus's flat keel meant she was not restricted to the channels, as any attacking ship would be, but could move with freedom throughout the bay. Her innovative lack of sails meant that she could be adequately manned by a small colonial navy. For 36 years, the Cerberus guarded Port Phillip, yet was not once called upon to engage in conflict. She was later sunk at Black Rock to become a breakwater. The site is a maritime heritage zone that comes under the auspices of Heritage Victoria.

Issue date

22 March 2021

Issue withdrawal date

30 September 2021

Denomination

$1.10 x 1

Stamp illustration

Ian Hansen, Maritime Art Studios

Product design

Sonia Young, Australia Post Design Studio

Paper: gummed

Tullis Russell Red Phos.

Printer

Ego

Printing process

Offset lithography

Stamp size (mm)

26 x 37.5

Minisheet size (mm)

151 x 101

Perforations

14.6 x 13.86

Sheet layout

Sheetlet of 10

FDI Postmark

HMAS Cerberus Vic. 3920

FDI withdrawal date

20 April 2021
The painting by Sydney-based artist Ian Hansen shows HMVS Cerberus during the late 1880s, steaming on the waters of Port Phillip Bay. She underwent several changes and upgrades during her service, including the installation of steam steering (1877) and searchlights (1879), the replacement of the original pair of signalling masts with a single iron mast (1879) and the shortening of her flying deck (1888). The painting shows her in her fourth colour scheme, which was introduced in 1888.
Shop our stamp collectables
Stamp:
HMVS Cerberus: 150 Years Gummed Stamp

This single stamp for the HMVS Cerberus: 150 Years shows the Cerberus on the waters of Port Phillip Bay.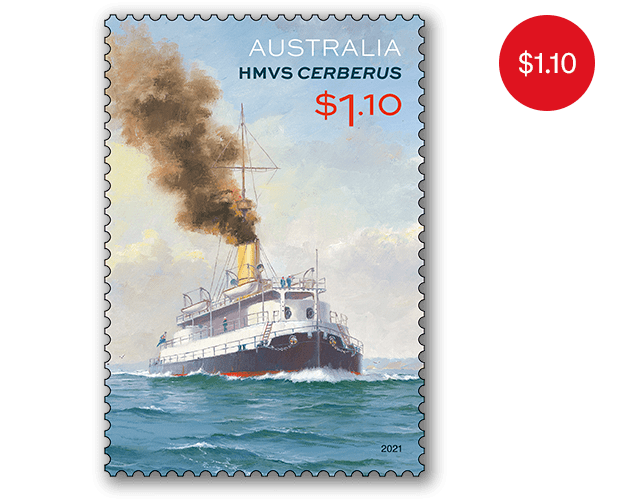 Sheetlet pack:
HMVS Cerberus: 150 Years Sheetlet Pack

The HMVS Cerberus: 150 Years sheetlet pack contains the sheetlet of 10 x $1.10 stamps from the stamp issue presented in high quality folder.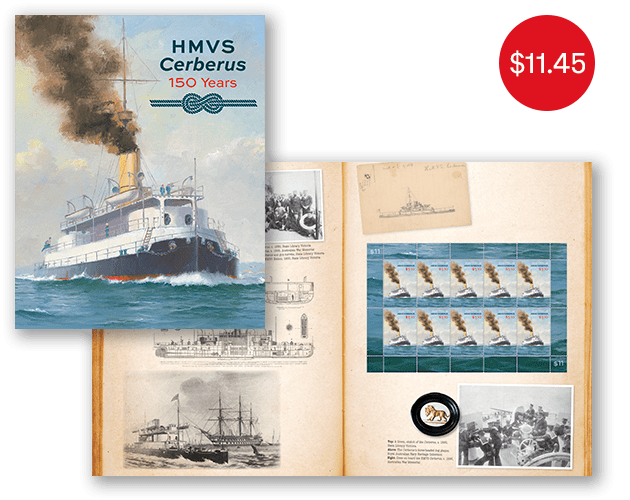 Sheetlet:
HMVS Cerberus: 150 Years Sheetlet

This gummed sheetlet contains 10 x $1.10 stamps from the HMVS Cerberus: 150 Years stamp issue.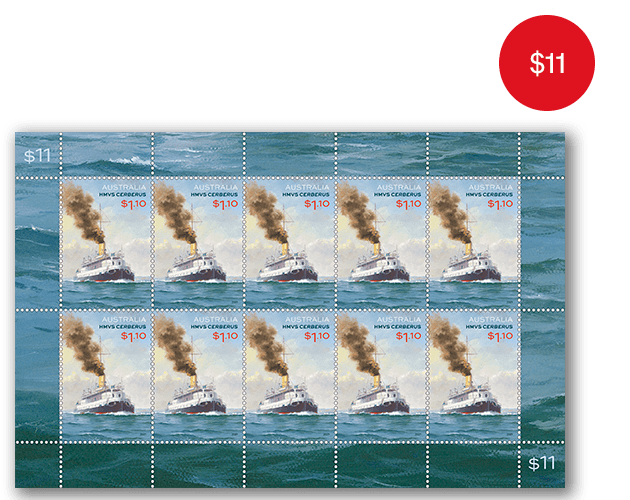 Maxicard:
HMVS Cerberus: 150 Years Maxicard

The HMVS Cerberus: 150 Years maxicard is a prepaid postcard with the gummed stamp affixed and postmarked on the view side.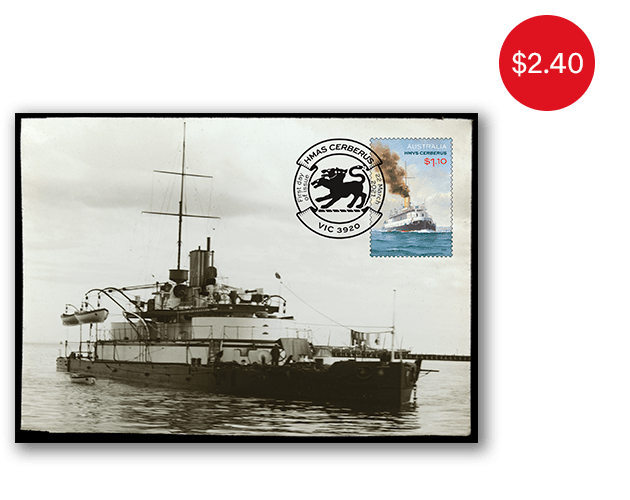 Stamp

Sheetlet pack

Sheetlet

Maxicard
Pictorial Envelope for the HMVS Cerberus: 150 Years Stamp Issue

HMVS Cerberus: 150 Years Stamp and Medallion Cover

First Day HMVS Cerberus: 150 Years Gummed Stamp Cover
This content was produced at the time of the stamp issue release date and will not be updated.