Street Art
Release date: 16 May 2017
In recent decades there has been an explosion of art practice in our urban environments. Street art describes public artistic expression that appears outside traditional art venues, such as galleries. 

Beginning as unsanctioned graffiti in the 1980s, street art has now evolved into a sophisticated range of practices, including stencil art, poster art, spray painting, yarn bombing and installation art. Australia has a particularly vibrant street art culture and this issue features four portraits by internationally respected artists painted in the streets of Melbourne and Adelaide.
The stamps
$1 Mural by Adnate, Melbourne, 2014
Adnate's large-scale works can be seen all over the world. Commissioned by the City of Melbourne, his 23-metre mural of an Indigenous boy was painted in Hosier Lane, Melbourne, in 2014.
$1 Portrait by Vans the Omega, Adelaide, 2015
Influential Adelaide-based artist Vans the Omega painted the vivid female portrait on a house in Railway Terrace, Adelaide, in 2015.
$1 Forever curious by Rone and Phibs, Melbourne, 2013
Australian artists Rone and Phibs collaborated on Forever curious, the expressive portrait of a woman in Rutledge Lane, Melbourne, in June 2013. As is the ephemeral nature of much street art, it was painted over with blue paint by another artist only two months later.
Read our interview with Rone.
$1 Shinka by Fin DAC, Adelaide, 2016
Irish artist Fin DAC employed a stencil and spray paint technique to create the mural Shinka, as part of the Little Rundle Street Art Project in Adelaide in early 2016.
A selection of products released with this issue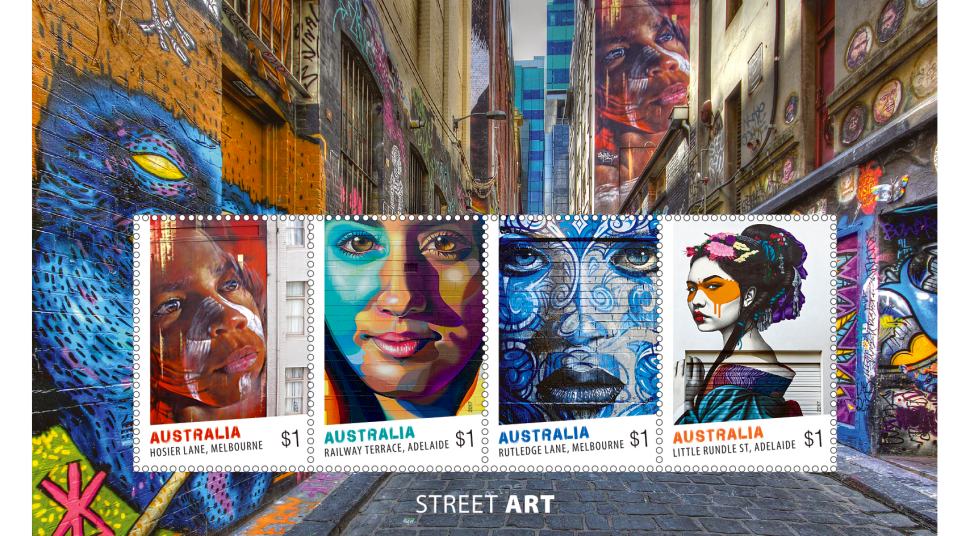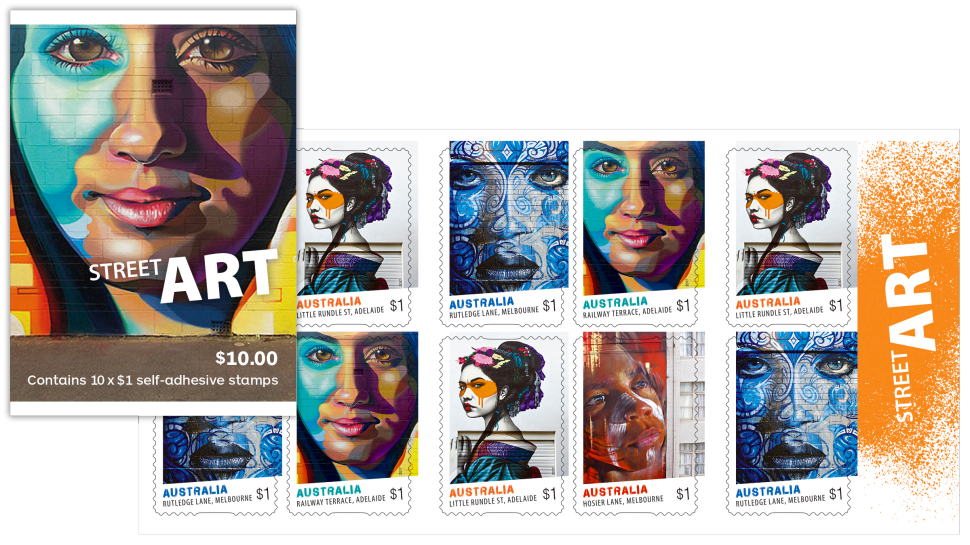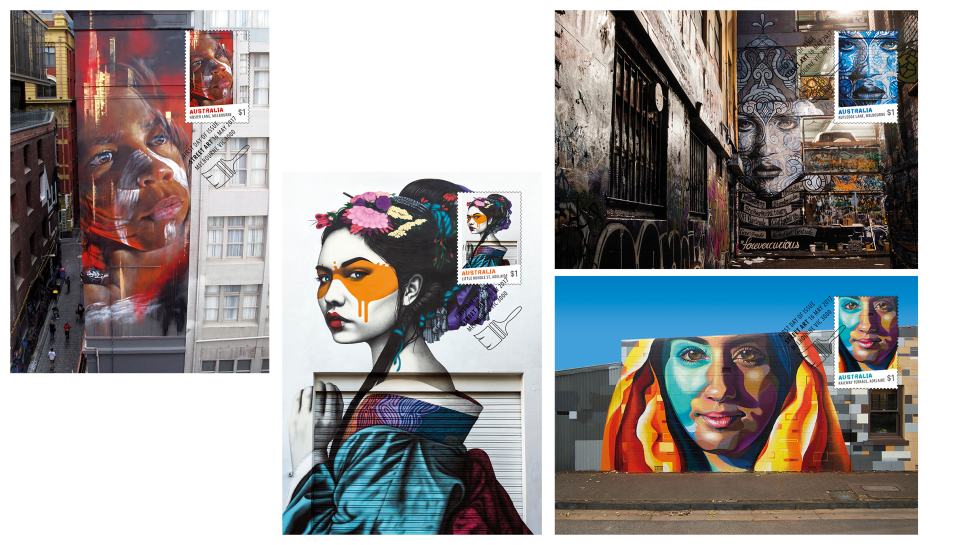 Additional products
Minisheet
First day cover (blank, gummed, minisheet)
Maxicards
Stamp pack
Self-adhesive booklet of 10

Technical specifications
Issue date

16 May 2017

FDI withdrawal date

14 June 2017

Denominations

4 x $1

Stamp design

John White, Australia Post Design Studio

Product design

John White, Australia Post Design Studio

Printer

EGO

Printer (self-adhesive)

EGO

Paper (gummed)

Tullis Russell Red Phos

Paper (self-adhesive)

Secure Post C100

Printing process

Offset lithography

Stamp size

26mm x 37.5mm

Perforations

14.6 x 13.86

Sheet layout

Modules of 50.

FDI postmark

Melbourne, Victoria 3000

Issue withdrawal date

30 November 2017
This content was produced at the time of the stamp issue release date and will not be updated.