On the morning of Sunday 25 April 1915, Australian and New Zealand troops entered their first major engagement of World War I – the landing at Gallipoli and attempted capture of Constantinople (now Istanbul, Turkey). A failure in military terms, the campaign took eight months and cost more than 8,100 Australian lives.
Even though World War I was still raging, memorialisation of the gallant efforts of the Anzacs at Gallipoli began as early as September 1915. In Adelaide, South Australia, a monument was unveiled, and a carnival was organised to raise money for wounded servicemen on a day known as "Anzac Day", as voted via a public competition. Melbourne also observed an Anzac Remembrance Day on 17 December 1915.
However, it was in Queensland, in early 1916, that 25 April (the date of the Gallipoli landing) was proposed as Anzac Day on an ongoing basis, the idea formed by a public committee with the support of the Queensland government, with other states in Australia invited to take part. The purpose of the day was to encourage the public to raise funds for returned servicemen and was marked by a variety of small ceremonies and services in Australia, a march by the "Knights of Gallipoli" through London, and a sports day in the Australian camp in Egypt. Throughout the war Anzac Day continued to combine public mourning and commemoration with a message of imperial loyalty, national pride and an encouragement to enlist. By 1918 Anzac Day not only commemorated Gallipoli but campaigns in the Middle East and on the Western Front as well.

The first Anzac Day in peacetime occurred in 1919, just prior to the signing of the Treaty at Versailles. Continued were the traditions started at the first Anzac Day, including services and marches, although many servicemen had still not returned home to take part. The "homecoming" process was a protracted one; the last major transports arriving in Australia in early 1920.
The Anzac Day 2019 stamp issue presents two colourful program covers from Anzac Day events held in 1919, a year in which peace was a key theme. The domestic-rate stamp features the cover of a booklet published by Victorian Branch of the Returned Soldiers and Sailors League for Anzac Memorial Day, 1919. Its content reflects on Australia's contribution to the Great War and reiterates the League's mission to look after returned servicemen and nurses as well as their dependants.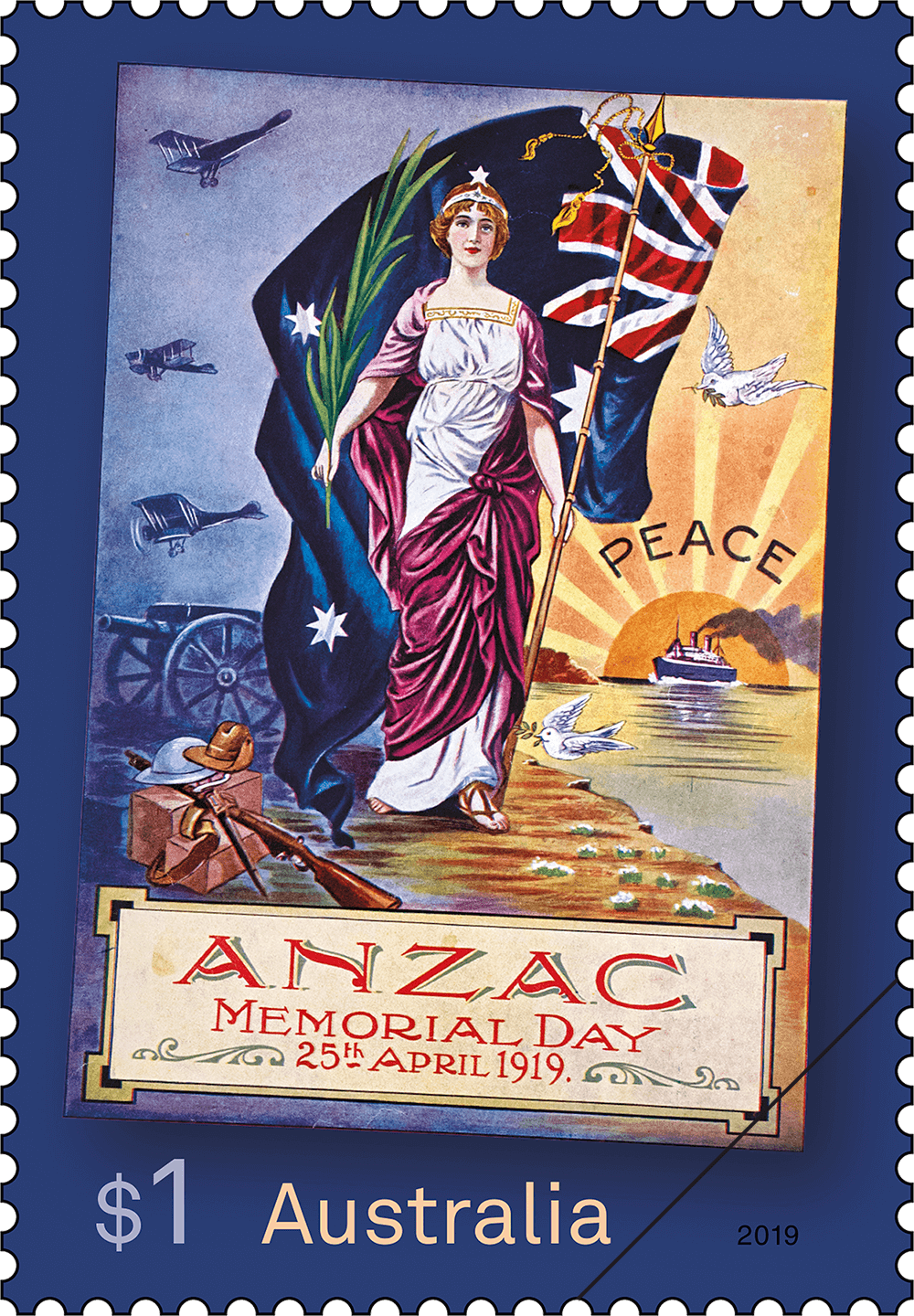 Aspects of the booklet, including its written introduction, form part of a prestige cover, which will be released with this stamp issue. A medallion cover has also been produced, containing a specially designed medallion based on the design of a 1919 enamel Anzac Day badge held in the collections of Museums Victoria.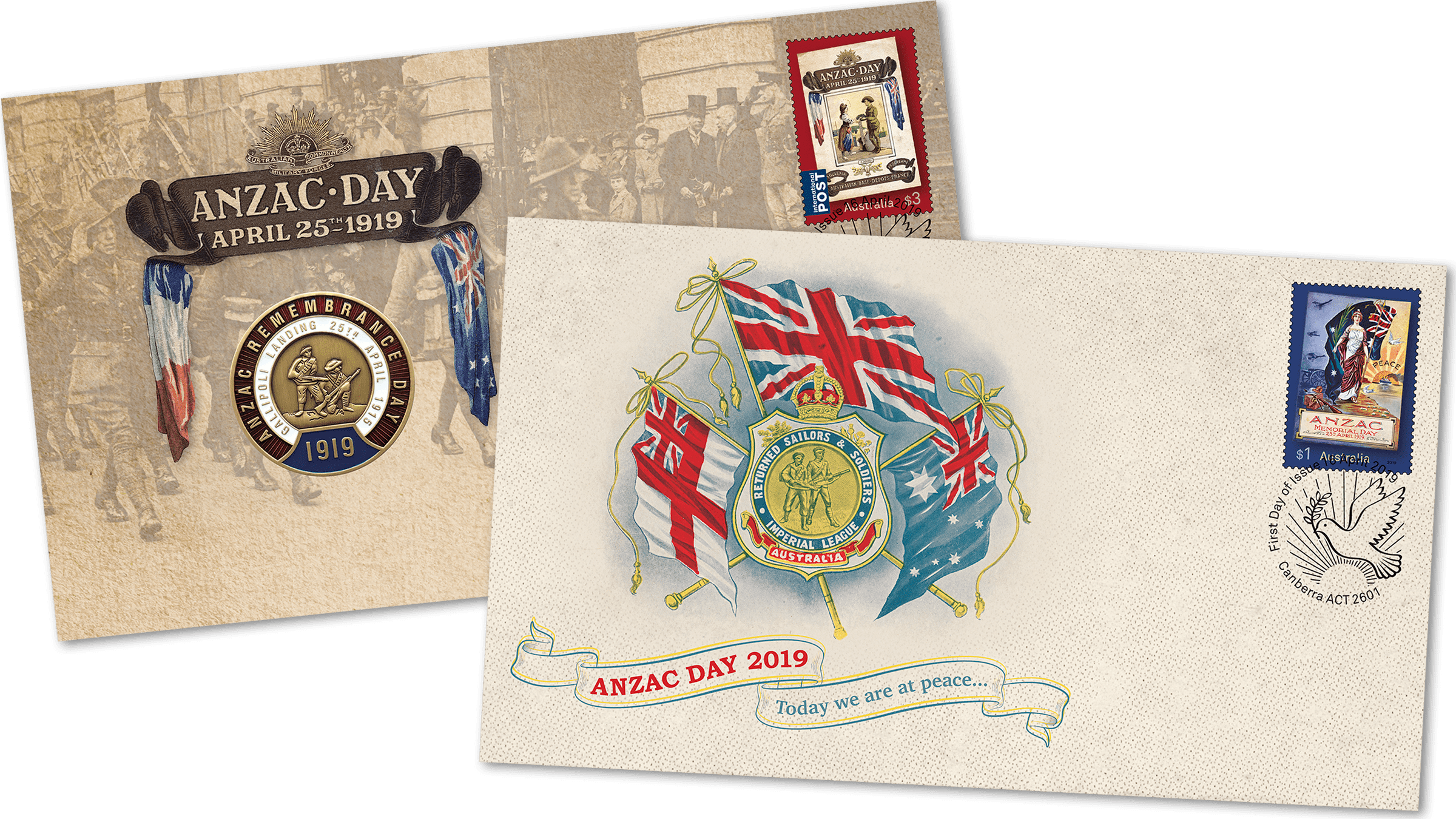 The souvenir program featured on the international-rate stamp, was produced for a 1919 Anzac Day event held for members of allied forces at the Australian Base Depots in Rouelles, France. The day included sporting competitions and music performances. The cover design portrays themes of peace, victory and gratitude, as a French woman gives a wreath to an Australian soldier and clasps his hand. The scene looks like it takes place at a dock, perhaps alluding to the impending departure of Australian forces.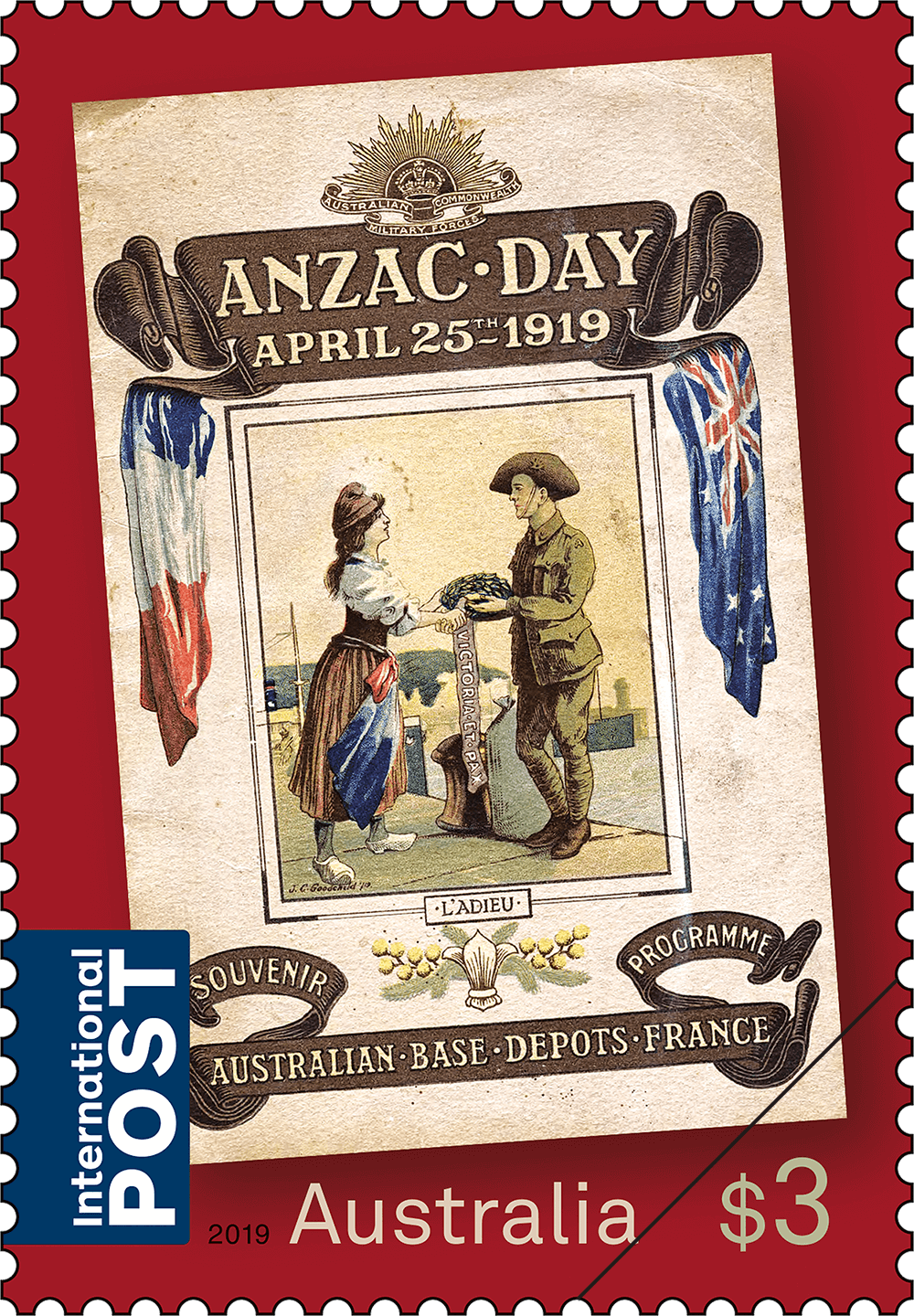 The artwork is by John Charles Goodchild (1898—1980), who was a member of the Australian Medical Corps (9th Field Ambulance) from 1917. While training for his post, Goodchild's talent for drawing was noticed, and he was asked to draw various aspects of human anatomy. Goodchild was in hospital in Rouelles in 1918, due to trench foot and gas poisoning. During this time, he began sketching various aspects of French life and scenery. Some of these sketches he had converted to postcards, by famous London firm Raphael Tuck, which he then sold to soldiers wishing to write home. Others he sent to The Digger, a publication produced by the Australian Bases in France between 1918 and 1919. Goodchild was later commissioned to contribute pen-drawings for the first (1920) edition of Where the Australians Rest, a booklet produced by the Department of Defence and presented to the families of Australian servicemen who died on active service during World War I.
Goodchild, born in Southwark, London, came with his family to South Australia in 1913. Despite his academic talent (he had been awarded a scholarship at the prestigious Strand School in London), Goodchild, now aged in his teens, had to take on several jobs upon his arrival in his new home, including offset printing and signwriting – an early incarnation of his artistic flair. His father, too, had possessed significant artistic skill, working as a stained-glass craftsman, producing works for Westminster Abbey and Arundel Castle.
As described in the Australian Dictionary of Biography, the post-war years for Goodchild meant further development of his artistic talent and marriage to fellow artist, Doreen Rowley:
After World War I, Goodchild attended the South Australian School of Arts and Crafts, and produced Adelaide in Pen and Ink Drawings (1920). He studied at the Central School of Arts and Crafts, London, in 1921 before returning to Adelaide. To 'keep the pot boiling' he became a commercial artist and taught etching at the School of Arts and Crafts. In 1923 he held a one-man exhibition of his etchings in Adelaide and showed his work in Sydney with the Australian Painter-Etchers' (and Graphic Art) Society, of which he was vice-president … On 22 April 1926 he married Doreen Rowley. They sailed for London where they attended the Central School—Doreen studying clay-modelling, John engraving and lithography. Early in 1929 they established a studio in Adelaide and John began exhibiting his water colours with the (Royal) South Australian Society of Arts; he was to be its president (1937-40).
He readily made the transition from drawing and etching to water colours. His traditional landscapes, street scenes and architectural views revealed his understanding of tone and form, mastery of line and highly developed sense of colour … His work shows extraordinary competence. It is held by major Australian galleries, the Library of Congress, Washington, and the British Museum, London.
In 1945, Goodchild's career again became linked to a world war when, in March, he was commissioned as an official war artist by the Australian War Memorial, Canberra. Ranked as an army Captain, he spent time at the Royal Australian Air Force base at Point Cook, completing several paintings of aircraft in flight, rescue boats, flying boats and the like. After some time in Sydney, Goodchild joined the Pacific Fleet. On 2 September 1945, Goodchild was on board the American battleship Missouri, in Tokyo Bay and filmed the signing of the Japanese surrender. Only recently, a black and white and sepia painting of the singing, by Goodchild, was found on the back of another of his paintings. Believed to be the only painting of this event, it has now been given to the Australian War Memorial in Canberra.
The Anzac Day 2019 stamp issue is available from 16 April 2019, online, at participating Post Offices and via mail order on 1800 331 794, while stocks last.
View the gallery and technical details from this issue
This content was produced at the time of the stamp issue release date and will not be updated.
Main biographical source: J Brooks and D Goodchild, John C. Goodchild 1898-1980, His Life and Art (Adelaide, 1983)