The Gold Coast 2018 Commonwealth Games (GC2018) is taking place from 4 to 15 April at sporting venues across the Gold Coast and in Brisbane, Cairns and Townsville.
This is the fifth time Australia has hosted the "Friendly Games". The first Australian Games was in Sydney in 1938, followed by Perth in 1962, Brisbane in 1982 and Melbourne in 2006. In 2018, 18 sports and seven para-sports will be contested. GC2018 will set a new Commonwealth Games record by hosting up to 300 para-athletes and 38 medal events across the seven para-sports.
To commemorate this exciting sporting event, Australia Post has released a stamp. The design, by Sonia Young, of the Australia Post Design Studio, features the vibrant GC2018 Emblem. The Emblem represents a gymnast, hurdler and swimmer against the vibrant landscape and skyline of Queensland's Gold Coast. The motto of GC2018, "Share the Dream", is an invitation to be part of the biggest multi-sport event to take place in Australia this decade.
As well as the gummed stamp (available in a sheetlet of 10), Australia Post has released a range of philatelic products to delight collectors and sports fans alike. The first day cover, sheetlet pack and maxicard all echo the stamp design, showcasing the bright and colourful GC2018 Emblem. Plus, there is a medallion cover, postal numismatic cover, souvenir cover with magnet and set of two postcards.
Medallion cover
This striking cover includes a 60 millimetre zinc alloy medallion with a gold plated finish, with the GC2018 Emblem in the centre.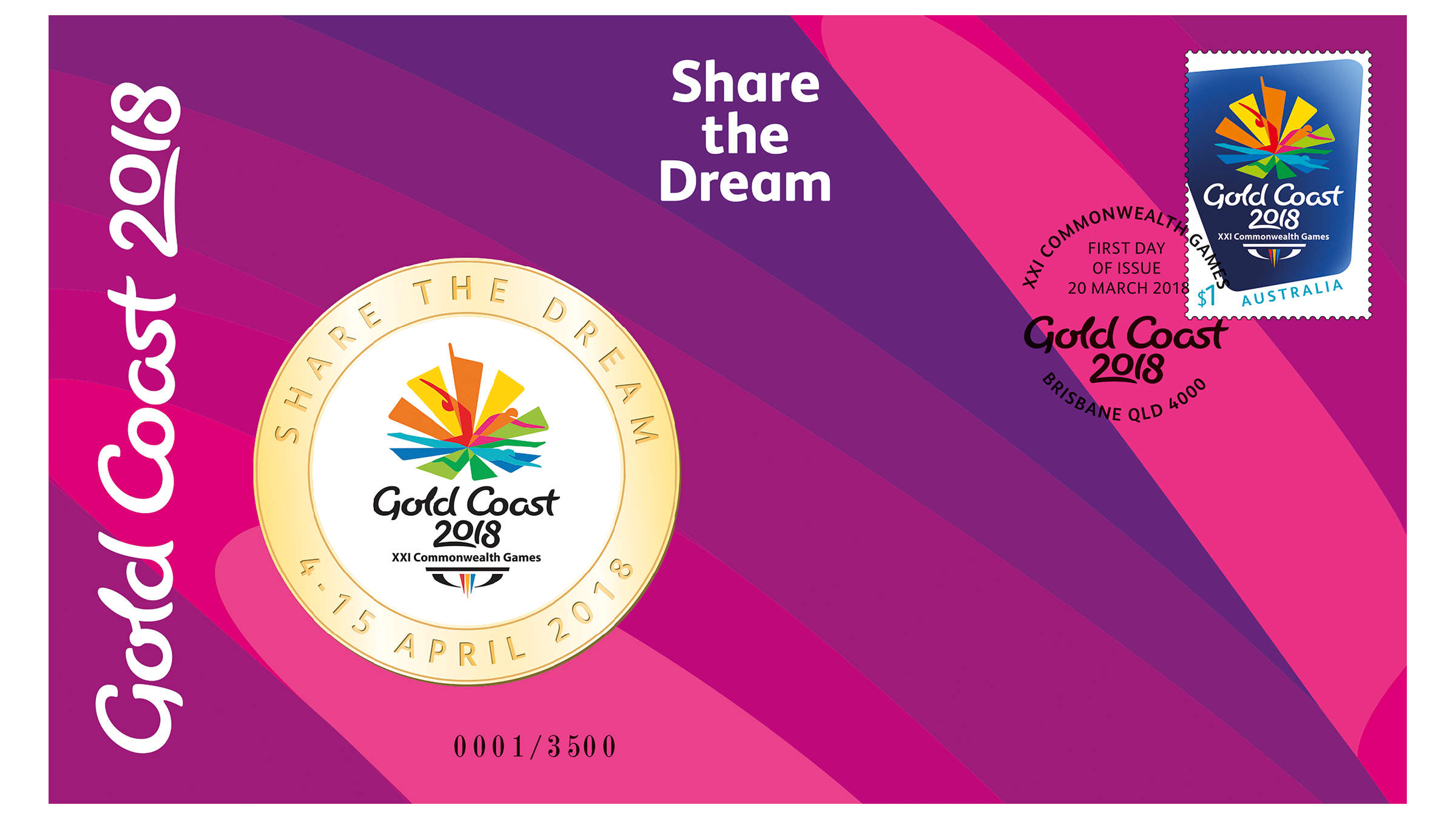 Postal numismatic cover
This attractive cover includes a 50 cent uncirculated cupro-nickel coin from Royal Australian Mint. The coin design includes graphic representations of many of the sports included in the Games.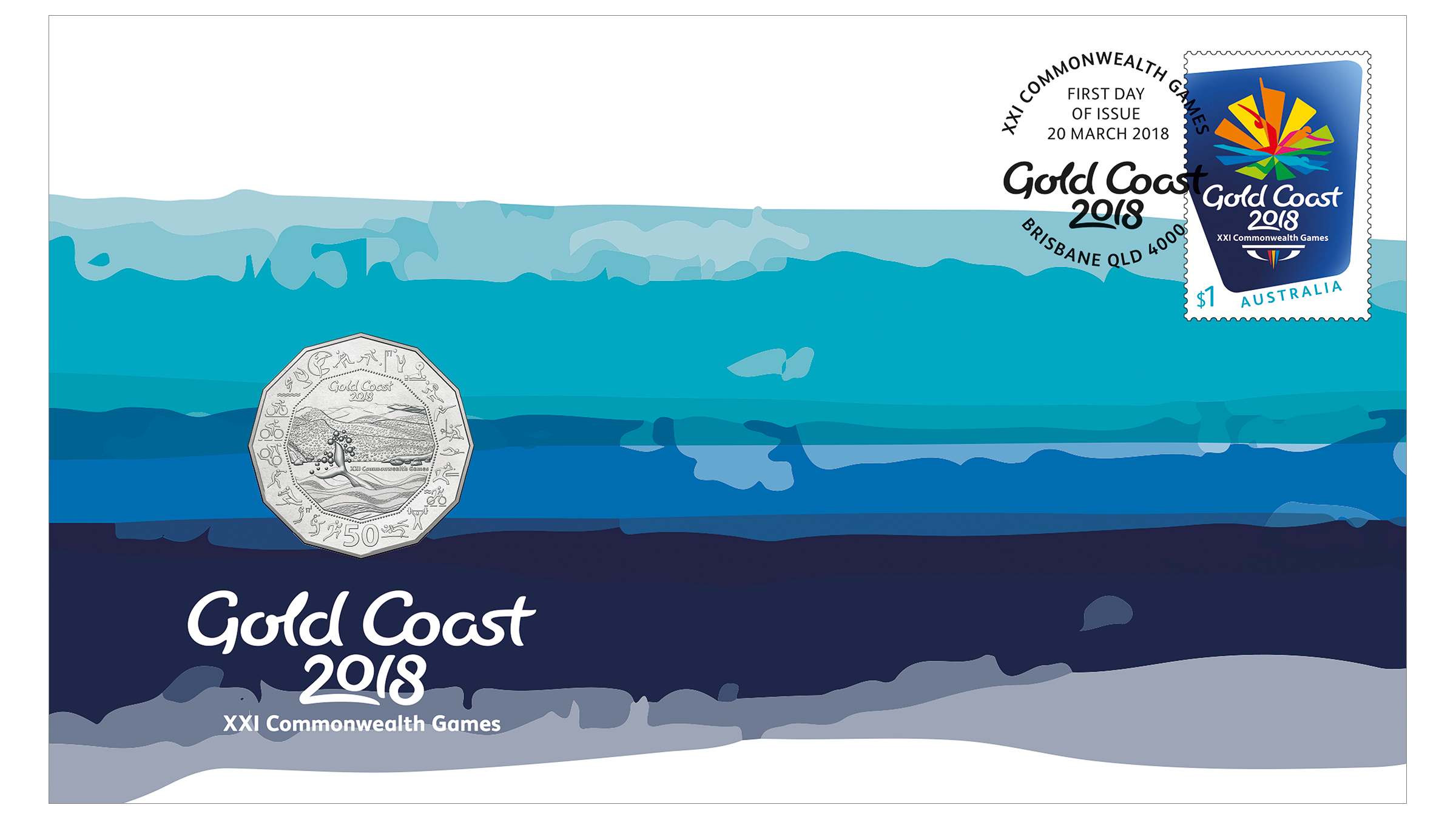 Postcards
The postcards comprise an emblem design as well as a design featuring the Mascot of GC2018 – Borobi, an energetic, sports-loving, unstoppable koala, named after the local Aboriginal Yugambeh word for "koala". With a love for surfing, Borobi got his bright blue fur from the Gold Coast's beautiful ocean waters. There are also three designs that highlight three of the event venues – Brisbane's Coolangatta beach (Beach Volleyball), the Cairns Convention Centre and Townsville Entertainment Centre (both for Basketball).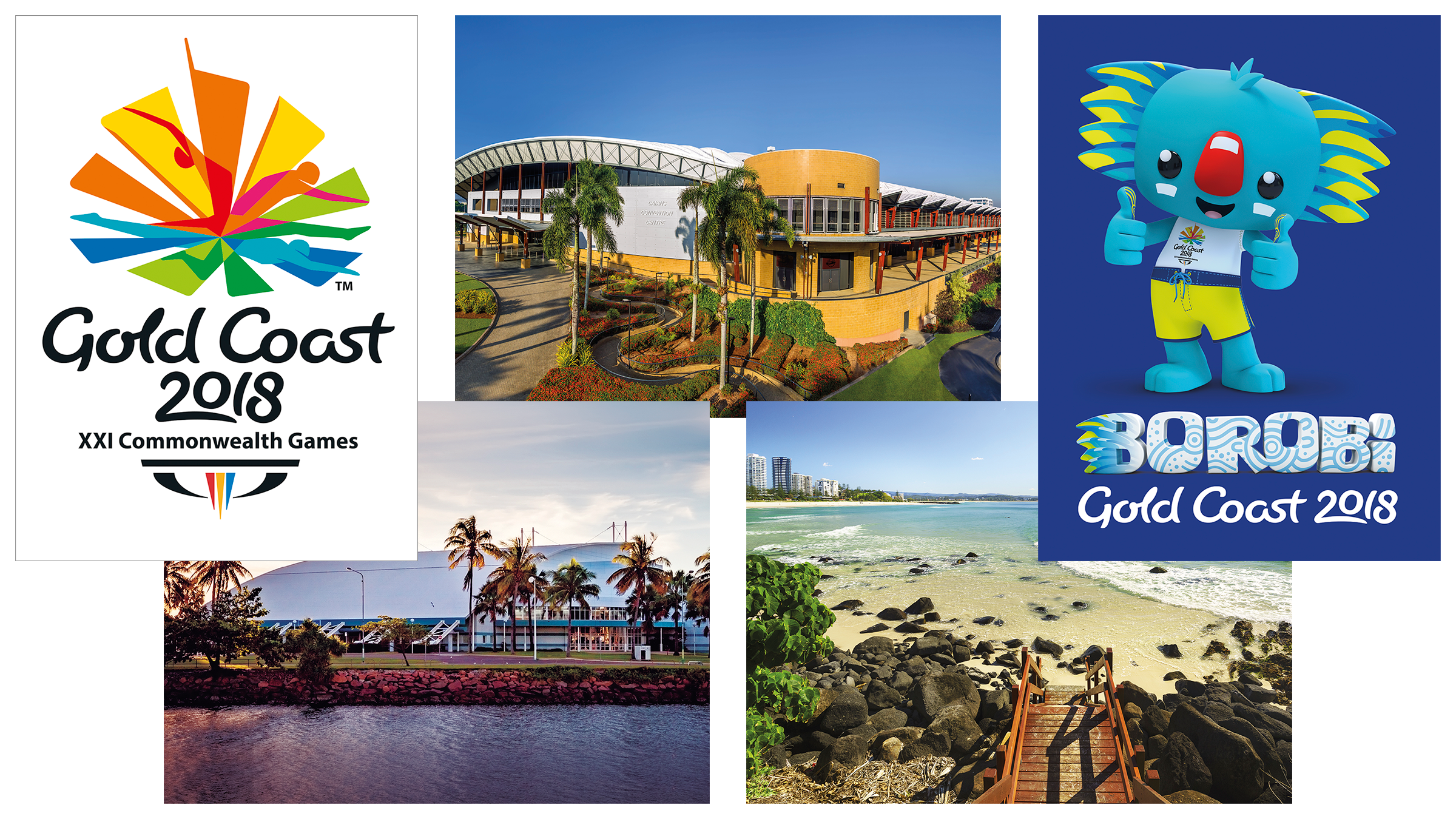 Souvenir cover with magnet
This special cover includes a "Share the Dream" magnet featuring the Brisbane skyline.