Christmas is fast approaching, and Australia Post is releasing some thoroughly festive stamps and collectables to enhance your Christmas envelopes and provide some exciting options for gift-giving.
The Christmas 2018 and Christmas Island Christmas 2018 stamp issues, both of which will be released on 1 November 2018, feature domestic Christmas-card-rate (65c) and international-rate stamps, and are sure to appeal to fans of both traditional and secular designs.
  
Christmas-themed stamps
This year's traditional Christmas stamps depict the Madonna and Child and Musical Angels. The stamps are based on spectacular paintings by Ursula Betka rendered according to age-old medieval techniques, which give them a golden and jewel-like glow. Ursula Betka's beautiful artworks were previously featured in our 2005 Christmas stamps.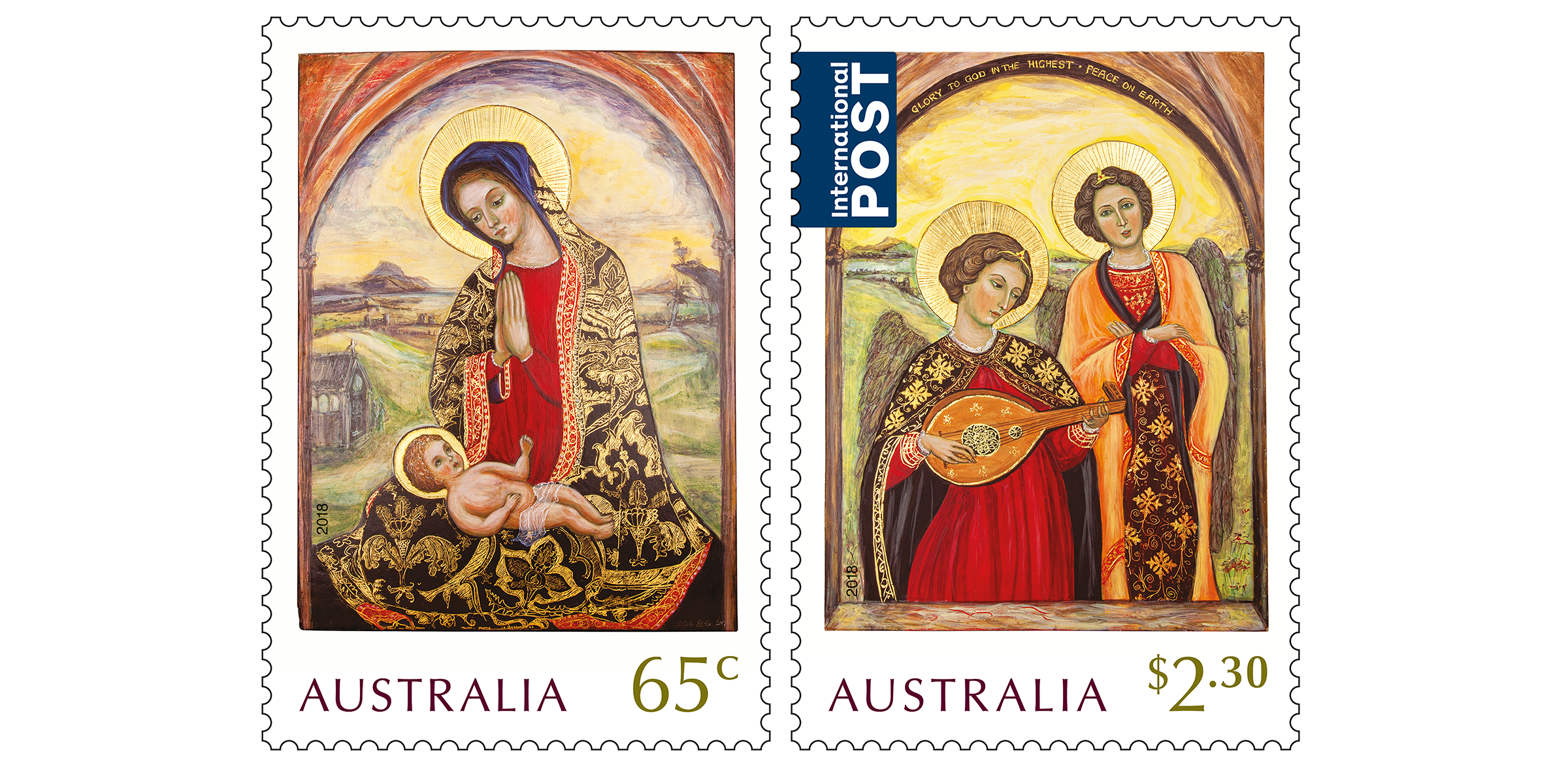 The three typographical stamps are designed for those who prefer a more secular theme and will brighten up any envelope. The designs by Luke Lucas feature festive words from popular Christmas carols, presented as swirling ribbons.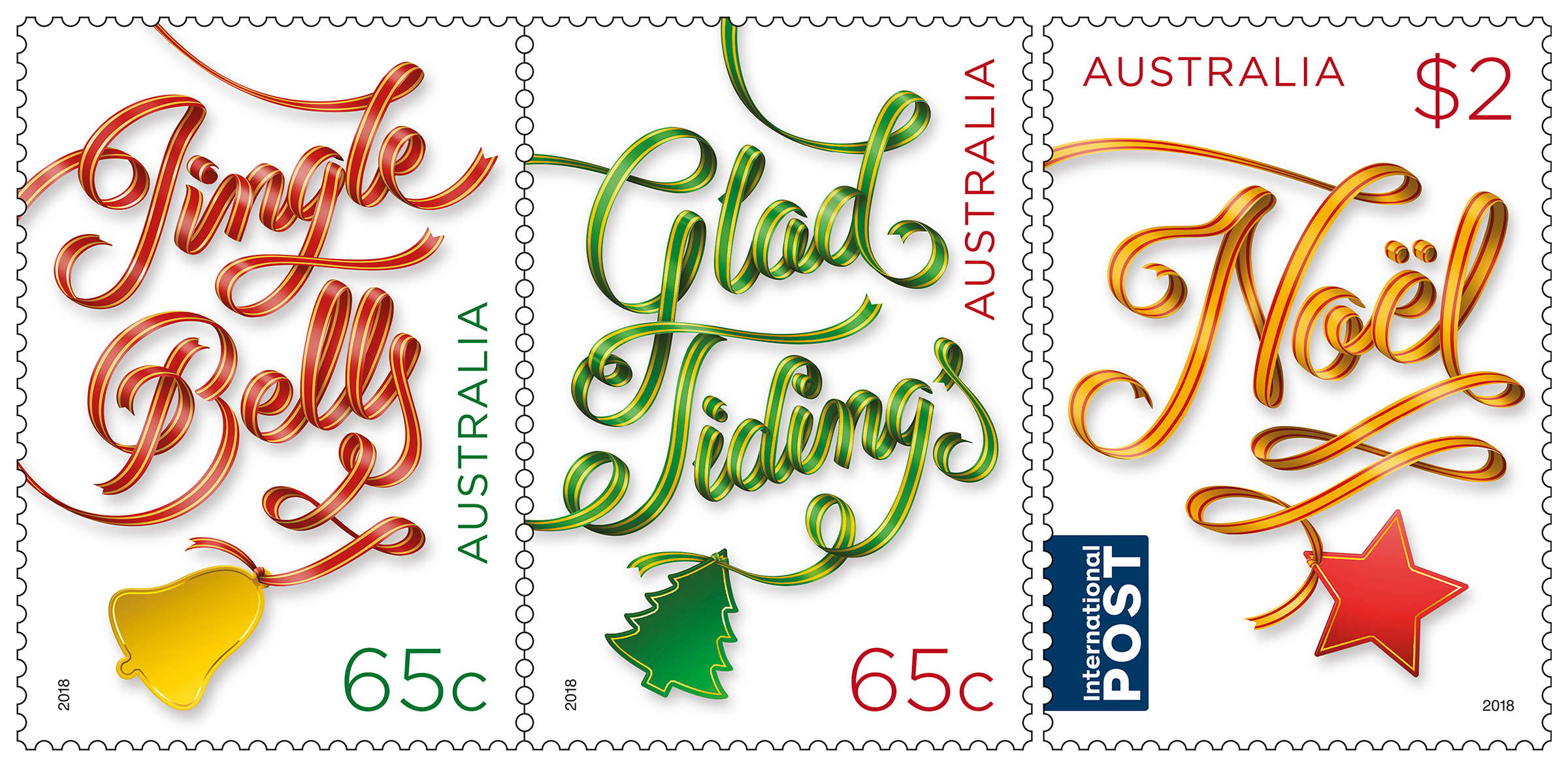 Illustrated by Melissa Webb, this year's Christmas Island Christmas stamps and minisheet depict a race between Santa and a Red-footed Booby, who speed towards the shores of Christmas Island, where some local characters are joining in the Christmas fun, including the Blue-tailed Skink, Red Crab, Green Turtle and Golden Bosunbird.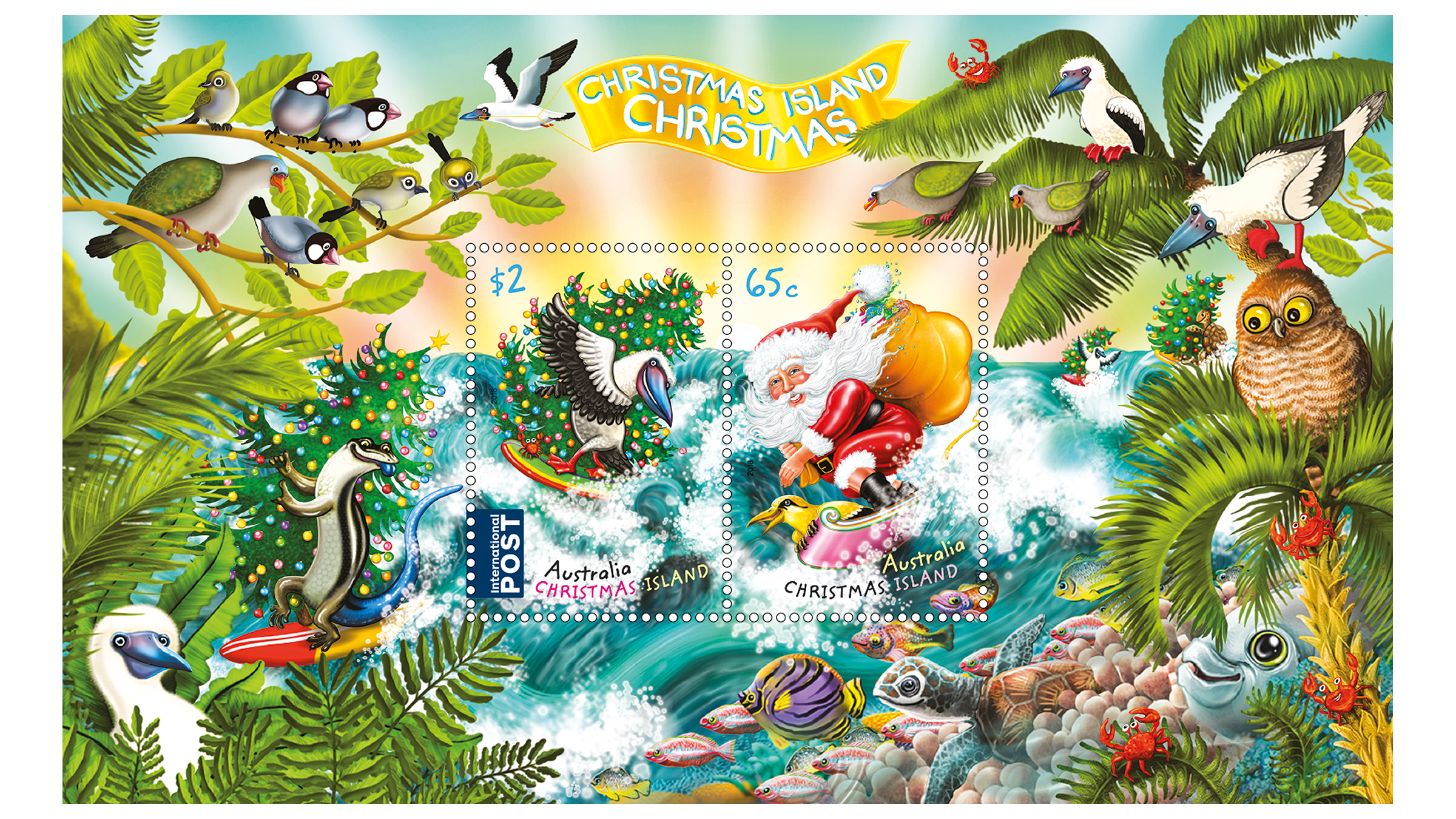 The Christmas 2018 product range includes booklets of 20 of each of the 65c self-adhesive stamp designs (the domestic Christmas-card rate), including "card only" stickers.
For that extra special touch, the 65c Jingle Bells and Glad Tidings designs are also available as part of an embellished sheetlet of 10, with foil highlights on the stamps. So too is the 65c Christmas Island Christmas stamp. The sheetlets are available on their own or as part of a pack (with "card only" stickers), so they are perfect for gift giving or personal use.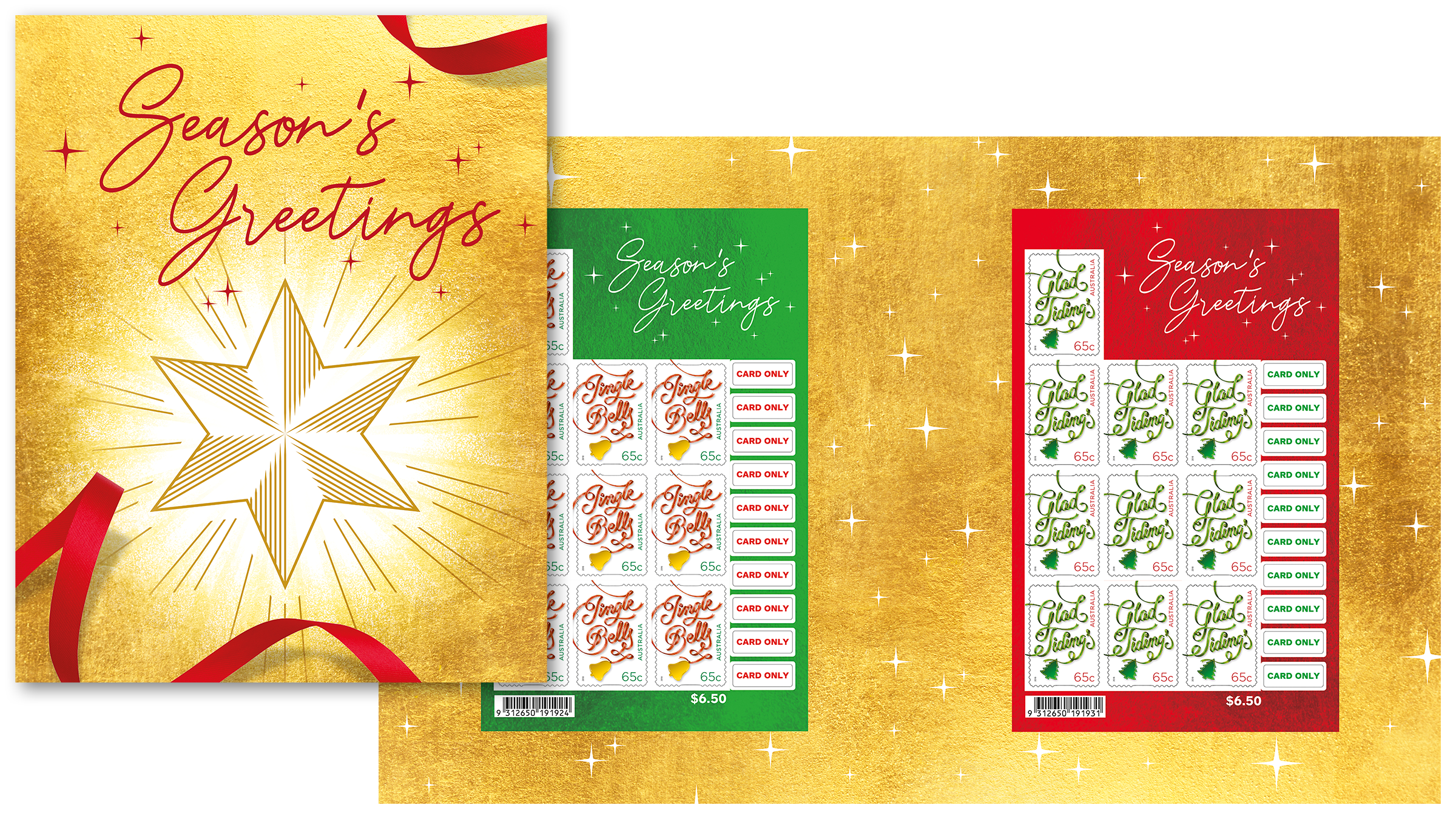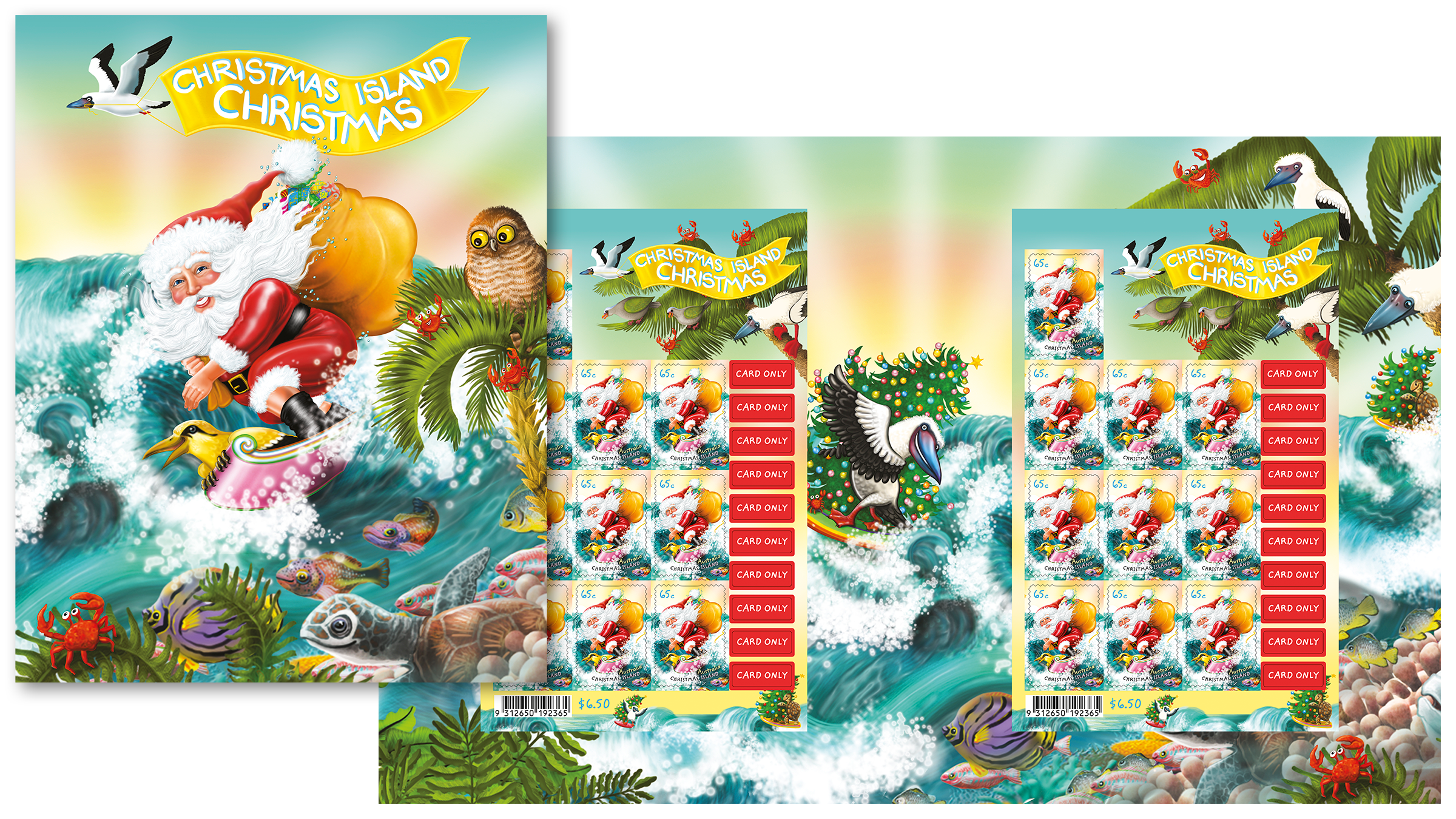 The maxicards released as part of our Christmas stamp issues are perfect to send directly to friends or family, within Australia or overseas, as a special Christmas greeting.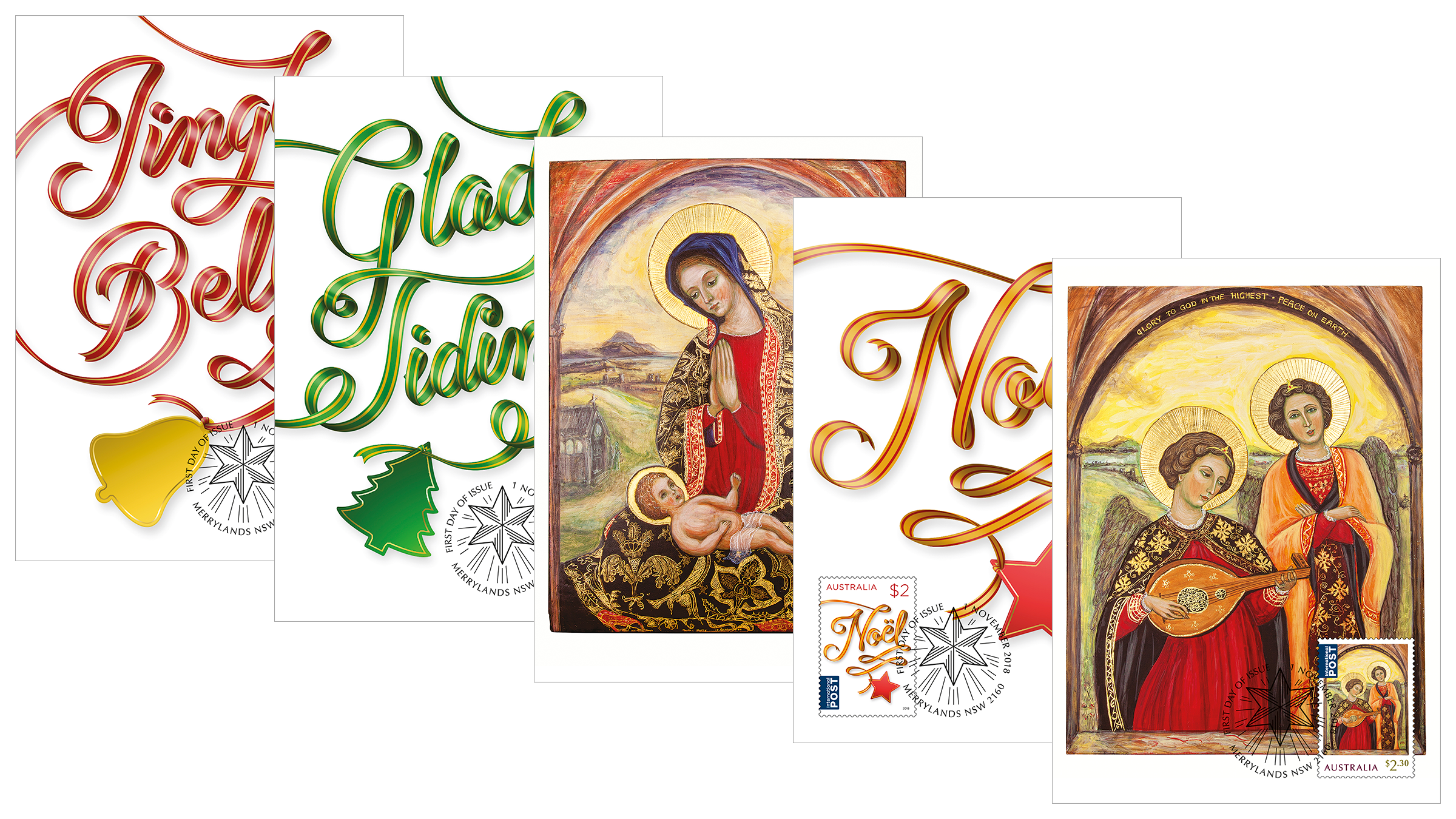 And, don't forget that all of the Christmas 2018 stamp issue designs are available to order as Personalised Stamps™.
Merry Christmas postal numismatic cover
Celebrate a special Australian Christmas this year with this cute coin from The Perth Mint. In the thoroughly festive design, two cute Koalas are exchanging gifts under a eucalyptus tree in the Australian outback.
See also:
The Christmas 2018 stamp issue and Christmas Island Christmas 2018 stamp issue are available from 1 November 2018, online, at participating Post Offices and via mail order on 1800 331 794, while stocks last.
View some of our previous Christmas-themed articles:
This article was produced at the time of publication and will not be updated.