How Australia Post stamps come to be: Printing
For our last instalment in our series about the production of Australian stamps, we interviewed Tony May, Facility Manager at Australia Post Sprintpak, which is the printing and distribution arm of Australia Post Philatelic.
What are the different roles within the Australia Post Sprintpak team?
Australia Post Sprintpak consists of two core business units. These are production and fulfilment, and distribution. These units are supported internally by the projects, planning, systems and business support teams.
Can you tell us about the new facility that opened in 2013?
In addition to providing us with more floor space and storage capacity, the new facility enabled us to merge operations under one roof that were previously housed in three different buildings. This delivered some process improvements and increases in business efficiencies.
What are the main types of stamp printing techniques used for Australia Post stamps?
We print the majority of our stamps in offset lithography, but also print our stamp rolls on a flexographic press. Our stamps are printed utilising technologies that are equal to anywhere in the world today.
Production of the Australia Post Wildflowers Definitive Stamps transcript
Male inspecting printing plates
[Slate]: Plate production using a plating system from Du Pont
Male placing paper rolls onto printing machine
Paper rolls running through printing machine
Printing machine running
[Slate]: Four Colour printing on a flexographic printing press
Printing machine running, printing stamps
[Slate]: Stamps are then coated with phosphor and die cut
Printing machine running, printing stamps
[Slate]: The printing machine contains UV lamps to cure the ink through each stage
Printed stamps being passed through the machine and collected onto large rolls
Rolls of stamps going through Quality Control (QC)
[Slate]: Stamps go through inspection using cameras to detect abnormalities
Vision of QC process and inspection
[Slate]: During inspection imperfect stamps are replaced
Stamps passing through QC machine
Male inspecting printed stamp sheets by hand
Australia Post van driving out of production facility
[Slate]: Stamps are then transported to the Australia Post Production Facility
Printed stamps going through cutting machine to produce smaller rolls
Smaller stamp rolls produced, going through conveyor belt
[Slate]: Stamps are cut into smaller rolls of 200 stamps and placed in packaging
Smaller stamp rolls going through conveyor belt to packing
Stamp rolls packaged into boxes
[Slate]: Rolls are picked and boxed and made ready for delivery
Boxes being processed through convey belt
Australia Post van driving out of production facility
Australia Post Logo
What is the basic process for printing an Australia Post stamp, from receipt of final art to finishing?
From receipt of the artwork, the projects team hold an initial meeting with the printer to determine print specifications. They then provide a proof to the design team to evaluate for accuracy of content and colour. We colour correct artwork as required.
When proofs are approved, the printer is supplied with print specifications and the projects team sign off the print for colour and content prior to print commencing.
Printed sheets are delivered to Australia Post Sprintpak to convert to finished product. The process involves counting and padding the sheets for perforating. After perforating, the sheets are cut to module size for inspecting, then the modules are counted and packed ready for distribution.
The finished product is provided to the fulfilment team, where they pick, pack and distribute orders to Australian Post Offices.
Obviously, planning begins well before this. What preparation and liaison work needs to be done with other philatelic teams and how far ahead does this commence?
Our first involvement begins at initial design stage. I am a member of the Stamp Advisory Committee (SAC) and my role is to evaluate designs from a technical perspective. This can happen six months prior to artwork being ready to handover to Australia Post Sprintpak.
What kind of security and other special features must be built into the printing process?
There are numerous security features that are available, but we mainly utilise security features in our paper to validate our stamps in the marketplace. We have also used microprint, and our pre-press work prior to printing is designed to make any attempted reproduction of our designs very difficult to replicate.
Are there any special features of the paper used?
Our gummed stamp paper is made in a security paper mill and contains agents that enable our stamps to be recognised as a legitimate stamp in our mail network. Because it is a security grade paper, it can only be supplied to authorised users, so we can easily identify any counterfeit stamps people may try and put into the marketplace.
Tell me about the quality control, testing and evaluation aspects of the stamp printing process?
We have stringent quality control process that begin with pre-testing of our stamp papers prior to taking delivery, through to conformance testing of stamps in our mail network prior to stamps being issued to market. Our tests are designed to ensure that we have consistent quality in our final product and that it also confirms to the technical requirements of our postal network.
Australia Post Sprintpak has been involved in many innovations and world-firsts over the years. Can you tell us about those?
There have indeed been many innovations over the years, including the following:
We developed patented self-adhesive stamp technology to provide self-adhesive rolls of stamps in 1989 and booklets in 1991.
We pioneered the introduction of self-adhesive stamp products into nine overseas postal administrations.
Personalised Stamps™ were launched as a world-first at the Australia 1999 Stamp Exhibition and continue to this day.
Digitally printed Gold Medallist instant stamps launched as a world-first at the Sydney Olympics in 2000
We developed personalised gummed stamps, self-adhesive booklet and postcard stamp products that were produced on-site at the Australia 2013 Stamp Exhibition.
We produced the world's first fully functional wooden stamp as part of the Australian Trees issue, which was issued in March 2015.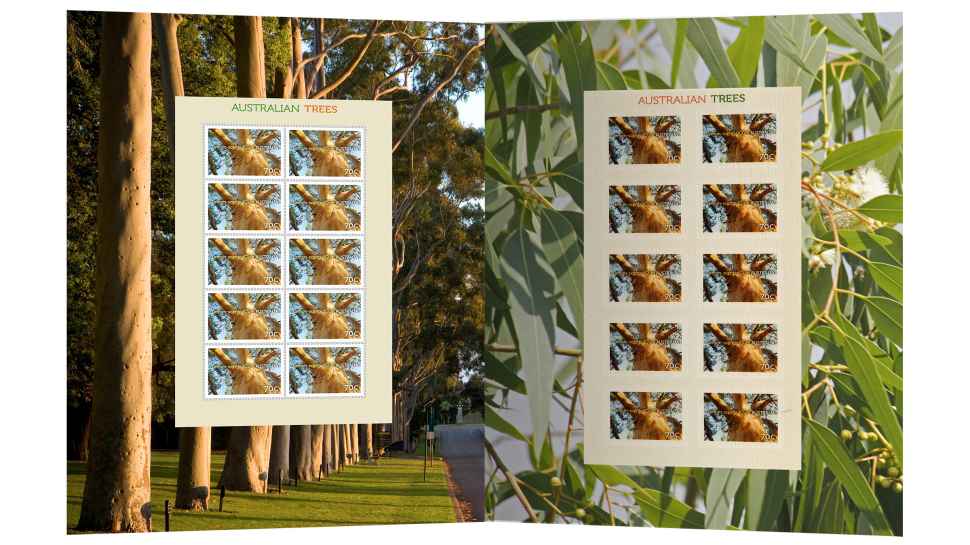 What are some of the main challenges in philatelic printing?
Our biggest challenge is declining volumes and managing our costs accordingly. We are continually looking at new product options to put to the category team for consideration as well.
What are the most rewarding aspects?
Working with the people both here and at headquarters to produce the quality of products that we do is the most satisfying for me. Australia Post Sprintpak is like a big family so being in charge of this 'family' is pretty special to me as well. Having been with Post for almost 20 years, I've established some great working relationships internally and externally. It's always great to be a part of the team to deliver major projects such as the Olympic Gold Medallists stamp program and our involvement in the Australia 2013 Stamp Expo, for example. I also enjoy working with our suppliers and keeping abreast of technology changes, to ensure that what we produce is done to world's best practice.
Related articles in the series: