Art of the North
Release date: 24 October 2017
This special issue of four stamps features works by two eminent artists from the northern regions of Australia's Northern Territory, Banduk Marika and Bede Tungutalum.
Banduk Marika was born in Yirrkala, Arnhem Land, in 1954. She belongs to the Rirratjingu clan of north-east Arnhem Land or Miwatj region. Marika comes from a celebrated family of talented artists and was taught to paint by her father, the renowned bark painter Malawan Marika. She works in linocut, screenprint and also on bark. Banduk Marika's work is held in many public and private collections. Her numerous honours and positions have included artist-in-residence at the Canberra School of Art and at Flinders University, manager of the Buku-Larrnggay Mulka Arts Centre in Yirrkala and board member of both the National Gallery of Australia and Museums and Art Galleries of the Northern Territory. She has been a member of the Aboriginal and Torres Strait Islander Arts Board of the Australia Council and in 2001 was awarded the Aboriginal and Torres Strait Islander Arts Board's prestigious Red Ochre Award for lifetime achievement. In 2005 she was the recipient of the Telstra Bark Painting Award.
Bede Tungutalum was born in 1952 at Wurrumiyanga (Nguiu), Bathurst Island, in the Tiwi Islands north of Darwin. His country is Munupi, Melville Island and skin group Yarrinapinilia (Red Ochre). He lives and works at Wurrumiyanga across a range of media, including carved and painted wooden sculpture, printmaking and painting. Tungutalum's first art instructor was his father, the renowned sculptor Gabriel Tungatalum. In 1969 he co-founded Tiwi Design, an art centre in Wurrumiyanga dedicated to the production of hand-printed fabrics featuring Indigenous designs. Tungutalum has undertaken residencies in Canada and New Zealand, is represented in many public and private collections. His awards include the 1986 Peter Stuyvesant Cultural Foundation Award and first prize in the 2000 Shell Fremantle Print Award.
The stamps
The stamps, designed by Lynette Traynor of the Australia Post Design Studio, feature two works by each artist. All works are part of the collection of the National Gallery of Australia.
$1 Bede Tungutalum, Pukumani poles, 1988, NGA
Pukumani poles is a linocut, printed from multiple blocks. The work, along with the untitled work on the $2 stamp, below, represents tutini or pukumani poles, an important element of the Tiwi burial rite, which comprises a series of elaborate rituals than take over a year to perform. The poles are carved from a local species of Ironbark and decorated with marks that represent ceremonial body paint or the scars acquired during initiation ceremonies. The pukumani ceremony concludes with the poles being erected around the gravesite.
$1 Banduk Marika, Waterlili and gaya, 1983, NGA
Waterlili and Gaya 1983 is a linocut printed in yellow ink from a single block.
$2 Bede Tungutalum, Untitled, c.1984, NGA
This untitled ca. 1984 work is painted in polymer and natural earth pigments on cotton. It represents tutini or pukumani poles, as described above.
$2 Banduk Marika, Guyamala, 2000, NGA
Guyamala 2000, is a combination of linocut and screenprint. Like many of Marika's subjects, Guyamala relates her inherited traditional Dreamtime stories. It depicts the naming of the fishes and is part of a series of prints exploring the theme of Guyurr (the journey) of the Ancestor creators, Djan'kawu, to the shores of northeast Arnhem Land.
Shop our stamp and coin collectables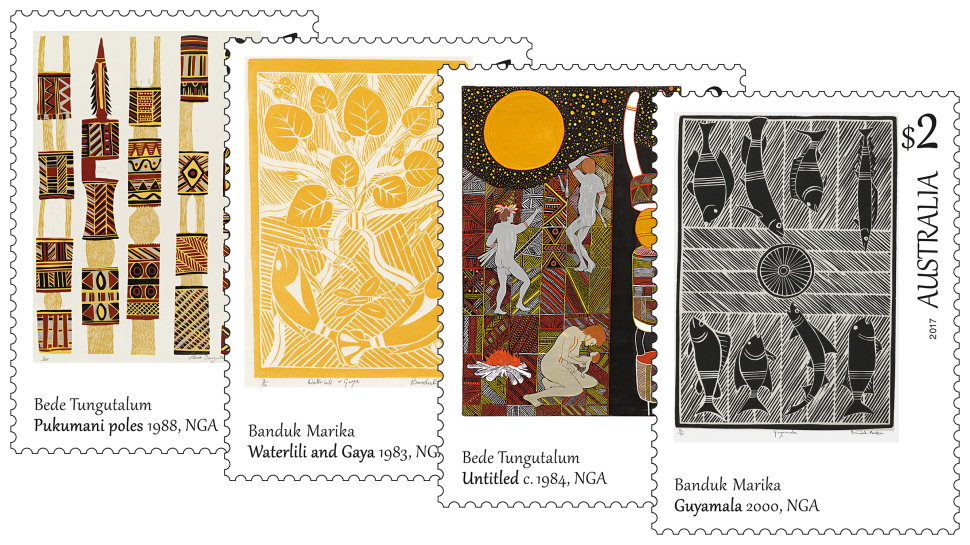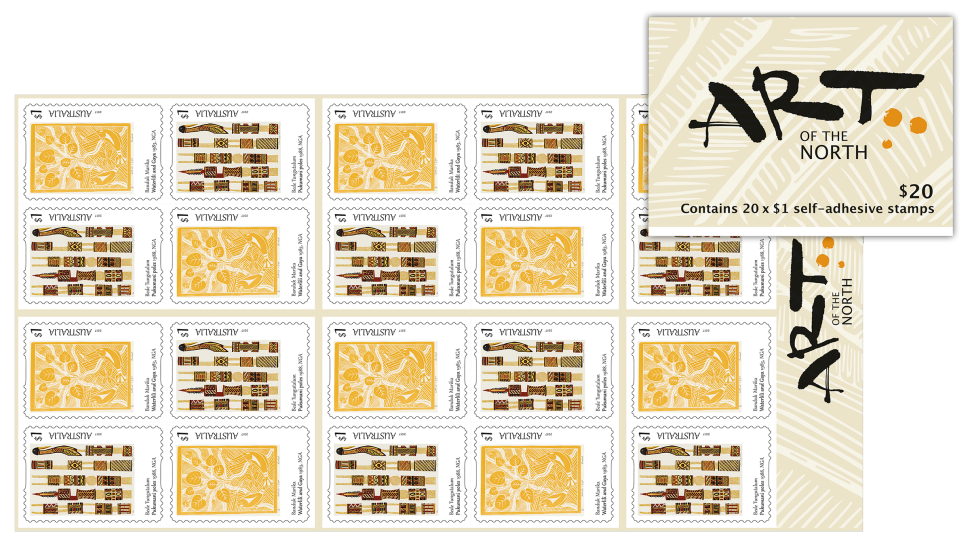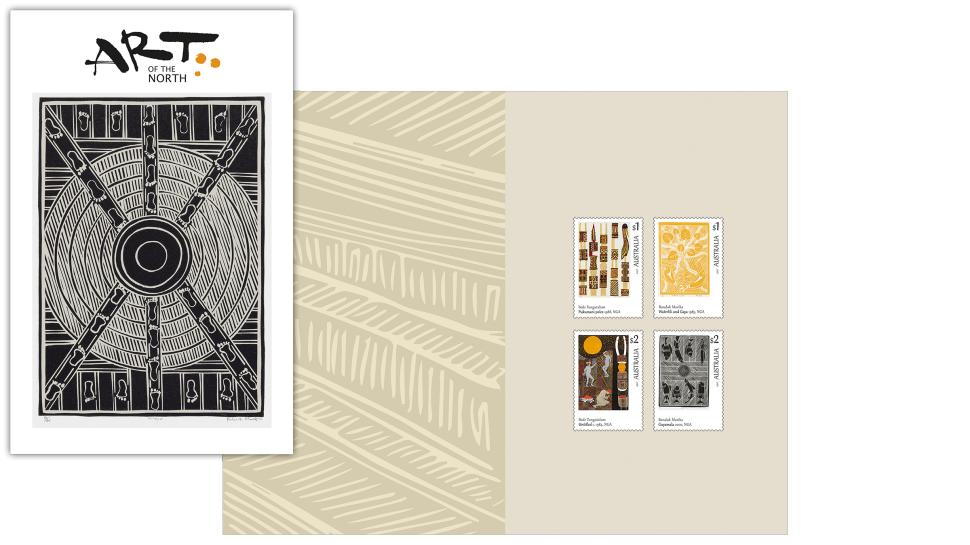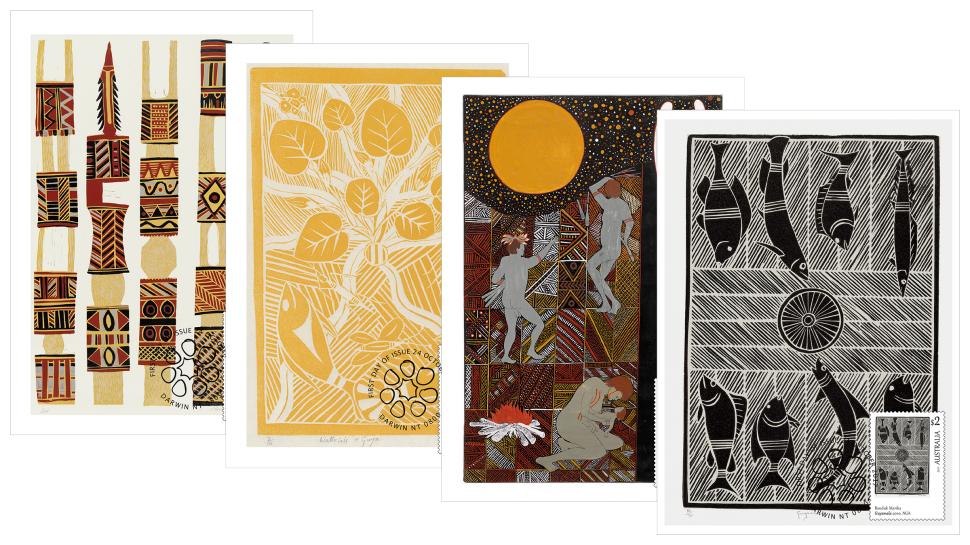 Additional products
First day cover (blank, gummed)
Stamp pack
Maxicards
Booklet of 20 x $1 (self-adhesive)
Technical specifications
Issue date

24 October 2017

FDI withdrawal date

21 November 2017

Denominations

2 x $1, 2 x $2

Stamp design

Lynette Traynor

Product design

Jo Mure

Printer (gummed)

EGO

Paper (gummed)

Tullis Russell Red Phosphor

Paper (s/a)

Securepost 90

Printing process

Offset lithography

Stamp size

26mm x 37.5mm

Sheet layout

Module of 50

Perforations

14.6 x 13.86

FDI postmark

Darwin, NT 0800

Issue withdrawal date

30 April 2018
*This content was produced at the time of the stamp issue release date and will not be updated.