Lunar New Year is the most important of the traditional Chinese festivals and is celebrated by Chinese people throughout the world. It is a time of renewal and settling unfinished business.
Lunar New Year celebrations vary regionally in China, but they centre on family. A family reunion dinner is held, with specially prepared food. Incense is burned for ancestors; friends visit each other with presents and cards are exchanged. Gifts of money wrapped in lucky red paper envelopes are distributed widely.
The Chinese Zodiac is made up of a 12 year cycle, and Chinese animal signs are used for dating the years. For festive seasons, such as the New Year, the Chinese Lunar Calendar is used. Accordingly, the Year of the Goat begins on 19 February 2015 and concludes on 7 February 2016. The element is wood and the lucky colour is green.
The recurring animal year cycle is Rat, Ox, Tiger, Rabbit, Dragon, Snake, Horse, Goat (or Sheep), Monkey, Rooster, Dog and Pig. The Goat is the eighth sign in the Chinese zodiac and symbolises independence. Those born under the Goat sign are seen as reserved, quiet and deeply affectionate.

Minisheet
The minisheet tells the story (in Chinese and English) of the Tu tribal wedding tradition. When the marriage takes place, the groom gives a female goat to his parents-in-law as a symbolic replacement of the good nature, calmness, tenderness and purity of their daughter.
Zodiac sheetlet
The zodiac sheetlet was introduced in 2002. It consists of the minisheet and 12 stamp designs showing each animal in the Chinese Zodiac:
15c – Rat, Ox, Dragon, Snake 
25c – Goat, Monkey, Rooster, Dog 
30c – Tiger, Rabbit, Horse, Pig
The zodiac sheetlet is a continuing feature of the Lunar New Year issue. In this issue, the stamps feature colourful, graphic illustrations of each animal sign, incorporating their associated lucky gemstone. Each gemstone is said to have attributes that match the personality of each animal sign and bring good luck.

Designer
The stamps, minisheet and zodiac sheetlet stamps were designed by Ms Dani Poon, Tak Nai of Melbourne. Dani was born in China and grew up in Hong Kong, alive to the cultural sensibilities of the Chinese legendary stories and Chinese history. She has nine years design and illustration experience in the graphics industry internationally.
After graduating from Swinburne University School of Design in 1998, Dani has worked in Melbourne, Italy and Hong Kong, developing product ranges, art directing and designing product campaigns. Dani has been commissioned for the complete cycle of twelve designs, the Goat being the eighth in the commission.

Products released in this issue
Minisheet
Zodiac sheetlet
Cover (blank pictorial, gummed, zodiac sheetlet and minisheet)
Stamp pack
Postcard
PPE
IPPE
PNC
PNC (Lion Dance)
Prestige book
Silk minisheet pack
Gutter strips
Issue date

8 January 2015

Issue withdrawal date

31 December 2015

Denominations

1 x 70c, 1 x $2.10

Stamp design

Dani Poon

Product design

Lisa Christensen, Australia Post Design Studio

Paper - gummed

Tullis Russell

Printer - gummed

McKellar Renown

Printing process

Lithography

Stamp size

26mm x 37.5mm

Minisheet size

136mm x 70mm

Zodiac sheetlet size

170mm x 210mm

Perforations

14.6 x 13.86

Sheet layout

Module of 50 (foiled)

FDI postmark

Christmas Island, WA 6798

FDI withdrawal date

6 February 2015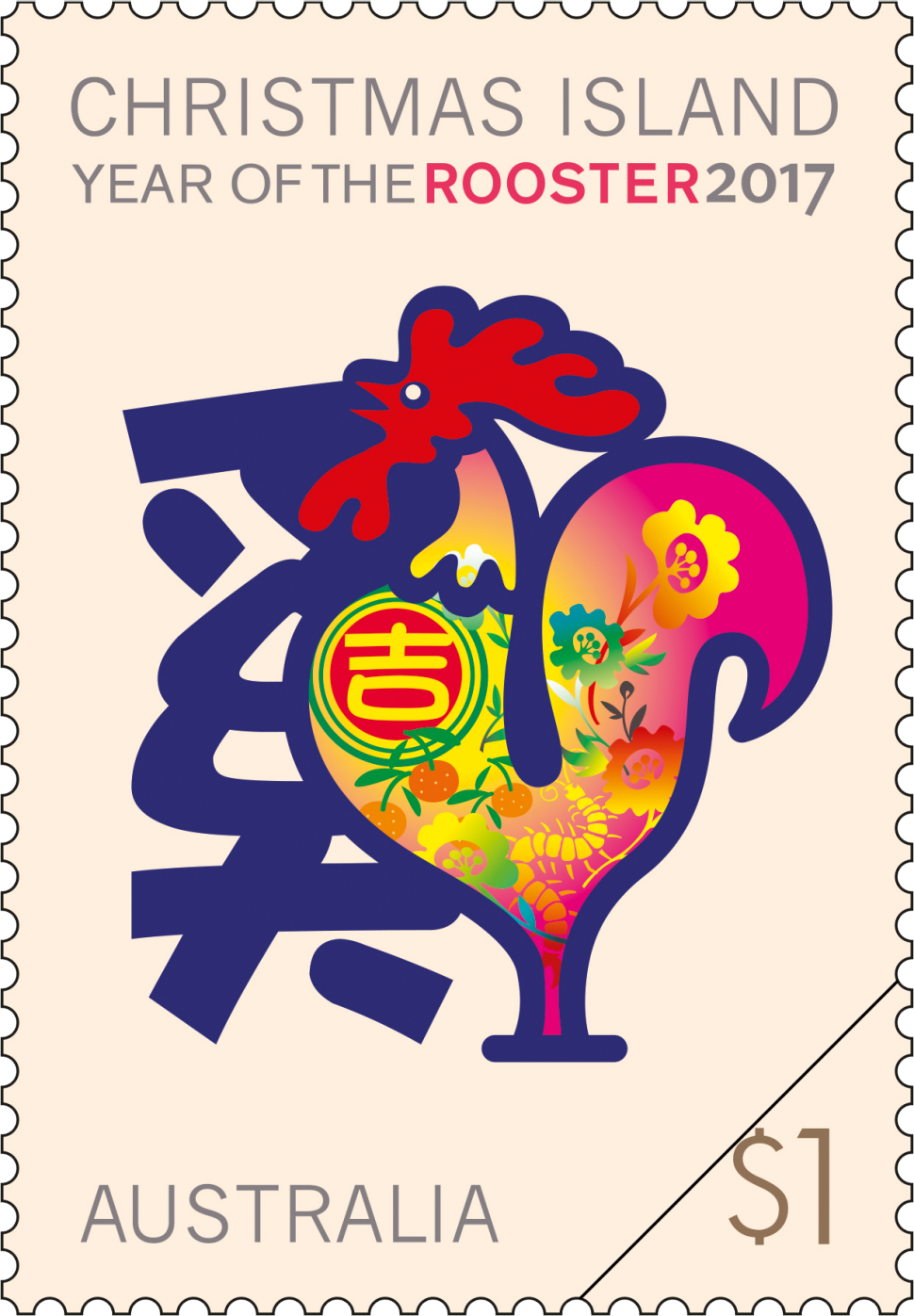 Christmas Island: Year of the Rooster 2017
View stamp issue

This content was produced at the time of the stamp issue release date and will not be updated.