Lunar New Year, also called the Spring Festival in China, is the most important of the traditional festivals celebrated by Asian cultures throughout the world. It is a time to complete unfinished business and settle debts to begin the New Year with a clean slate. Celebrations include congregating with relatives and friends for feasts and to exchange gifts of money wrapped in lucky red paper. Incense is burned to honour ancestors.
The Year of the Ox begins on 12 February 2021. The second animal sign in the 12-year cycle, the hardworking, honest Ox is highly esteemed because of the important role it plays in agriculture. Those born under the sign of the Ox are said to be sincere and modest, cautious and patient. They also have a tendency to be stubborn and slow.
The illustration for this issue is by Chrissy Lau, an award-winning, British-born Chinese illustrator who is based in Sydney. The stamp designs feature the traditional lucky colours of gold and red and were inspired by ornaments and flowers that are said to invite wealth and good fortune.

Issue date

8 January 2021

Issue withdrawal date

31 December 2021

Denomination

$1.10 x 1, $2.20 x 1, $3.30 x 1

Stamp design and product illustration

Chrissy Lau

Product design

Sonia Young, Australia Post Design Studio

Paper: gummed

Tullis Russell

Printer

RA Printing

Printing process

Offset lithography

Stamp size (mm)

35 x 35

Zodiac Calendar stamp size (mm)

26 x 25.5

Minisheet size (mm)

170 x 80

Zodiac sheetlet size (mm)

170 x 210

Zodiac Calendar sheet size (mm)

170 x 170

Perforations

14.28 x 14.28

Sheet layout

Module of 50

FDI Postmark

Christmas Island WA 6798

FDI withdrawal date

8 April 2021
Shop our stamp collectables
Set of stamps

Stamp pack

Minisheet

Zodiac sheetlet
This content was produced at the time of the stamp issue release date and will not be updated.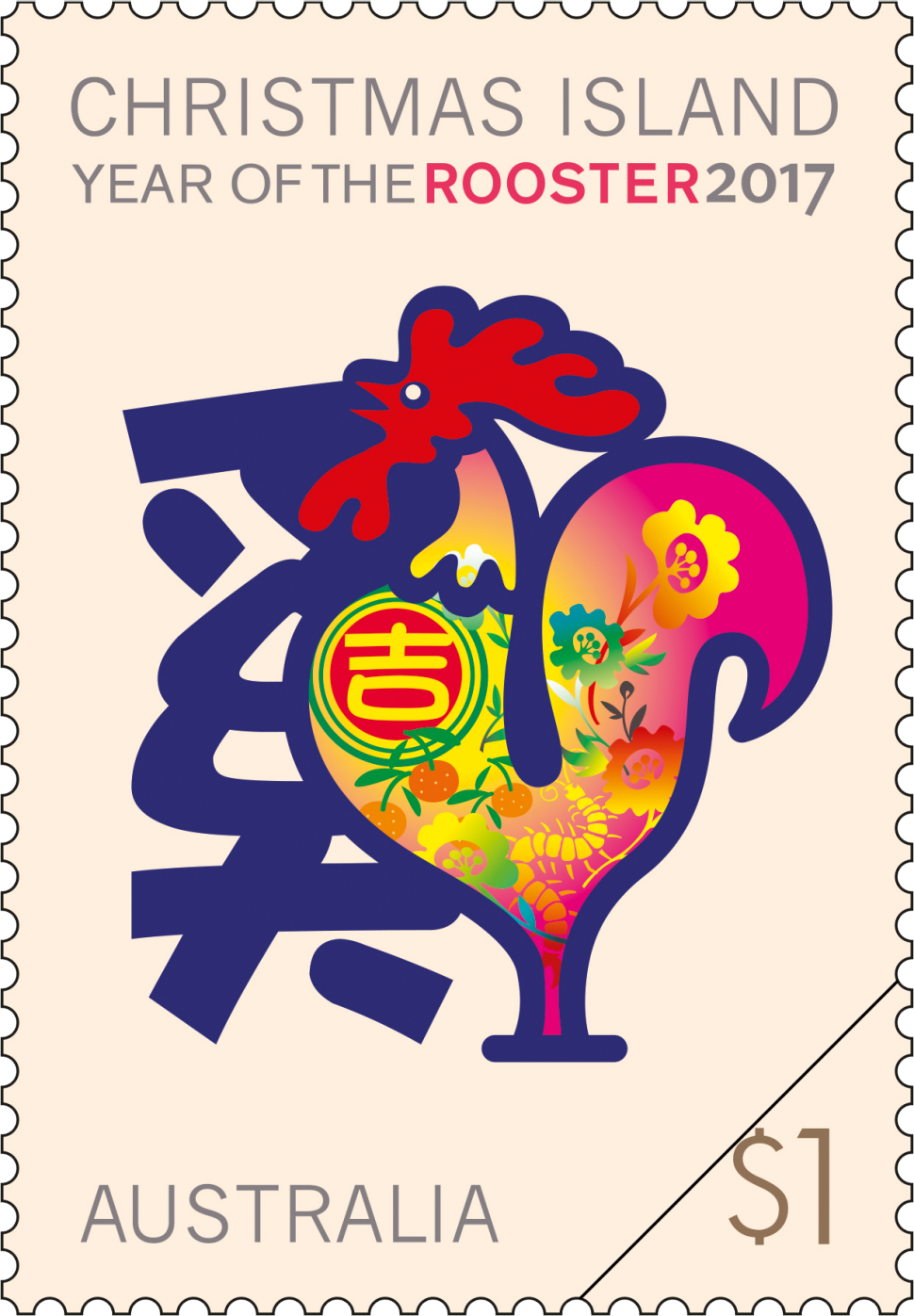 Christmas Island: Year of the Rooster 2017
View stamp issue