Lunar New Year, also called the Spring Festival in China, is the most important of the traditional festivals celebrated by Asian cultures throughout the world, including on Christmas Island. New Year celebrations centre on the family. Incense is burned for ancestors; special food is prepared. Friends visit each other with presents, and cards are exchanged. Gifts of money wrapped in lucky red paper envelopes are distributed.
According to the Chinese lunar calendar, 2020 is the Year of the Rat. The first sign in the Chinese zodiac, the clever and quick-witted Rat is considered a symbol of good luck and wealth.
In 2020, the 12-year Chinese zodiac cycle begins again and so too does our Lunar New Year stamp series. The striking illustrations for the Year of the Rat stamp issue are by Yan Lin, a visual designer based in Sydney. The three stamps in this issue present the Rat as characters from traditional Peking Opera, which has its origins in the mid-Qing dynasty (1636–1912). The characters perform spectacular vocals, mime, dance and acrobatics in beautiful, ornate costumes. The stamps present the principal male role (sheng), the comedy role (chou) and the female role (dan). Performances often take place during Chinese New Year.
Learn more about the designs and the special products released with this issue.


Issue date

8-January-2020

Issue withdrawal date

31-December-2020

Denomination

$1.10 x 1, $3.30 x 1, $2.50 x 1

Stamp design

Yan Lin

Product design

Sonia Young, Australia Post Design Studio

Paper: gummed

Tullis Russell Red Phos.

Paper: self-adhesive

Tullis Russell 100GM

Printer

RA Printing

Printing process

Offset lithography

Stamp size (mm)

35 x 35

Minisheet size (mm)

170 x 80 (Rhombus perf.)

Zodiac sheet size (mm)

170 x 210 (Rhombus perf.)

Calendar sheet size (mm)

170 diameter

Calendar sheet stamp size (mm)

26 x 25.5

Perforations

14.28 x 14.28

Sheet layout

Module of 50 (UV emboss, design for $1.10)

FDI Postmark

Christmas Island WA 6798

FDI withdrawal date

5-February-2020
$3.30 - Year of the Rat, Chou
Chou is a male comedic role. Chou characters include civilian roles such as merchants and jailers as well as minor military roles. The civilian wuchou role is one of the most demanding because of its combination of comic acting, acrobatics and a strong voice. Chou characters wear special face paint that includes a small patch of white chalk around the nose. The chou character often uses drums, a clapper, small gong and cymbals during the performance.
$2.50 - Year of the Rat, Dan
The dan, or female, role was originally divided into five subtypes. Old women were laodan; martial women were wudan; young female warriors were daomadan; virtuous and elite women were qingyi; and vivacious and unmarried women were huadan. A sixth type, the huashan, was introduced by the famous opera artist Mei Lanfang (1894–1961) and was a combination of the qingyi and huadan.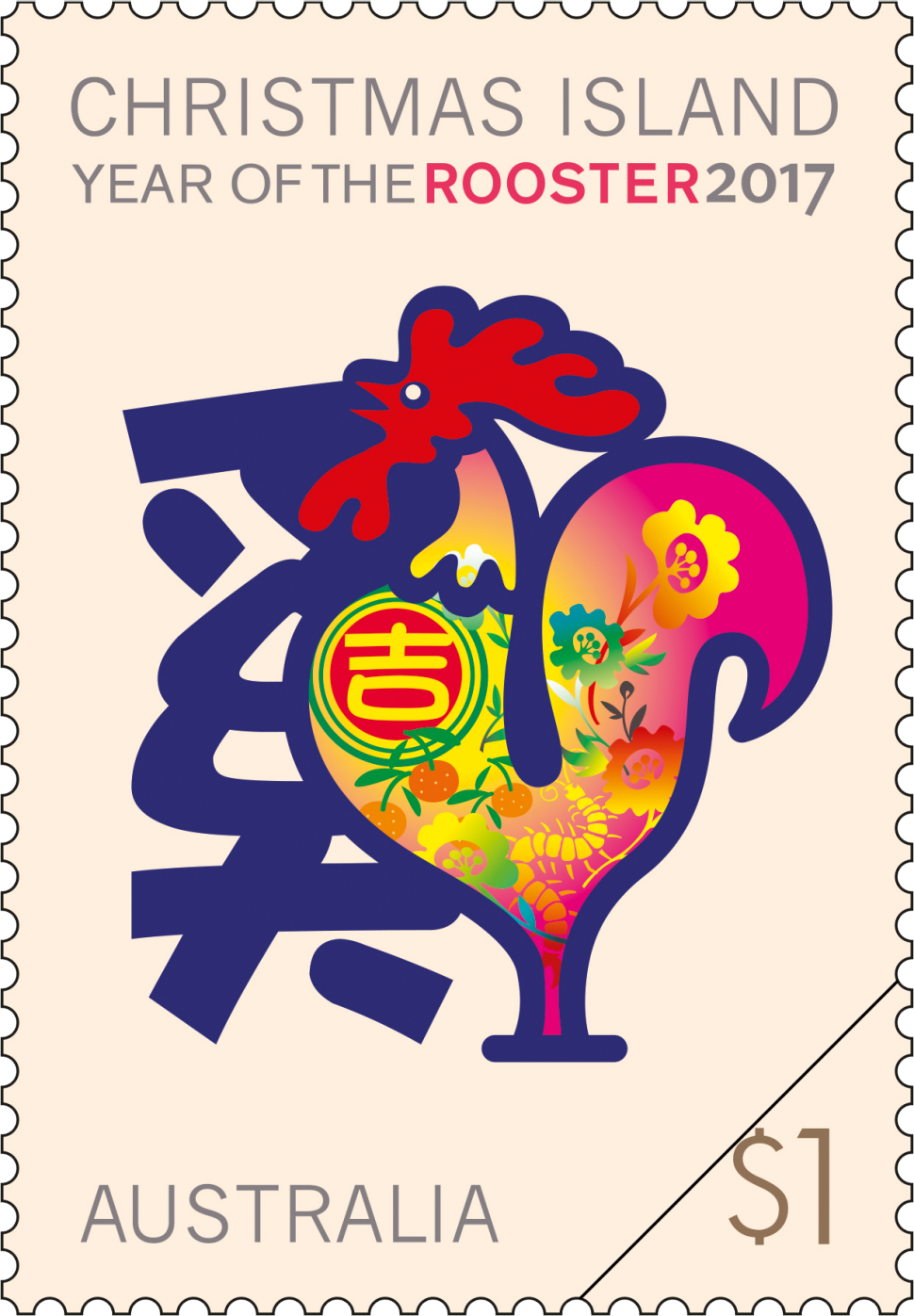 Christmas Island: Year of the Rooster 2017
View stamp issue
This content was produced at the time of the stamp issue release date and will not be updated.