Were you born in 1932, 1944, 1956, 1968, 1980 or 1992? If so, depending on the month of your birth, you may have something in common with Hugh Jackman, Kylie Minogue, Dick Smith, Johnny Cash and Leonardo Da Vinci. They were all born under the Monkey sign – the ninth sign in the 12-year Chinese Zodiac cycle. The Year of the Monkey begins on 8 February 2016 and ends on 27 January 2017.
The Christmas Island Lunar New Year: Year of the Monkey 2016 stamp issue, released on 3 February 2016, features the mischievous Monkey in calligraphic and pictorial form.
About the Monkey
The curious and confident Monkey is known for its razor-sharp wit, thirst for knowledge and impressive problem-solving skills. In fact, according to the Chinese legend outlined in the minisheet, it was the intelligent Monkey King that overcame several challenges during its quest to help the monk Xuanzang retrieve Buddhist sutras from India.
The Monkey's desire to learn quickly and resolve problems make it well suited to careers in finance, stock market trading, science, engineering and communications.
Good fortune in the Lunar New Year
The zodiac sheetlet and prestige booklet are continuing features of the Lunar New Year issue. In this issue, the zodiac stamps feature graphic illustrations of each animal sign, incorporating a traditional Chinese symbol of good fortune – gold coins.
Traditionally, round coins with a square in the middle are strung together and hung for good luck and prosperity. For example, the lucky beckoning cat figurine, used by shop owners to bring good fortune to their business, is often holding a gold coin.
Here are some traditional ways to enhance good fortune in the Lunar New Year:
Wear something red, bought by a friend of family member. Red is not only the Chinese national colour but also represents happiness, success and good luck.
Accessorise with jade jewellery during your Zodiac year to fend off ill fortune.
Hang red lanterns, a popular good luck symbol in China.
Give red envelopes. They consist of money wrapped in red paper and are called hongbao in Mandarin and lai see in Cantonese.
Place kumquat trees in your garden and peonies in your home. In Cantonese, the kumquat tree is called gam gat sue. The word gam is the Cantonese word for gold, and the word gat sounds like the Cantonese word for good luck. Year. The peony is considered to be "the flower of good luck" in China and is also a favourite Chinese New Year decoration.
In more modern times, each Chinese Zodiac sign has developed its own good luck determinants, including lucky colours, numbers and hours of day (which relate to the ancient Earthly Branches system of determining time). These are explored in this year's prestige booklet, which also incorporates the zodiac stamps.
For the Monkey:
Lucky birth dates: 14th and 28th of the month
Lucky colours: White, blue and gold
Lucky numbers: 1,7 and 8
Good Feng Shui: Add a wood element, such as a tall plant, to your home.
Best hours: 3pm to 5pm (Shen Shi) – The time when Monkeys become lively.
Special products in the Year of the Monkey
The year's product range includes the lotus sheetlet pack.
The pack houses a special sheetlet featuring a $2 circular stamp at its centre with 12 stamps radiating out, to suggest lotus flower petals.
Each stamp depicts one of the animals of the zodiac, in various denominations, with the year highlighted in gold foil.
Another highly collectable product is a limited edition (8,888) Chinese New Year postal and numismatic cover featuring a $1 Perth Mint coloured coin.
For the first time Australia Post has added the Lunar New Year gold-foiled base rate ($1) stamp to the Personalised Stamps™ range. Order your personalised stamps today.
Associated products include first day covers, stamp packs, a postcard, domestic and international postage prepaid envelopes and two postal and numismatic covers.
The Christmas Island Lunar New Year: Year of the Monkey 2016 stamp issue is available (while stocks last) and also at participating Post Offices and via mail order on 1800 331 794.

Designer
Dani Poon
Issue date

3 February 2016

Issue withdrawal date

31 December 2016

Denominations

1 x $1, 1 x $3

Stamp design

Dani Poon

Product design

Sharon Rodziewicz, Australia Post Design Studio

Printer - gummed

RA Printing

Paper - gummed

Tullis Russell Red Phos

Printing process

Offset lithography

Stamp size

26mm x 37.5mm

Minisheet size

170mm x 210mm

Zodiac size

170mm x 210mm

Lotus size

170mm circular

Perforations

14.6 x 13.86

Sheet layout

Module of 50 with design. Gold foil overprints on Lotus and Zodiac

FDI postmark

Christmas Island WA 6798

FDI withdrawal date

3 March 2016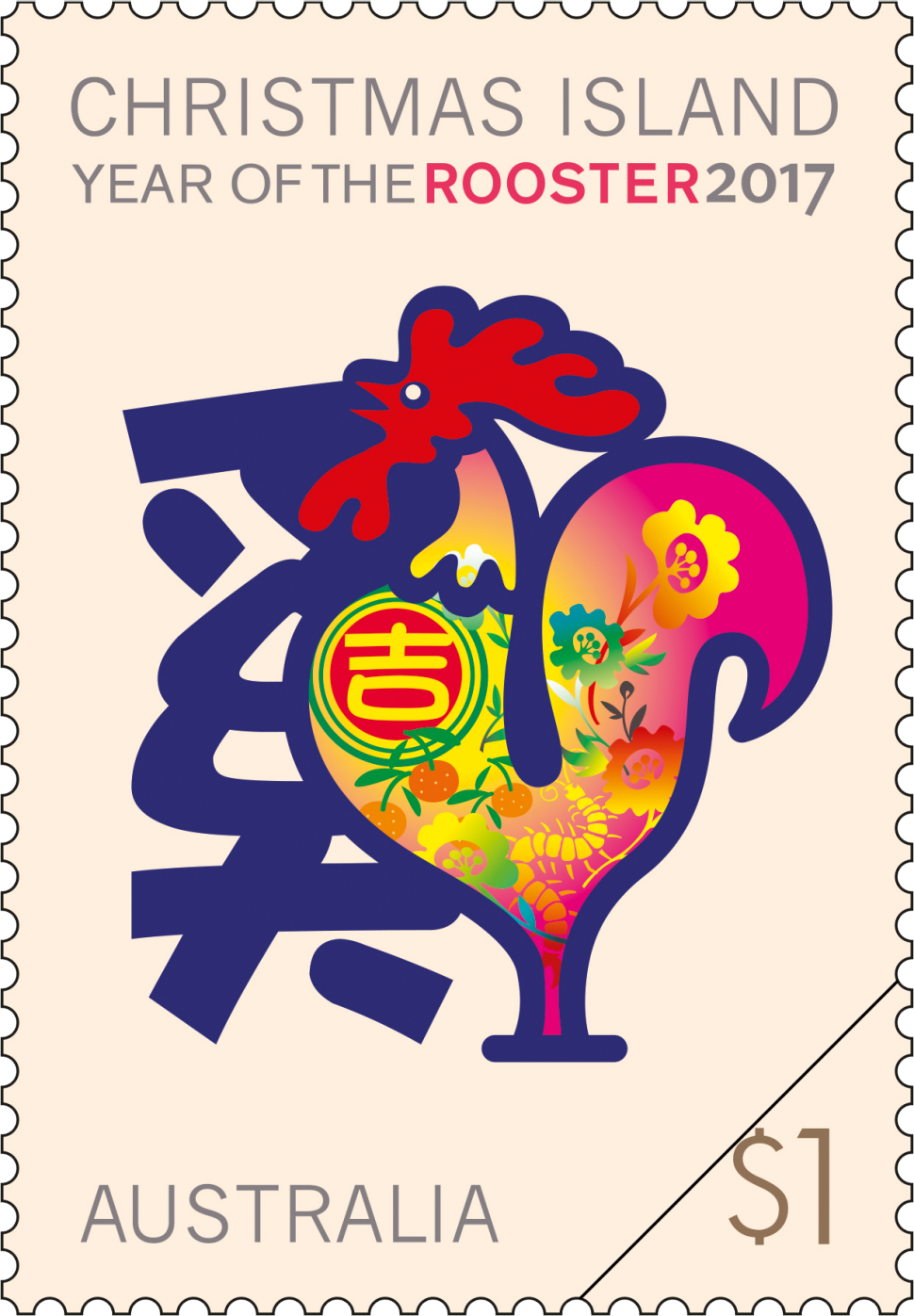 Christmas Island: Year of the Rooster 2017
View stamp issue

This content was produced at the time of the stamp issue release date and will not be updated.