Some 2,750 kilometres north-west of Perth, the remote Cocos (Keeling) Islands is in the eastern Indian Ocean near the western edge of the Pacific. Its location at the interface of the Pacific and Indian Oceans as well as the expanse of ocean lying between Cocos and Indonesia are factors fundamental to the composition of its marine life; while the marine life of Cocos is composed of many fish species common to the Indo-West Pacific, it is also home to many species that do not otherwise occur in the Indian Ocean, and this results in a fish community characterised by some hybridisation. The Cocos Pygmy Angelfish is known only in the waters of Cocos (Keeling) Islands and Christmas Island.
Due to relatively little human-induced disturbance to the Cocos marine environment, its coral reef system is healthy and provides a good environment for the marine species it supports, which includes several hundred fish species. In 2022, the Australian government established the huge Cocos (Keeling) Islands Marine Park, a 467,054-square-kilometre conservation area, co-designed with the local community, that includes inshore coral reef and lagoon habitats, as well deep ocean environments.
This issue comprises 10 stamps, which together build an imagined subaquatic scene in the clear waters of this tropical territory. The photographs, taken by sometimes Cocos resident Karen Willshaw, represent a range of species belonging to nine fish families. Given the varying sizes of the fish, some artistic licence has been taken in showing them in a single scene.

Issue date

21 March 2023

Issue withdrawal date

1 October 2023

Denomination

$1.20 x 10

Stamp design

Jason Watts, Australia Post Design Studio

Product design

Jason Watts, Australia Post Design Studio

Paper: gummed

Tullis Russell 104gsm Red Phos.

Printer

Southern Impact

Printing process

Offset lithography

Stamp size (mm)

37.5 x 26

Minisheet size (mm)

170 x 90

Perforations

13.86 x 14.6

Sheet layout

Large minisheet of 10

FDI Postmark

Cocos (Keeling] Islands WA 6799

FDI withdrawal date

19 April 2023
Shop our stamp collectables
Large minisheet:
Reef Fish Large Minisheet

The Cocos (Keeling) Islands Reef Fish set of stamps is printed and sold as a large minisheet of 10x $1.20 stamps.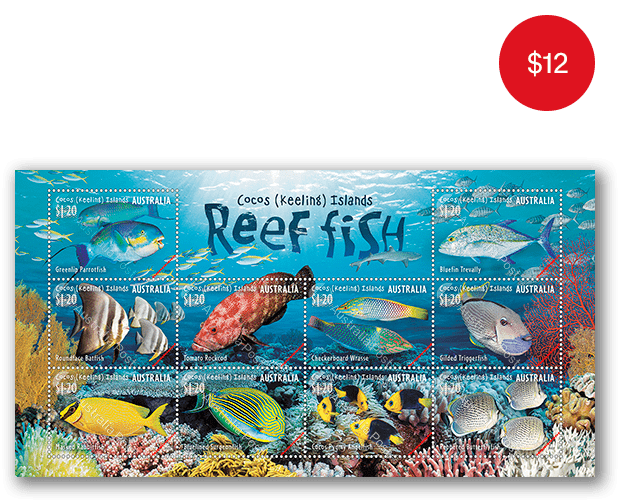 Stamp pack:
The Cocos (Keeling) Islands Reef Fish stamp pack contains the minisheet from the stamp issue presented in a high-quality folder.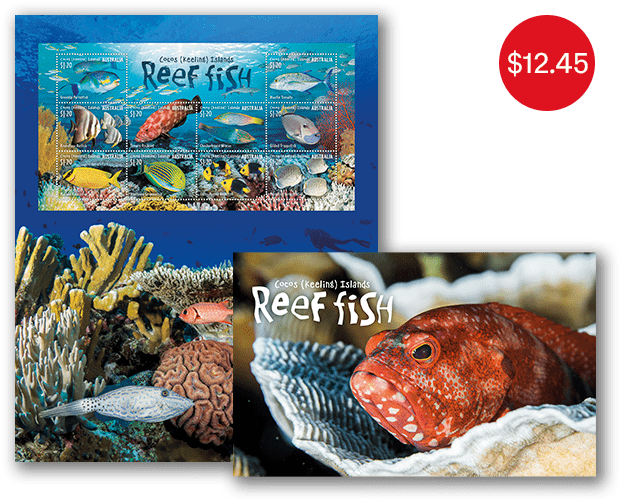 Large minisheet

Stamp pack
This content was produced at the time of the stamp issue release date and will not be updated.