Crayfish are heavy bodied crustaceans with an enlarged, pincer-like pair of front legs. They are Arthropods (as are insects, spiders, centipedes and millipedes), characterised by a hard outer shell made from calcium carbonate that acts as a skeleton. Crustaceans are distinguished from the other arthropods by their two pairs of antennae. Crayfish, like many crustaceans, have a shield running downwards from the head and over the entire thorax, known as a carapace. The carapace protects the gills and facilitates a continual flow of water that enables the crayfish to breathe.
All of Australia's freshwater crayfish belong to the family Parastacidae, which includes more than 140 species – from the world's smallest crayfish, the two-centimetre-long Eastern Swamp Crayfish (Gramastacus lacus) to the world's largest, the Giant Freshwater Lobster (Astacopsis gouldi).
Crayfish can be found in a variety of freshwater habitats such as rivers, streams, dams, lakes and swamps. While crayfish are usually vegetarian, they're actually capable of eating most things including meat. Crayfish are largely nocturnal, actively foraging at night. Many Australian native crayfish species are threatened and fishing is illegal without a permit.
The stamps in this issue feature illustrations by renowned painter, naturalist and zoologist Roger Swainston.

Issue date

2-July-2019

Issue withdrawal date

31-January-2020

Denomination

3 x $1

Stamp illustration

Roger Swainston

Product design

Simone Sakinofsky, Australia Post Design Studio

Paper: gummed

Tullis Russell

Printer

RA Printing

Printing process

Offset lithography

Stamp size (mm)

37.5 x 26

Perforations

13.86 x 14.6

Sheet layout

Modules of 50

FDI Postmark

Freshwater, QLD 4870

FDI withdrawal date

31-July-2019
Growing to around 1.5 kilograms, the Smooth Marron (Cherax cainii) is endemic to rivers and dams of southwest Western Australia. A popular delicacy, the species is commercially farmed and is not threatened. The Smooth Marron is usually black to brown in colour with a rare, naturally occurring bright cobalt blue variation commonly farmed for aquarium display.
The colourful Lamington Spiny Crayfish (Euastacus sulcatus) is typically bright blue with white highlights and red connective tissue. Classified as vulnerable, the species is found in streams in the highland rainforests of south-east Queensland and north-east New South Wales and individuals weigh around 500 grams.
Shop our stamp collectables
Set of stamps:
Set of Freshwater Crayfish stamps

This set of stamps contains all three stamps from the Freshwater Crayfish stamp issue.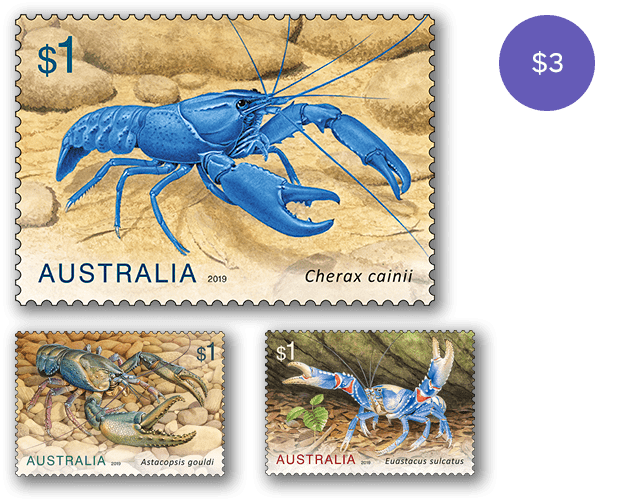 Stamp pack:
Freshwater Crayfish stamp pack

The Freshwater Crayfish stamp pack contains all three stamps from the stamp issue presented in high quality folder.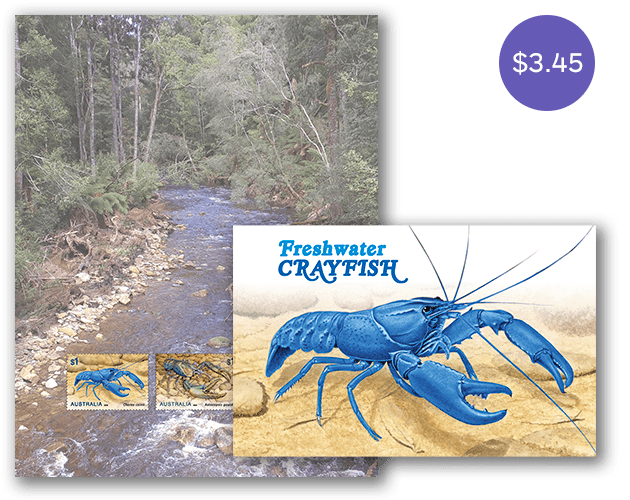 Maxicard set:
Set of Freshwater Crayfish maxicards

This maxicard set contains the three maxicards from the Freshwater Crayfish stamp issue.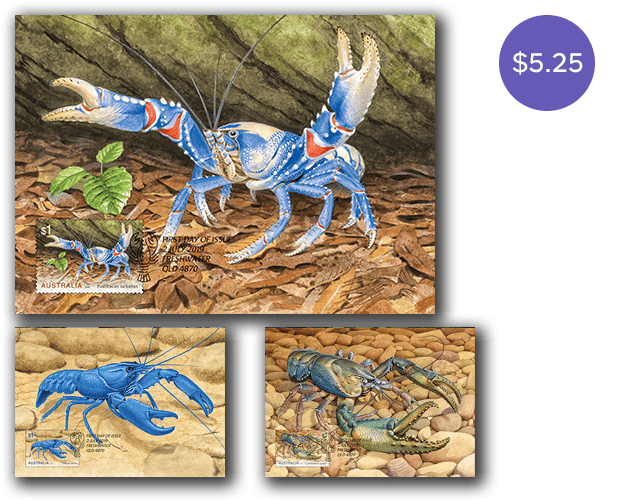 Gutter strip of 10:
Gutter strip 10 x $1 Freshwater Crayfish (Cherax cainii) stamps

The gutter strip consists of 10 x $1 Cherax cainii stamps from the Freshwater Crayfish stamp issue.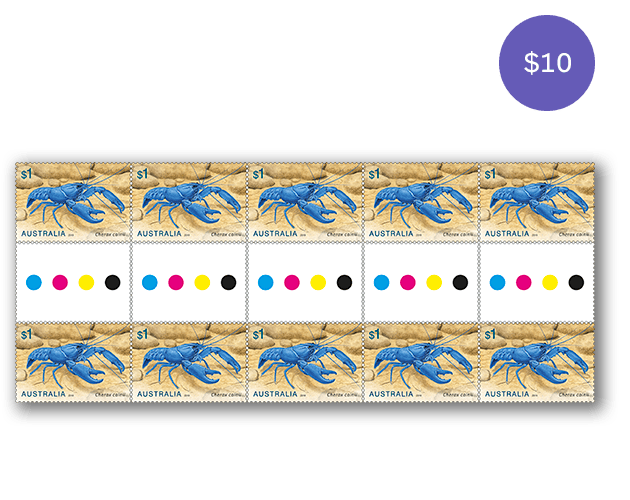 Set of stamps

Stamp pack

Maxicard set

Gutter strip of 10
Freshwater Crayfish stamp and medallion cover

Gutter strip 10 x $1 Freshwater Crayfish (Astacopsis gouldi) stamps

Gutter strip 10 x $1 Freshwater Crayfish (Euastacus sulcatus) stamps

Pictorial envelope for the Freshwater Crayfish stamp issue

First day Freshwater Crayfish gummed stamps cover

This content was produced at the time of the stamp issue release date and will not be updated.