This stamp issue marks the countdown to the Games of the XXXII Olympiad, still known as Tokyo 2020, despite the event being delayed by 12 months due to the global pandemic.
Between 23 July and 8 August, the Games will unfold in sporting venues in and around Japan's vibrant capital. This will be the second time Tokyo has hosted the Olympics, having previously welcomed Olympians and spectators from around the world to the Summer Games in 1964. Japan has also hosted the Winter Olympics twice in the past: in Sapporo in 1972 and in Nagano in 1998.
The Games will feature 339 events, in 33 sports that incorporate 50 disciplines. Approximately 12,000 athletes will compete, with the Australian team comprising around 470 of our most outstanding sportspeople. This year's Olympics will be a very different global sports festival than we are accustomed to, including the absence of international spectators from the stands.

Issue date

6 July 2021

Issue withdrawal date

31 January 2022

Denomination

$1.10 x 1

Stamp illustration

Joanna Cullen, Visua

Stamp and product design

Gary Domoney, Visua

Paper: gummed

Tullis Russell

Printer

RA Printing

Printing process

Offset lithography

Stamp size (mm)

37.5 x 26

Perforations

13.86 x 14.6

Sheet layout

Sheetlet of 10

FDI Postmark

Success WA 6164

FDI withdrawal date

4 August 2021
This stamp design reflects the aesthetic essence of host country Japan through its strong, clean graphic design. The four interlocking figures represent the spirit of Games through the energy and meeting of elite athletes, and the colours nod to that most recognisable of Olympic symbols – the five interlocking rings – also gestured at by the series of Os vertically bisecting the design.
Shop our stamp collectables
Stamp:
Single Ticket To Tokyo Gummed Stamp

The single Ticket to Tokyo $1.10 gummed stamp is designed by Joanna Cullen from Visua.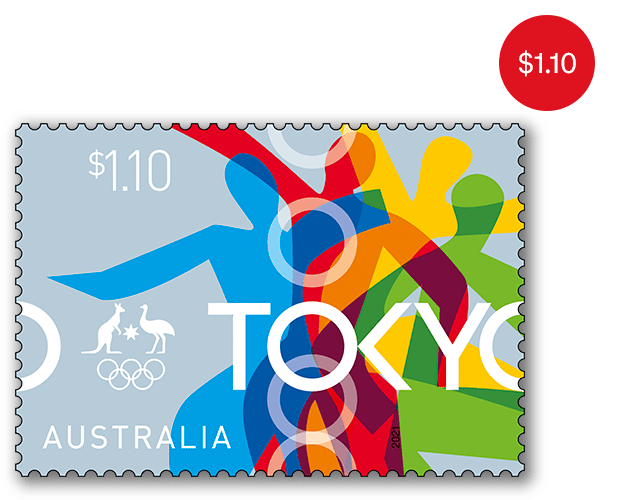 Sheetlet pack:
Ticket To Tokyo Sheetlet Pack

The Ticket To Tokyo sheetlet pack contains the sheetlet of 10 x $1.10 stamps from the stamp issue presented in high quality folder.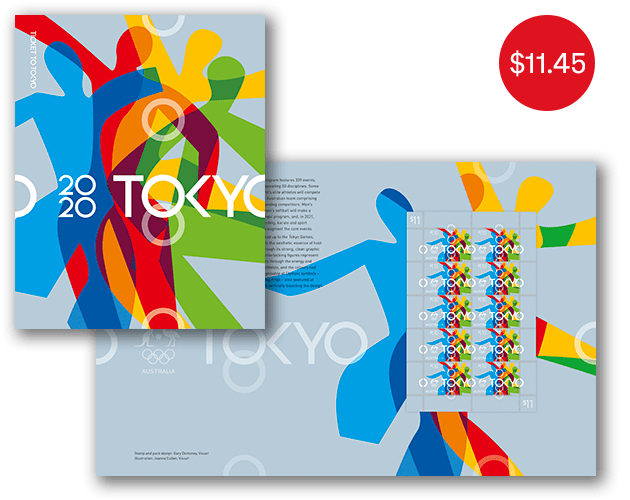 Sheetlet:
Sheetlet of 10x Ticket To Tokyo Stamps

This gummed sheetlet contains 10 x $1.10 stamps from the Ticket To Tokyo stamp issue.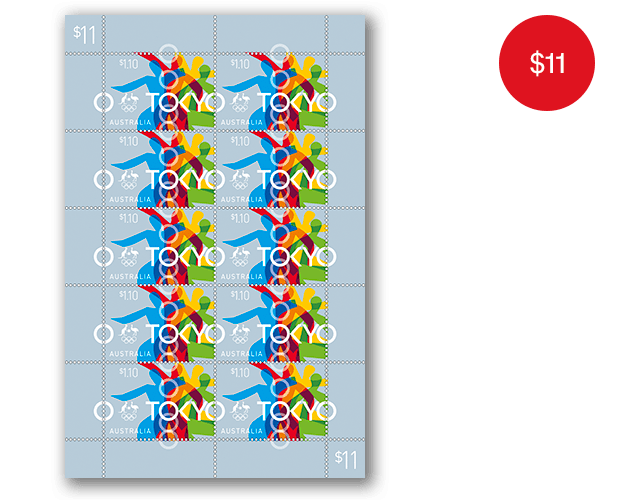 Maxicard:
The Ticket To Tokyo maxicard is a prepaid postcard with the single stamp affixed and postmarked on the view side.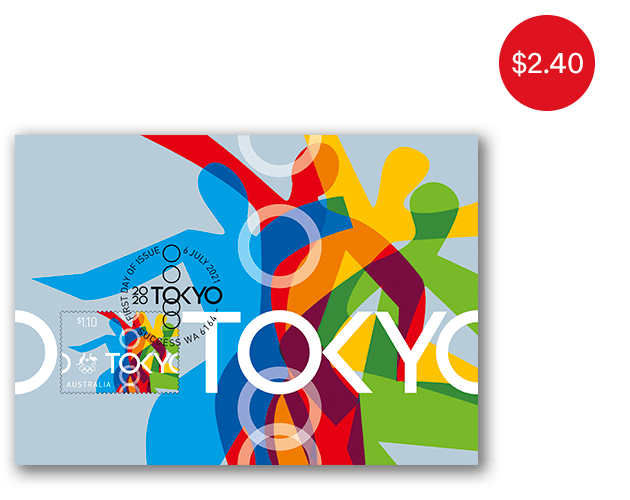 Stamp

Sheetlet pack

Sheetlet

Maxicard
Pictorial Envelope for the Ticket To Tokyo Stamp Issue

First Day Ticket To Tokyo Gummed Stamp Cover
This content was produced at the time of the stamp issue release date and will not be updated.