An interview with Owen Bell, digital painter
Owen Bell is most likely a familiar name to nature-themed stamp collectors. In recent years, Owen's detailed, photo-realistic illustrations have appeared in Cocos (Keeling) Islands: Visiting Birds (2015), Jewel Beetles (2016), Endangered Wildlife (2016), Dragonflies (2017) and in the upcoming Frogs stamp issue.
The Frogs stamp issue, which will be released on 10 July 2018, presents four species of frog that inhabit Australia, three of which are at risk. Featured are the Tasmanian Tree Frog (Litoria burrowsae), the endangered Baw Baw Frog (Philoria frosti) and Australian Lace-lid (Litoria dayi), and the critically endangered Armoured Mist Frog (Litoria lorica). The intricacy of Owen Bell's stamp illustrations help to highlight the particularities of each species, from the delicate eye-lids of the Australian Lace-lid to the mottled colouring of the Baw Baw Frog. The minisheet released with the issue features the Dainty Tree Frog, also illustrated by Owen Bell. The Dainty Tree Frog is an eye-catching species of green tree frog that occurs in areas along the coast from Cape York, Queensland, to Sydney, New South Wales.

Born and based in Western Australia, Owen Bell began working in the UK as a freelance illustrator in 1974, which fulfilled a long-held childhood ambition.
"I have never really considered doing anything else as a career, although I tossed up between being a professional musician or an artist when I was 16. Being an artist won the toss, but the music is still a huge part of my life, even though I'm not a professional, unless you count busking and the occasional party or town fair gig!" says Owen.
"Ever since I was a kid, I have always drawn and painted very detailed art. It just seemed the logical and natural thing to do and I never really questioned why, even though my Mum often did, asking why I drew 'all that fiddly stuff'. I usually just replied 'Because I like to'. It wasn't until I hit my early 60s that I found out the real reason, when I was diagnosed with Asperger's Syndrome – a form of high-functioning Autism. Many people regard Autism as a 'disability'. Not me. I consider it a gift, as it enables to focus on detail and recreate it in my art. It also allows to maintain that focus for long periods. I often spend 10 to 12 hours working on a painting without a break. It also helps me as a musician, enabling me to learn and memorise hundreds of tunes by ear, without the need to read music. (I play a Swedish Nyckelharpa). I often wonder what I would have spent my life doing had I not been Autistic. Whatever it might have been, it wouldn't have been as much fun and as fulfilling as what I have done," says Owen.
Owen completed a three-year commercial art course in Perth, before leaving for the UK in 1966, where he completed a three-year Fine Arts course in the town of Farnham in Surrey, England. It was in the UK, during the 1980s, that Owen first began experimenting with digital art.
"Before completely 'going digital' in the late 1990s, I worked primarily in gouache. Detail was achieved simply by very close observation and painting what I saw, using tiny brushes, magnifiers and strong lighting. Going digital was a game changer, as it allows me to add even more detail than previously possible because I can zoom in several 100-per cents and work on tiny areas, even on individual pixels. Most people assume I use Photoshop, but I actually use Corel Painter, which is much more 'painterly', even though my 'paintings' end up looking more like photos," says Owen.
Although the program Corel Painter has hundreds of tools, Owen has "no idea" what the vast majority are. He is self-taught and sticks to the tools he needs – two different airbrushes and a couple of specialised brushes and erasers.
"In essence, I paint in more or less the same way I did when using traditional media, the main difference being that now I paint with light, which is pretty magical really. The most important thing to remember with digital art, though, is backing up your work!" says Owen.
Owen began illustrating stamps for the Crown Agents Stamp Bureau in the UK in 1984. The first issue he worked on was not a wildlife subject, but a Trinidad and Tobago stamp commemorating the anniversary of the abolition of slavery. Owen began working on the World Wildlife Fund stamp collection around the same time and worked on that collection until 2015.
While never really one to enter competitions, in 2011 Owen entered a digital piece in the Corel Asia Pacific Digital Art Competition and was both "delighted and surprised" to win first prize. The entry was a painting of an Egret which Owen had completed for a WWF stamp issue some years before.
For Owen, the reference material is the starting point for his stamp illustrations.
"The reference material supplied by Australia Post is usually excellent, but … sometimes it's necessary to supplement it with extra references which I source myself. Fortunately these days, with so many images available online it's much easier to find than during the 'pre-internet' era! Back then, I had a huge library of natural history books and paid frequent trips to the library. Now I just key in the Latin name of the subject and I can usually find more images than I need," says Owen.
Once Owen has the reference material he needs, he selects the imagery most suitable for stamp purposes. He commences with a line drawing, just so that he can show what he has in mind for the final artwork. He then blocks in the various components of the subject, whether head, legs, body, wings, eyes, individual marking and the like.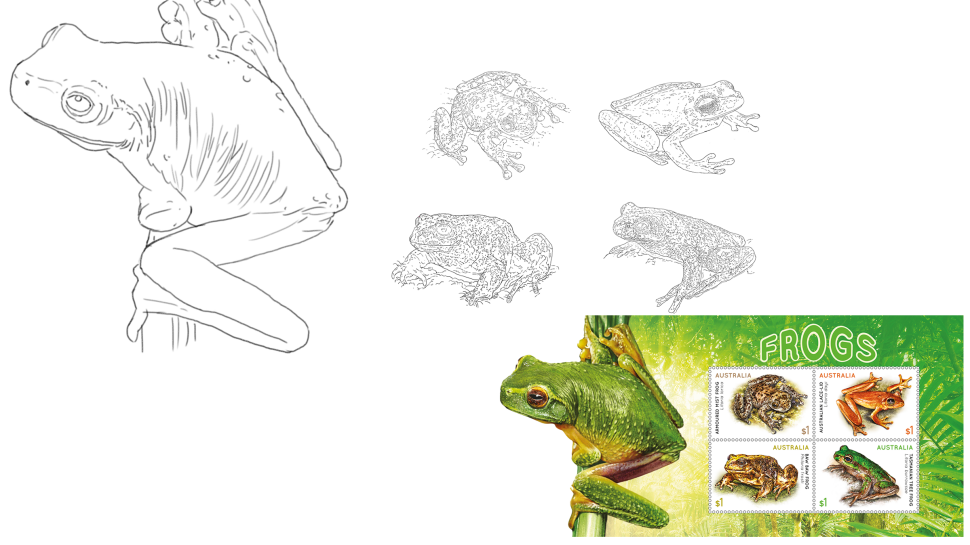 "I always start with the eyes. Get them wrong and the creature looks like a stuffed animal. Get them right and everything else works," says Owen.
Each component is created on a separate layer, so that it can be adjusted individually. Some artworks have 100 layers or more that make up the final work.
"The beauty of this is that each layer can be worked on and adjusted individually, without the risk of 'overpainting'. This is also useful because backgrounds are often changed in stamp designs, so layering means that the backgrounds can be easily changed in-house," says Owen.
| | |
| --- | --- |
| Time | Visual |
| 0:00 | Image of the Dainty Tree Frog eyes. |
| 0:02 | Body of the Dainty Tree Frog appears with brownish-green overlay. |
| 0:03 | A textured affect is now visible on the face and back of the Dainty Tree Frog text. |
| 0:05 | More texture and painting effects applied to face, back and stomach of Dainty Tree Frog. |
| 0:07 | The left front leg of the frog starts to take effect. |
| 0:12 | Work on the left back leg starts, first with the background layer and then subsequent layers adding texture and depth. |
| 0:17 | Next to see work is the right front leg. |
| 0:21 | Focus now moves to the right back leg. |
| 0:25 | Work on the reed that the frog rests on commences. |
| 0:27 | A gradient layer below all existing layers is the final part of the video from Owen Bell. |
| 0:28 | End. |

The Jewel Beetles stamp issue, which was released on 6 September 2016, features four colourful Australian jewel beetles, each representing a different genus: Stigmodera gratiosa, Castiarina klugii, Temognatha alternata and Julodimorpha bakewellii. Owen's life-like illustrations for this issue were based on jewel beetle specimens contained within the natural history collection of Museum Victoria.
"Every commission is a challenge in its own right and always an exciting one. With the Jewel Beetles stamp issue, it was trying to achieve the iridescent quality of the colours on the carapaces and the 'Trompe l'oeil' effect, to make it appear that the beetles are crawling across the first day cover envelope," recalls Owen.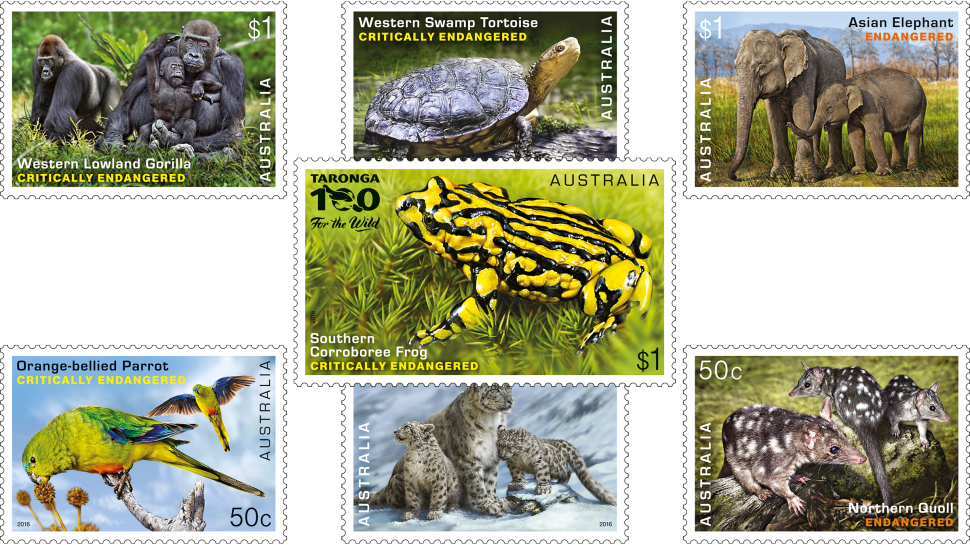 The Endangered Wildlife stamp issue was released on 20 September 2016, in the lead-up to that year's Stamp Collecting Month. The stamps, illustrated by Owen, feature endangered animals that are part of conservation programs in Australia, whether in zoos or other organisations: Southern Corroboree Frog (Pseudophryne corroboree), Snow Leopard (Panthera uncia syn. Uncia uncia), Asian Elephant (Elephas maximus), Western Lowland Gorilla (Gorilla gorilla gorilla), Western Swamp Tortoise (Pseudemydura umbrina), Orange-bellied Parrot (Neophema chrysogaster) and Northern Quoll (Dasyurus hallucatus).
"The Endangered Wildlife stamp issue was unusual, as each stamp showed a different animal and each one presented its own challenges. I enjoyed painting the Snow Leopard, because in the reference photos the animal wasn't shown in snow, so I created a snowy environment using additional landscape references. I also changed the poses and positions of the cubs, making it a more 'intimate' scene. Birds are always fun to paint and quite often involve painting individual feathers," says Owen.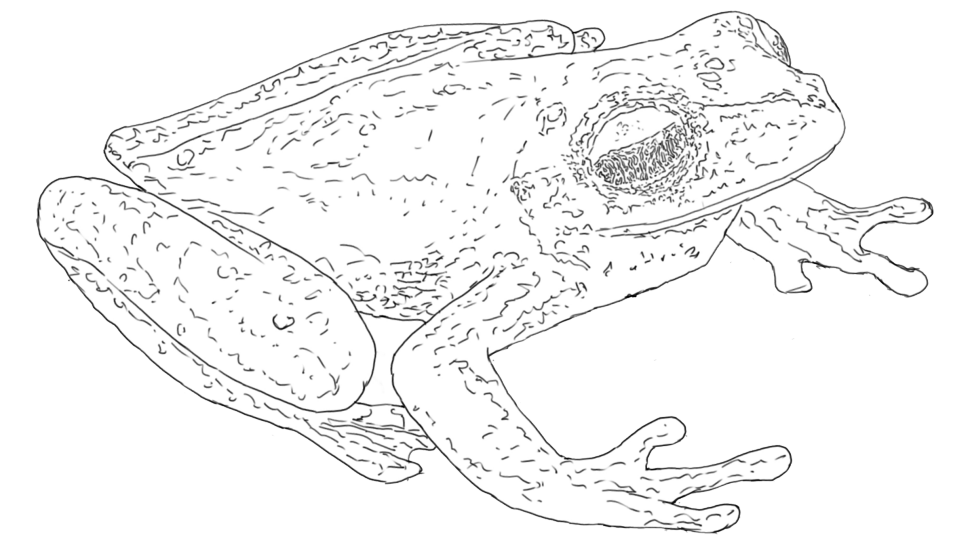 "The frog featured in the Endangered Wildlife issue, the Southern Corroboree Frog, was great fun to paint but also challenging. I wanted to capture the 'moistness' of its skin and the intricacy of its markings. That required a number of separate layers. Having figured out the techniques to achieve this, it was great to have the opportunity to use these techniques again on the Frogs stamp issue, refining them even more. For the Australian Lace-lid, I found a detailed image that showed its distinctive eyelid in sharp detail, meaning that I was able to achieve even more detail than the original source image!" says Owen.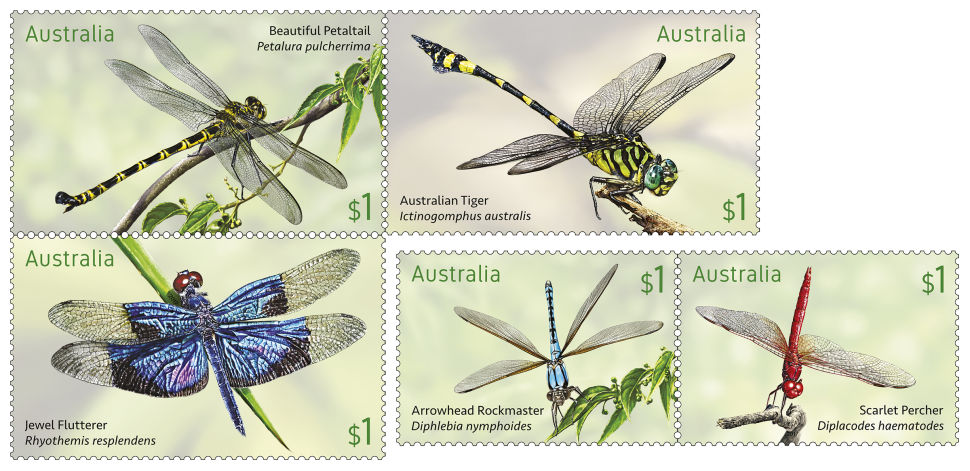 For Stamp Collecting Month 2017 the theme was Dragonflies, which featured Australian dragonfly species (and one damselfly), selected for their visual and taxonomic diversity. The stamp designs show male dragonflies, which are often more spectacular in colouration than females.
"The biggest challenge with dragonflies and damselflies is always the wings. I spent more time painting the wings than anything else!" says Owen.

Clearly Owen's illustrations hit the mark, because the Dragonflies stamp issue came a close second in the 2017 Australian Stamp Poll.
And as for Owen's favourite stamp issue to work on, he feels that's very hard to decide: "The Jewel Beetles stamps have probably been my favourite to work on, simply because they are so beautiful, unique and everyone seems to love them!"
"It's a great honour and privilege to have my work featured on stamps. Much of the work I have done over the last 45 years was for advertising of some kind, so it is often given scant attention and ultimately ends up in the bin! Stamps, however, are very collectable and it's lovely to think that there are hundreds of stamps I've illustrated are in private collections all around the world that continue to be treasured and enjoyed long after their issue date."
The Frogs stamp issue is available from 10 July 2018, online, at participating Post Offices and via mail order on 1800 331 794, while stocks last.
View the gallery and technical details from this issue
This content was produced at the time of the stamp issue release date and will not be updated.