Sport is valued highly in Australian culture, both by participants and spectators. It makes sense therefore that sport is a popular thematic on Australian stamps. These stamps usually tell the story of athletic achievement, rather than highlighting the venues at which sporting events are held, save for the Australian Racecourses stamp issue, released in 2014.
The Sports Stadium stamp issue, which was released on 4 June 2019, seeks to recognise the importance of sporting venues, not only in fostering the enthusiastic atmosphere typical to spectator sport, but also as part of a club's sporting heritage and even in terms of architectural merit. The stamp issue features four major sporting stadiums from across the country: AAMI Park in Victoria, Optus Stadium in Western Australia, Sydney Cricket Ground in New South Wales, and the venue considered by many as one of the greatest, the Melbourne Cricket Ground (MCG), fondly known as "the 'G". The issue includes self-adhesive booklets of 10 and a booklet collection.


It seems an appropriate time to take a look back at some other sports-themed issues, which highlight the pursuit and achievement of sporting greatness and Australia's national obsession with it.
Sporting Legends
The Australian Legends commemorative stamp series honours living Australians who have made a significant contribution to the Australian way of life and shaped society for the better. The inaugural Australian Legends stamp, released in 1997, featured the first living person, aside from the ruling Monarch, on an Australian Commonwealth stamp (a New South Wales colonial stamp in 1888 depicted Lord Carrington, the Governor). That person was Sir Donald Bradman, Australian cricketing royalty.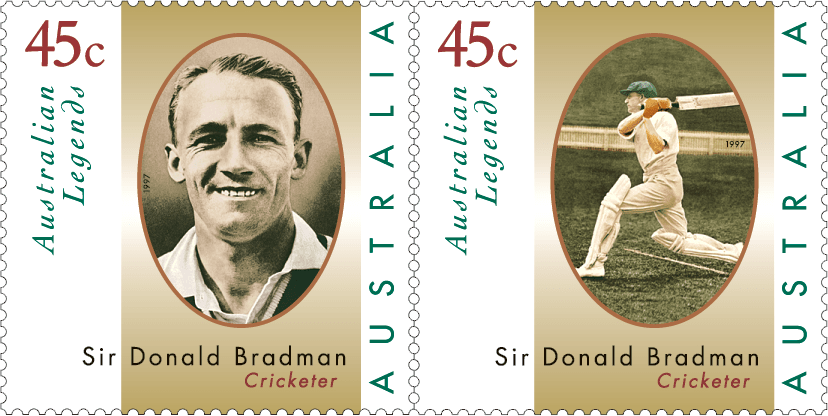 In 2003, tennis champions Margaret Court and Rod Laver were announced as Legends, both of whom have tennis stadiums named in their honour. In 2016, the 20th year of the Legends series, 11 Australian singles tennis champions were recognised, not only for their individual achievement but also for advancing Australian tennis globally: Pat Cash, Ashley Cooper AO, Roy Emerson, Neale Fraser AO MBE, Evonne Goolagong Cawley AO MBE, John Newcombe AO OBE, Patrick Rafter, Tony Roche AO MBE, Ken Rosewall AM MBE, Frank Sedgman AM and Fred Stolle AO. In addition to these greats, Lleyton Hewitt was honoured on a special-edition farewell stamp to commemorate his retirement from competitive tennis and as the new captain of the 2016 Davis Cup team.
In 2012, the Australian Legends of Football spanned football, rugby and soccer by honouring Mark Schwarzer, Gary Ablett Junior, Billy Slater, David Pocock, Ron Barassi, Joe Marston, John Raper and David Campese. In 2013, the Legends of Australian Horse Racing stamp issue honoured George Moore, Roy Higgins, Bart Cummings, Bob Ingham, John Tapp and Arthur "Scobie" Breasley. While not a Legends issue, in 2002 Champions of the Turf recognised five racehorses from Australia's Racing Hall of Fame, including Might and Power – after all, jockeys and trainers are nothing without their horses. Australian Olympic Legends were honoured in 1998: Betty Cuthbert, Herb Elliot, Dawn Fraser, Majorie Jackson, Murray Rose and Shirley Strickland.
Going for Gold
Olympic Gold Medallists were also the inspiration for Australia's first instant Gold Medallist stamps. These were produced for the Sydney 2000 Olympic Games, both individual and team events: 16 stamps in all. This was also another example of allowing living people on Australian stamps, in addition to the Monarch and the Legends Award recipients. These Gold Medallists stamps have continued ever since, for each Summer and Winter Olympics, the last release being for the Rio 2016 Olympic Games. Stamp sheetlets for the Paralympian of the Year have also been produced since this time. The Commonwealth Games Gold Medal winners from the 2006 event held in Melbourne were also featured on stamp sheetlets.
A record-setting team
While individual sporting achievements rate highly in Australian culture, so to do sporting teams. Such teams represent the epitome of banding together to achieve incredible things. An historic Australian team was recognised in 2018 with the release of The First Cricket Tour: 150 Years stamp issue. This commemorative stamp honoured the first international cricket tour by a team from Australia, which occurred in 1868.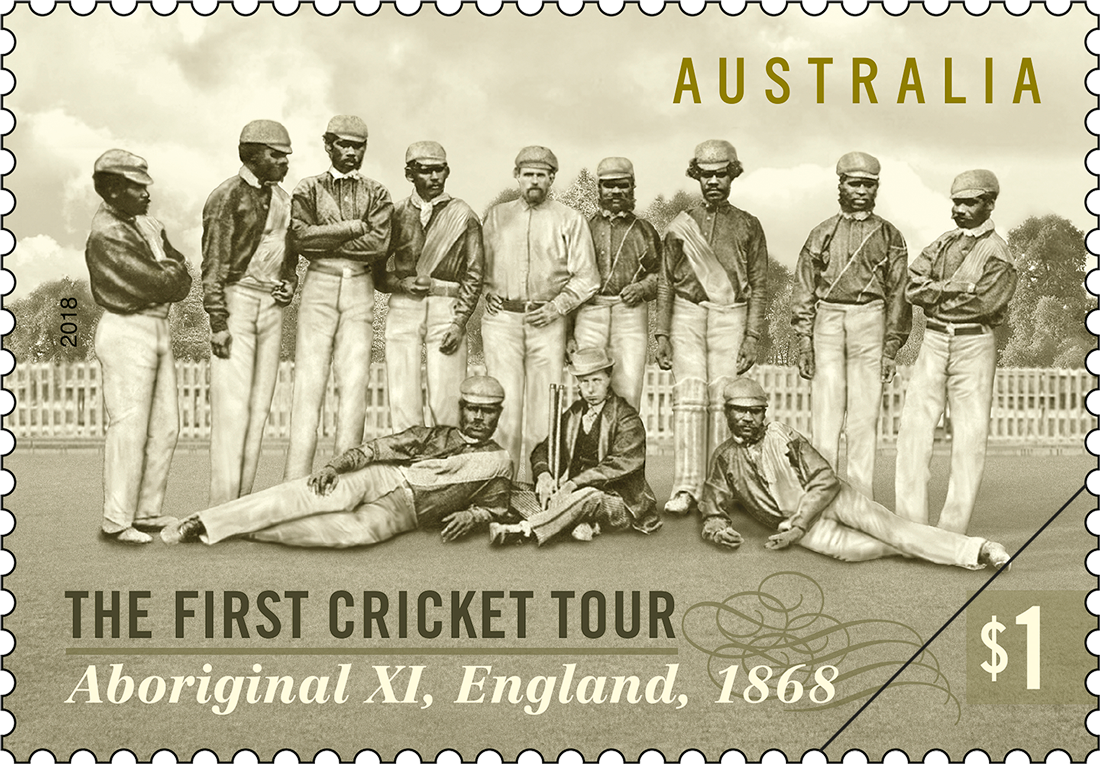 The 1868 tour of England (and Wales) was undertaken by a team of 13 Aboriginal cricketers, most of whom were Jardwadjali, Gunditjmara and Wotjobaluk men from the Western District of Victoria, who had only been playing the game for a few years. After arriving in England, the Aboriginal XI proceeded to play 47 matches against county and local teams, between May and October 1868, including a match on the hallowed turf at Lord's. Impressively, the Australian team won 14, drew 19 and lost 14 of their matches.
These players were true pioneers, paving the way for the first Australian representative tour to England, which occurred some ten years later in 1878, as well as the first Test match against England, in 1880. In 2002, the Aboriginal XI was posthumously recognised in the Sport Australia Hall of Fame as the first cricket team from Australia to tour England. In 2004, each player was assigned an official Cricket Australia number. Men's and women's Aboriginal XI squads undertook a commemorative tour of England in June 2018, to honour and celebrate the 150th anniversary of the 1868 tour.
Major sporting codes and events
Many stamp issues over the years have recognised those sporting codes popular with Australians, both professionally and for recreation. In 1974, various non-Olympic sports were depicted in a graphic style, including golf and cricket; in 1978, horse racing and in 2014 equestrian; in 1994 and 2011, skiing; in 2002, motor racing; in 1990, some more 'extreme' sports, such as skateboarding, rock climbing and hang gliding; in 2012, lawn balls; and in 2013, surfing – the sport and the wider culture. These examples give us some insight into the breadth and depth of sporting passions in Australia.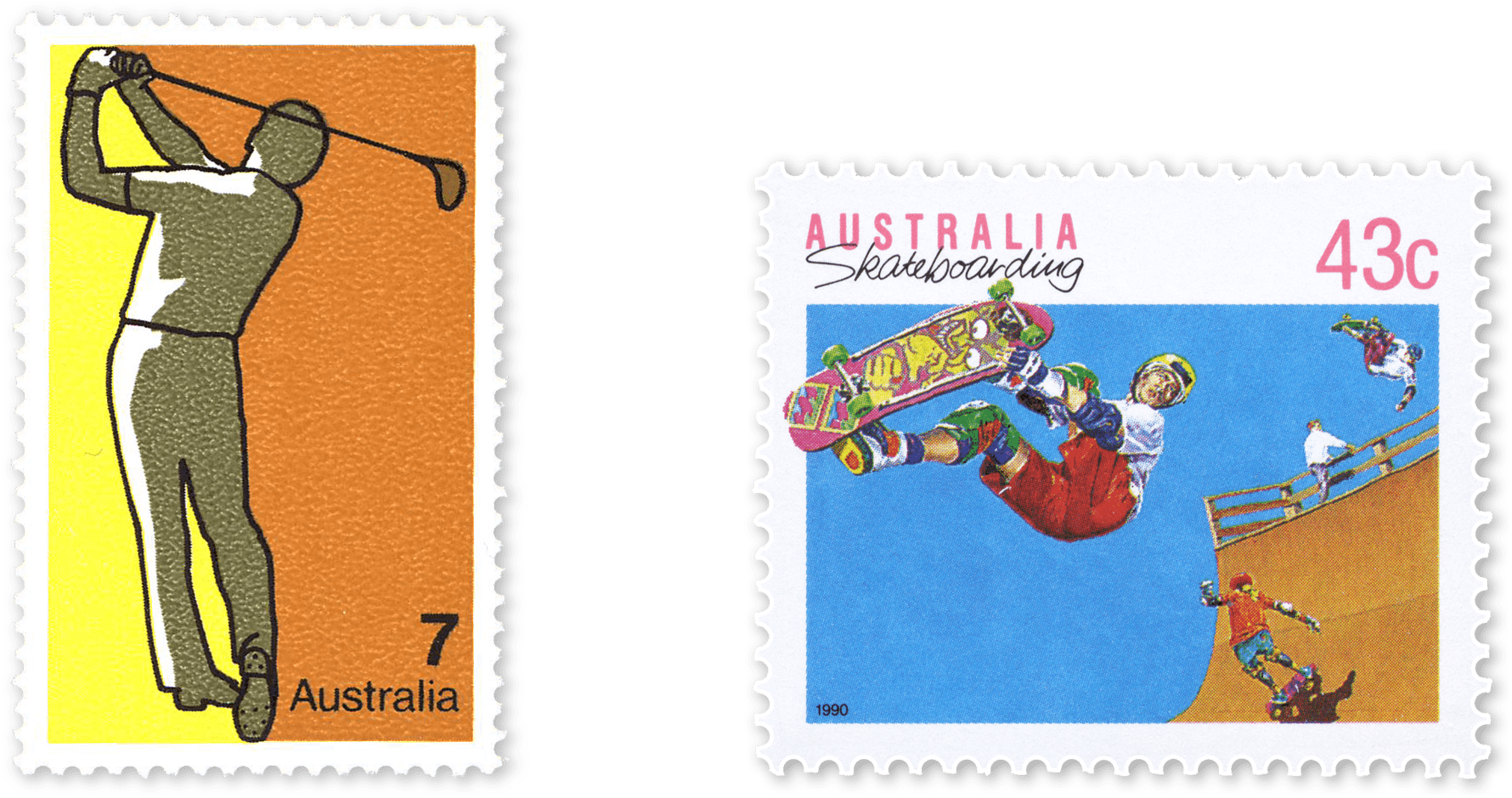 Major sporting events are also recurring stamp subjects, including the America's Cup and the Rugby World Cup, when played in or won by Australia. The 1956 Melbourne Olympic Games were the subject of the first Olympic-themed stamps in Australia. There were two pre-Games announcement stamps in 1954–55 and then an issue of four stamps on 31 October 1956, two of which featured colourful Melbourne scenes, namely Collins Street and a view of Melbourne across the Yarra. In 1962, the Commonwealth Games in Perth was also commemorated. Since the 1968 Mexico City Olympics, the Summer Olympic Games have featured on a stamp, wherever they are held, often featuring a highly graphic style or photographic action shots, though more recently inspired by the Games' logo.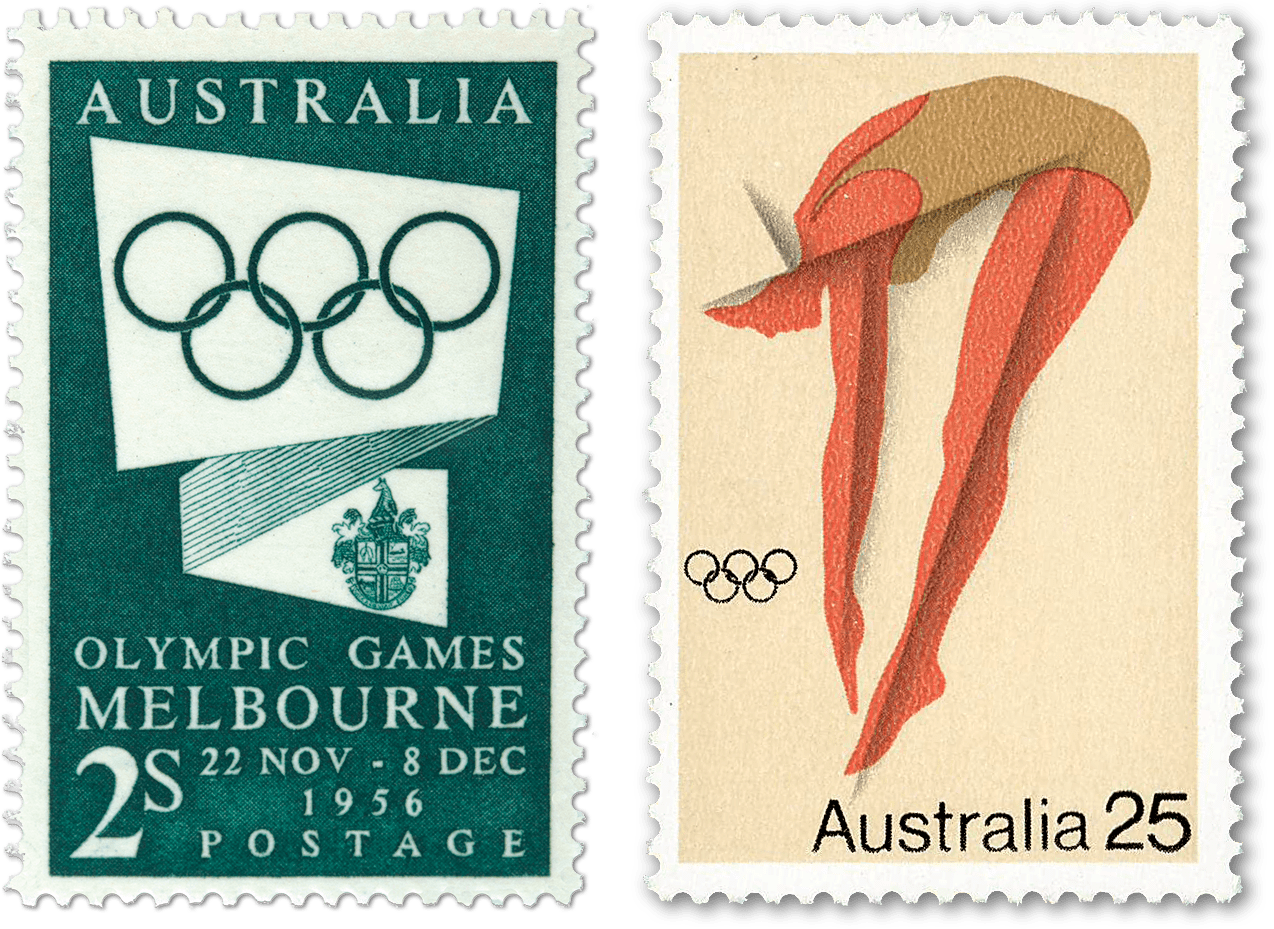 Significant anniversaries are also represented through the years, including the 100th Melbourne Cup horse race in 1960 (and the 150th in 2010), the Centenary of Australian-English Test Cricket in 1977, which cleverly incorporates a cricket match across a set of se-tenant stamps, and the Sheffield Shield Cricket centenary in 1992. The 50th anniversary of the Sydney–Hobart Yacht Race featured in 1994, and the Centenary of the Australian Football League (AFL) in 1996. The AFL stamp sheetlet featured the then 16 teams of the League. One Hundred Years of Test Rugby was commemorated in 1999, and the Centenary of Rugby League, in 2008. In 2012, 50 years of motor racing at Bathurst was commemorated. Even recent Ashes victories have been celebrated on stamps, so deep is the cricketing rivalry between Australia and England.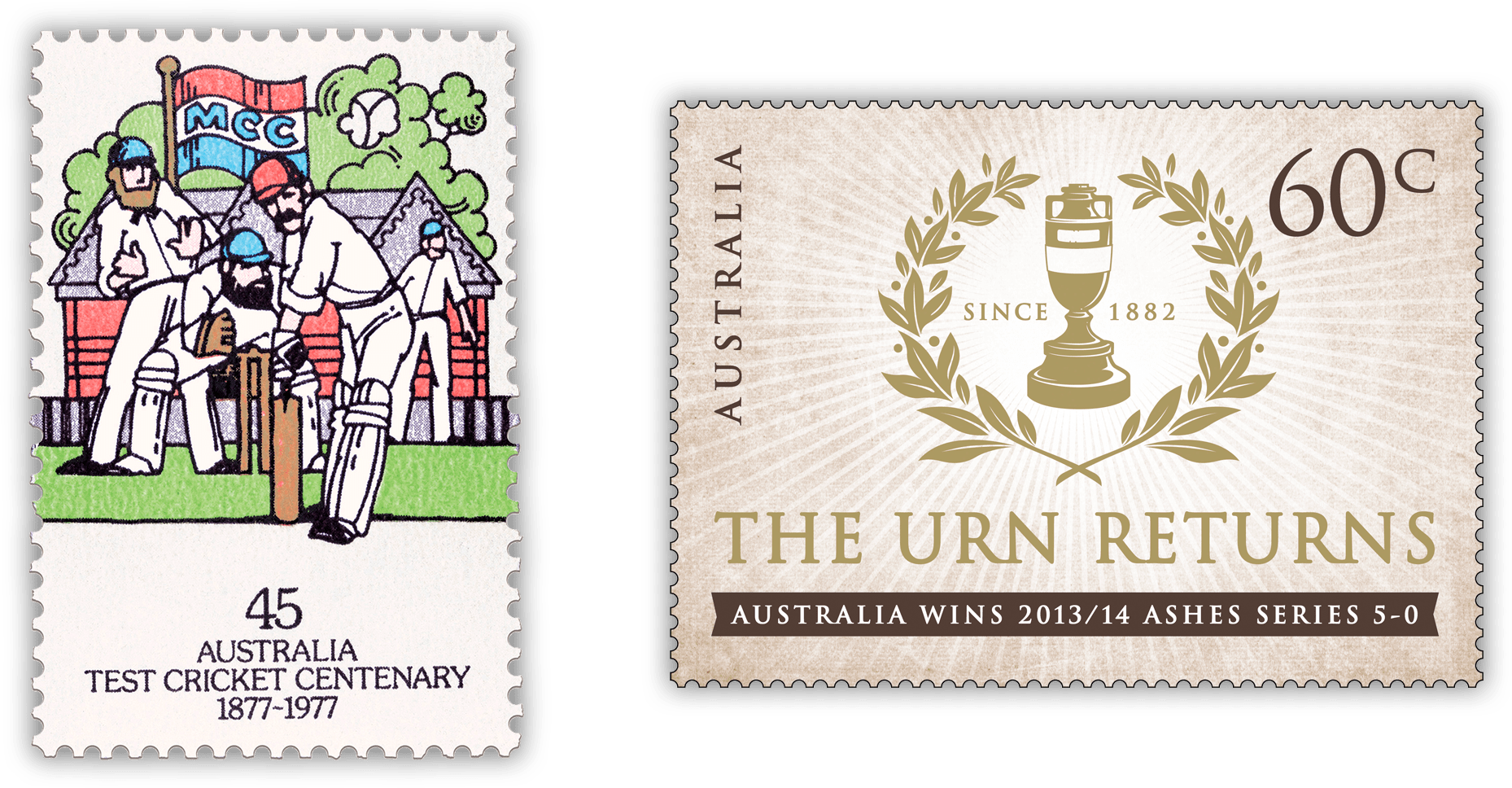 Sporting memorabilia
Even some important pieces of sporting memorabilia have featured on stamps, which perhaps goes some way to emphasise the importance of sport in Australian culture, if not already clear. The 2005 Sports Treasures issue presented photographs of Donald Bradman's "Baggy Green" cap, Lionel Rose's boxing gloves, Majorie Jackson's running shoes and Phar Lap's racing silks. In 2009, the Classic Toys stamp issued even included the iconic board game, Test Match.


The Sports Stadiums stamp issue is available now, online, at participating Post Offices and via mail order on 1800 331 794, while stocks last. 

This content was produced at the time of the product release dates and will not be updated.